Mass. town is upset as Paul Shanley moves in after controversial release from prison
newser.com
By Newser Editors and Wire Services
Posted Jul 30, 2017 8:05 AM CDT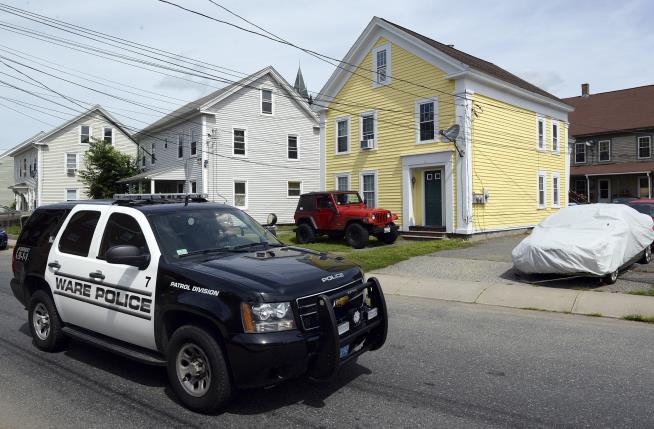 A Ware Police patrol car passes the yellow house on Pulaski Street Friday, July 28, 2017, in Ware, Mass., which will be home for Paul Shanley, a priest in the Boston Roman Catholic priest sex abuse scandal who was released from prison Friday morning.    (Dave Roback)
(Newser) – A defrocked priest at the heart of Boston's Catholic clergy sex abuse scandal was released from prison Friday and settled into an apartment across the street from a children's dance studio. Paul Shanley, who was convicted of raping a boy in the 1980s, moved to the town of Ware, 65 miles west of Boston, after his release from the Old Colony Correctional Center, where he served a 12-year sentence. Shanley, 86, used a cane and was helped by a man as he arrived in Ware. His new home in a multiunit building is across from a recently opened dance studio that teaches children as young as 2. The studio's owner, Arielle Lask, said she plans to install "state-of-the-art" security systems and to make sure every child leaves with an adult. "It's terrible … that he's moving across the street, but there's nobody who is better to be his neighbor than me because all I do is make kids safe," Lask tells the Boston Herald.
As a condition of Shanley's 10-year probation, the AP reports that he has been ordered to have no contact with children under age 16. Ware police Chief Shawn Crevier said Shanley has registered as a sex offender, though psychologists citing Shanley's advanced age and health issues concluded his likelihood to reoffend is low. "I'm sure that law enforcement will ensure that the community feels safe, and I have every expectation that they are going to … be certain that Paul Shanley also remains safe," says Shanley's lawyer. "Paul Shanley should be in a hospital being treated and not in the outside world where he can easily gain access to innocent children," argues an attorney who represented dozens of Shanley's accusers.
__________________________________
'Paul Shanley is a threat,' alleged abuse victims say before priest's release
WCVB
WORCESTER, Mass. —In the 1960s and '70s, Paul Shanley was a popular street priest who counseled gay and troubled youths.
Decades later, he was convicted of raping a boy at a Newton church in the 1980s and sentenced to 12 years in prison.
Shanley, now 86, is due to be released Friday, prompting a firestorm of protest from sexual abuse victims.
On Wednesday, two men who are among dozens to accuse Shanley of sexual abuse appeared at a news conference with their lawyers and victim advocates to warn the public about Shanley's release and to ask for help in monitoring him.
John Harris said he was a 21-year-old struggling with his decision to reveal his homosexuality in 1979 when someone suggested he go see Shanley for counseling.
"He raped me under the pretense of helping me," Harris said.
Denis O'Connor said he was 14 when Shanley sodomized him in the late 1960s.
"If he's released, we've got more children that will be abused," O'Connor said.
Boston attorneys Mitchell Garabedian and Carmen Durso said they represent dozens of men who allege that Shanley sexually abused them as children.
Prosecutors sought to hold Shanley in custody beyond his sentence under a law that allows civil commitment of people who are deemed to be sexually dangerous.
But two experts hired by the state found that he did not meet the legal criteria to continue to hold him.
Durso said he was told by prosecutors that the experts cited his advanced age as one reason he is no longer dangerous.
"We believe that he continues to pose a threat," Durso said.
"If Paul Shanley doesn't qualify as a sexually dangerous person, then nobody will qualify," he said.
Shanley, who was convicted in 2005, will be placed on probation for 10 years after he is released.
Garabedian said Middlesex District Attorney Marian Ryan told him that Shanley will not be required to wear an electronic tracking device.
He will be required to register as a Level 3, or high-risk, sex offender, a designation that means his photo and other information about him will be posted on the state Sex Offender Registry Board's website.
Garabedian said Shanley's upcoming release "has caused many victims to have their wounds reopened."
He urged anyone who sees Shanley to contact the local police department to report his whereabouts so authorities can track his movements.
Rodney Ford, whose son said he was sexually abused by Shanley as a child in the 1980s, agreed.
"There's nothing more that we can do than to harass Paul Shanley," he said.
Robert Shaw Jr., an attorney who represented Shanley in his appeal, said Shanley is now "extremely frail."
"The fact that certain persons in our community are calling for the harassment and tracking of Paul Shanley by the public strikes me as an issue for law enforcement," he said.
"It's outrageous. It's deeply disturbing. We don't permit vigilantism in this country. Stalking and harassment are crimes," he said.
The clergy sex abuse scandal exploded in Boston in 2002 after The Boston Globe revealed that dozens of priests had molested and raped children for decades, while church supervisors covered it up and shuffled abusive priests from parish to parish.
Shanley was defrocked by the Vatican in 2004 after dozens of men came forward and reported being sexually abused by him.
During his trial, his lawyer challenged the reliability of the accuser's repressed memories.
Internal church records that were made public during the scandal contained documents indicating Shanley had attended a forum with other people who later went on to form the North American Man-Boy Love Association, or NAMBLA, a pedophile advocacy organization.
It was not immediately clear where Shanley will live after he's released.
The state Department of Correction declined to comment.
The Archdiocese of Boston, the fourth-largest archdiocese in the country, with more than 1.8 million Catholics, called Shanley's crimes against children "reprehensible." spokesman Terrence Donilon said Shanley will not receive any kind of financial support or benefits from the archdiocese.