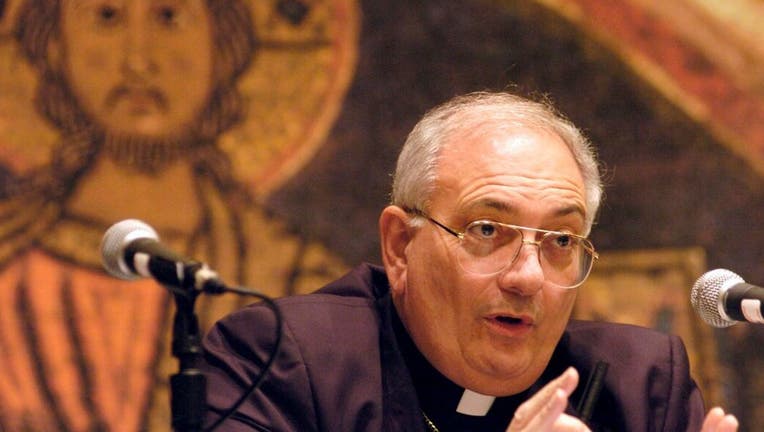 NEW YORK – A Roman Catholic bishop named by Pope Francis to investigate the church's response to clergy sexual abuse in Buffalo, New York, has himself been accused of sexual abuse of a child, an attorney for the alleged victim notified the church this week.
The attorney informed Catholic officials in New Jersey that he is preparing a lawsuit on behalf of a client who says he was molested by Brooklyn Bishop Nicholas DiMarzio in the mid-1970s, when DiMarzio was a parish priest in Jersey City.
DiMarzio, who acted as a bishop of Camden from 1999 to 2003, said there is no truth to the accusation.
"I am just learning about this allegation," he said in a statement Tuesday to The Associated Press. "In my nearly 50-year ministry as a priest, I have never engaged in unlawful or inappropriate behavior and I emphatically deny this allegation. I am confident I will be fully vindicated."
In a letter sent Monday to the church's Newark, New Jersey, archdiocese, Boston attorney Mitchell Garabedian said 56-year-old Mark Matzek alleges he was repeatedly abused by DiMarzio and a second priest, the late Rev. Albert Mark, when he was an altar boy at St. Nicholas Church and a student at St. Nicholas School.
Last month, Pope Francis tapped DiMarzio to investigate the church's Buffalo Diocese, where Bishop Joseph Malone has come under fire for his handling of a burgeoning clergy abuse scandal that has roiled the diocese and prompted calls for his resignation.
"The investigation of the diocese of Buffalo by Bishop DiMarzio is tainted because of these allegations," Garabedian said in an interview with the AP. "There needs to be a truly neutral investigator to determine whether Bishop Malone should resign," adding that the investigation should be led by a law enforcement agency.
---
Adriana Rodriguez, press secretary for the Brooklyn Diocese, said DiMarzio has completed his report on the Buffalo Diocese and has submitted it to the Vatican. DiMarzio and Malone are in Rome this week for a previously scheduled visit of New York bishops to the Holy See.
Garabedian said the notice he sent to the Newark Archdiocese briefly describes Matzek's allegations and the damage he has allegedly suffered, while demanding $20 million in compensation.
Maria Margiotta, the spokeswoman for the Newark Archdiocese, said it has received Garabedian's letter and reported Matzek's allegations to law enforcement.
Garabedian told the AP he plans to file the lawsuit on Matzek's behalf next month, after New Jersey opens a two-year "look back" period in which sex abuse victims will be permitted to file lawsuits without regard to the statute of limitations, which typically limits the amount of time in which an alleged victim may file suit.
DiMarzio completed his review of the Buffalo Diocese, known as an "apostolic visitation," last month. He said he made three trips to the diocese over seven days and interviewed nearly 80 clergymen and parishioners.
______________________________________
Buffalo diocese investigation ends, DiMarzio will send report to Vatican
Buffalo, N.Y., Oct 31, 2019 / 11:48 am (CNA).- Bishop Nicholas DiMarzio has completed his Apostolic Visitation of the Diocese of Buffalo.
A statement released by DiMarzio's own Diocese of Brooklyn on Thursday confirmed that the visitation had concluded and he will submit a report to the Holy See.
The bishop offered no comment on his findings in the scandal-hit Buffalo diocese.
The visitation, a canonical inspection and fact-finding mission, was ordered by Cardinal Marc Ouellet of the Congregation of Bishops in Rome, the Vatican department responsible for overseeing the personal and administrative conduct of bishops.
The visitation was announced Oct. 3, after nearly a year of controversy in the northern New York state diocese. The Diocese of Brooklyn confirmed that DiMarzio had made a total of three trips, spending a week in Buffalo as he conducted nearly a series of in-person interviews.
"He met with and interviewed close to 80 individuals; both clergy and laypeople," the statement from the Brooklyn diocese said, "including members of the Presbyteral Council, Diocesan Consultors, Diocesan Finance Council, Diocesan Pastoral Council, Territorial Vicars, and Senior Priests. He also spoke with representatives of outside groups such as the Movement to Restore Trust, college presidents, and other interested parties."
"Now that Bishop DiMarzio has finished his interviews, he will compile the information and prepare a report which will be submitted to the Holy See," the statement concluded.
In its announcement earlier this month, the apostolic nunciature to the United States said that the process in Buffalo is "non-judicial and non-administrative," meaning that no formal charges are being considered against the scandal-plagued Bishop Richard Malone, leader of the Buffalo diocese.
DiMarzio has previously said that he would approach the situation in Buffalo with "an open mind."
"This is a difficult period in the life of the Church in Buffalo," DiMarzio said when he accepted the assignment earlier this month.
"I will keep an open mind throughout the process and do my best to learn the facts and gain a thorough understanding of the situation in order to fulfill the mandate of this Apostolic Visitation."
Although he has faced media criticism for more than a year, Malone said earlier this month that he was "committed to cooperate fully" with the investigation, and that he welcomed the visitation which, he said would "improve the local Church's ability to minister to the people it serves."
In November 2018, a former Buffalo chancery employee leaked confidential diocesan documents related to the handling of claims of clerical sexual abuse.
In August, a RICO lawsuit was filed against the diocese and the bishop, alleging that the response of the diocese was comparable to an organized crime syndicate.
Recordings of private conversations released in early September appeared to show that Malone believed sexual harassment accusations made against a diocesan priest months before the bishop removed the priest from ministry.
The contents of recordings of conversations between Malone and Fr. Ryszard Biernat, his secretary and diocesan vice chancellor, were reported in early September by WKBW in Buffalo.
In the conversations, Malone seems to acknowledge the legitimacy of accusations of harassment and a violation of the seal of confession made against a diocesan priest, Fr. Jeffrey Nowak, by a seminarian, months before the diocese removed Nowak from active ministry.
In an Aug. 2 conversation, Malone can reportedly be heard saying, "We are in a true crisis situation. True crisis. And everyone in the office is convinced this could be the end for me as bishop."
The bishop is also heard to say that if the media reported on the Nowak situation, "it could force me to resign."
Malone, 73, has led the Buffalo diocese since 2012. He was ordained a priest of Boston in 1972, and became an auxiliary bishop in that diocese in 2000, two years before a national sexual abuse scandal emerged in the United States, centered on the Archdiocese of Boston and the leadership of Cardinal Bernard Law. Malone was Maine's bishop from 2004 until 2012.
__________________________________
New names added to Buffalo Diocese's list of nearly 100 accused priests
The Buffalo News
Published |Updated
By Jay Tokasz
The Buffalo Diocese has added 19 names since last November to its growing list of priests with substantiated claims of child sexual abuse.
That list now includes 97 priests – 75 from the diocese and 22 religious order priests who worked in the diocese.
The list of names has more than doubled in the less than two years since Bishop Richard J. Malone first began identifying priests accused of molesting children.
The diocese's latest list still represents only a fraction of the roughly 150 clergy who have been publicly accused of sexual impropriety with children and, in a handful of cases, adults. However, it does name three priests who previously had not been outed publicly – in media accounts or in lawsuits – as accused abusers: the Rev. Ramon Aymerich, the Rev. Richard J. Bohm and the Rev. Terrence N. Niedbalski.
Aymerich is identified as having left the Catholic Church in 1982 to become an Episcopal priest. Bohm and Niedbalski are deceased.The new list was the diocese's latest response to blistering criticism that Malone hasn't been transparent about the extent of abuse in the Buffalo Diocese. The Movement to Restore Trust, a group of lay Catholics that formed in 2018 in response to the clergy sex abuse crisis, recommended in July that the diocese take greater steps to disclose the depth and scale of the abuse scandal, including the release of a detailed database of alleged abuses and abusers.
Diocese officials for decades refused to reveal the names of priests who had substantiated claims of abuse against them, while also minimizing the extent of clergy abuse within the diocese.
In 1994, for example, Monsignor Robert J. Cunningham, the diocese chancellor at the time, told The News that a "handful" of priests had been accused of sexual abuse and no more than three of the accusations were determined to be true. But the names of those three accused priests already had surfaced publicly at the time Cunningham made his remarks: the Rev. William F.J. White, the Rev. Bernard M. Mach and the Rev. John R. Aurelio.
In 2002, diocese officials acknowledged they had removed a total of six priests from the priesthood for molesting children and that "12 to 15 priests" had been accused of sexual impropriety. Then, just two years later, in the wake of a Archdiocese of Boston abuse scandal, Cunningham acknowledged that the Buffalo Diocese had received 93 complaints of abuse against 53 clergy since 1950. But, again, he refused to name names. Cunningham moved on to become bishop of the Ogdensburg Diocese and later the Syracuse Diocese.
In March 2018, Malone first disclosed the identities of 42 priests accused of abuse, but the original list included no details of the whereabouts of the priests and victims of abuse said it failed to give an accurate accounting of the full extent of abuse in the diocese.
Malone followed up in November 2018 with the names of an additional 36 priests, after his former administrative assistant leaked documents to WKBW-TV showing that the diocese was aware of complaints against more than 100 priests.
The current list includes more than a dozen priests that already were identified in media reports and lawsuits since last November.
For the first time, the diocese also provided a few more details about each accused priest, such as the date of birth, his ordination date, his current status as a priest and his date of death, if he is deceased. Previous lists mentioned only the priest's name and date of death, if applicable.
A statement from Diocese spokeswoman Kathy Spangler said names will continue to be added to the list "if new allegations are received and substantiated after investigation and recommendations from the Independent Review Board are accepted by Bishop Malone."
The statement also provided clarification on what the diocese means by "substantiated allegations."
Substantiated claims meet one or more of the following criteria:
The accused priest admitted the allegation.
The Independent Review Board found the allegation to be credible and substantiated following a preliminary investigation by an independent professional investigator.
The allegation was corroborated by witnesses, additional victims, documents, emails, photos, texts or by another source such as law enforcement.
The accused priest was convicted of a crime in connection with the allegation.
The accused priest has been laicized or permanently removed from ministry as a result of the allegation.
Spangler's statement also reiterated that the diocese will not identify the names of deceased priests who were accused, after their deaths, by a single complainant. The diocese acknowledged in 2018 that it was aware of 48 such cases.
"Every accused person is entitled to due process and to defense of his reputation," the statement said. "Yet, a deceased priest cannot defend his good name."
If a second credible allegation against a deceased priest emerges, the diocese will add his name to the list, the statement said.
________________________________________
Buffalo whisteblower says she leaked abuse documents 'out of love'
CNA    Catholic News Agency
05 November 2018
Buffalo, N.Y., Nov 5, 2018 / 02:42 pm (CNA).- The former Diocese of Buffalo employee who leaked internal diocesan documents to the press wrote in an op-ed Sunday that she shared the documents "out of love for the survivors, my diocese, my community and my Church."
"What I was witnessing boggled my mind, broke my heart and burdened my soul. My conscience felt as though it were in a vise that was tightening at an alarming rate," Siobhan O'Connor wrote Nov. 4th in the Buffalo News.
O'Connor wrote that while she was executive assistant to Buffalo's Bishop Richard Malone, she would often field calls from survivors of sexual abuse.
"After hearing survivors' accounts of the abuse they suffered and the trauma they are still enduring, I was overcome with the desire to assist them with more than a sympathetic ear and the promise of prayer."
Some of the documents O'Connor leaked suggest that Malone worked with diocesan lawyers to avoid releasing publicly the names of some diocesan priests accused of misconduct.
Ultimately the diocese culled down a list of over one hundred clergy accused of "criminal, abusive or inappropriate behavior" to a final, publicly released list of just 42, the documents show.
O'Connor wrote that she was approached in late July by local reporter Charlie Specht from WKBW Channel 7. The local news station published an exhaustive investigative report Aug. 22-23, citing documents leaked by O'Connor indicating that Malone allowed priests to stay in ministry, despite multiple allegations against them.
O'Connor revealed her identity in the week leading up to her Oct. 28 interview on CBS' "60 Minutes." She said in her op-ed that she loved working for the diocese, and previously held the bishop "in the highest esteem," as emails released by the diocese Oct. 30 showed.
"As I have stated publicly, I bear no ill will toward Bishop Malone…Indeed, I still care about him and pray for him with a sincere heart," she wrote.
Malone said in a Nov. 2 interview on local radio station WBEN that he believed no laws were broken when the documents were leaked, and that he trusted O'Connor followed her conscience in doing what she did.
O'Connor thanked the diocese' "many wonderful priests and deacons, who have suffered deeply throughout these long months…for their faithful fortitude" and expressed her wish to work with them to "rebuild our local church with courage and charity."
She concluded by imploring Malone to live out his episcopal motto, "Live the Truth in Love;" while she reiterated her call for his resignation.
"Be truthful with us, Bishop Malone. Put an end to this toxic secrecy and painful silence," she wrote.
"And, if you love us, begin the process of allowing new episcopal leadership to come to our diocese."
Though Malone apologized to victims in his Nov. 3 radio interview, but said he does not plan to resign. He stated that while he admits he mishandled allegations of sexual abuse involving adults, he maintains that his "record handling misconduct allegations with children is good."
Also on Nov. 3, the diocese placed two more priests, Msgr. Frederick R. Leising and Father Ronald P. Sajdak, on administrative leave after receiving abuse complaints against them. The investigation is ongoing, and the diocese did not specify whether the alleged abuse involved children.