Ronald Paquin, in his mid-70s and whereabouts unknown, is accused of abusing two boys he brought to Kennebunkport for short visits in the late 1980s.
Portland Press Herald
08 February 2017
A former Catholic priest who was at the center of the Boston church sex-abuse scandal has been indicted on 29 counts of sexual abuse in Maine dating back three decades.
The indictments against Ronald Paquin were handed down Tuesday by a York County grand jury. Paquin is accused of abusing two boys whom he brought from Massachusetts to Kennebunkport in the late 1980s.
Paquin pleaded guilty in 2002 to repeatedly raping a Haverhill, Massachusetts, altar boy from 1989 to 1992. The rapes began when the boy was 12.
Paquin was laicized – removed from the priesthood – in 2002 and was jailed on the rape charges from 2002 until 2015.
Kennebunkport Police Chief Craig Sanford said the Maine cases were referred to his department by the state Attorney General's Office, which was approached by one of the alleged victims in 2011. Sanford said the acts reportedly occurred at a "seasonal location," but neither he nor Kathryn Slattery, the York County district attorney, would provide any more details. The dates in the indictment range from Nov. 1, 1985, to Aug. 20, 1988, and some of the alleged sexual acts occurred when one of the boys was younger than 14.
Sanford said Paquin would bring the boys to Maine "for short-term stays."
Such out-of-state trips were common among priests who committed sexual abuse, said Mitchell Garabedian, a Boston lawyer who represented dozens of victims of sexual abuse by priests in Massachusetts. He said priests would typically befriend the families of boys they wanted to abuse, and then persuade the parents to allow their children to go on out-of-state trips with them.
"It's not unusual for predators to travel with children," Garabedian said. "It's actually very common."
Garabedian, who represented 12 of Paquin's victims in lawsuits against the Boston archdiocese, said parents often thought an offer of a trip with a priest was an honor. If a child resisted subsequent trips, he said, the parents would think there was something wrong with their child.
He said there is no one trigger that leads a victim to come forward with allegations of abuse years or decades after the acts.
"Victims will come forward well into their 80s," he said.
Keith Townsend, who told the Boston Globe on Tuesday that he was one of the victims in the Maine indictment, said he told Maine authorities about Paquin when he heard that the former priest had been released from prison. He told the Globe that Paquin began abusing him when he was 8 or 9 years old, both in Massachusetts and at a camp in Kennebunkport.
"I'm guessing Paquin victims will come forward ad infinitum," said Robert Hoatson, one of the founders of Road to Recovery, an organization that provides support to survivors of childhood sexual abuse. "The good thing is that they do."
Paquin's case was one of those featured in the Academy Award-winning film "Spotlight," about the Globe's Pulitzer Prize-winning investigation of sexual abuse of children by priests and the archdiocese's efforts to cover it up by moving predatory priests from one parish to another.
The Globe reported in October 2015 that after he was released from prison, two medical specialists said Paquin, 72 at the time, no longer met the criteria to be considered sexually dangerous. The paper also said court records indicated that after his release, Paquin would seek treatment in either New York or Massachusetts and eventually move to Maine, where he would also seek sex offender treatment.
It's not known where Paquin is now. The indictment lists his address as a treatment center in Bridgewater, Massachusetts, that's connected to the state prison there, but officials said he was released from the facility in 2015 and they don't have any updated information on where he is living now.
There were reports that he was living in a Boston shelter for homeless men, but calls to the shelter were not returned Wednesday.
Sanford said Maine will issue a warrant for Paquin's arrest that will be turned over to a unit of the Massachusetts State Police that deals with sex offenders.
Slattery said officials will seek to have Paquin extradited to Maine for an arraignment, but no date has been set.
Slattery said the state removed its statute of limitations on cases of sexual abuse of minors in 1991. The law allowed cases that had occurred from 1985 on to be prosecuted whenever they were presented, she said.
Edward D. Murphy can be contacted at 791-6465 or at:
emurphy@pressherald.com
_________________________________________
Former priest from Boston clergy scandal indicted on 29 counts of sex abuse in Maine
Bangor Daily News
Posted Feb. 08, 2017, at 5:14 p.m.
Last modified Feb. 08, 2017, at 5:46 p.m.
Ronald Paquin            Kennebunkport Police Department
PORTLAND, Maine — A former Roman Catholic priest, who previously spent a decade in a Massachusetts prison for the rape of an altar boy, was formally charged with 29 counts of gross sexual misconduct in a Maine court Monday.
The York County grand jury indicted Ronald Paquin, 74, for his alleged crimes against children between the ages of 11 and 14 in the late 1980s at a "seasonal location" in Kennebunk, according to a Wednesday statement from the town police.
Paquin, a prominent figure in the sex abuse scandal uncovered by the Boston Globe in the early 2000s, pleaded guilty in 2002 to the repeated rape of a Haverhill, Massachusetts, altar boy.
Paquin was released in 2015 because officials found that he no longer met "the legal criteria for sexual dangerousness," the Globe reported.The priest reportedly intended to go to a Boston shelter for older men when he was released from prison.
The Kennebunk police credited "two courageous victims" with helping to indict Paquin and said a warrant would be issued for his arrest, after which he will be brought to Maine for court proceedings.
"I am glad that we were able to present a case that hopefully brings the victims some type of peace in their future and holds the offender accountable for these horrific crimes," said Police Chief Craig Sanford.
Paquin was among the priests depicted in the Oscar-winning film "Spotlight." Some of the dialogue in the brief scene depicting him in the film was taken directly from what he told Globe reporters in 2001.
"Sure, I fooled around. But I never raped anyone, and I never felt gratified myself," he reportedly said at the time.
The Archdiocese of Boston did not immediately respond to a request for comment on Wednesday. A lawyer for Paquin could not be reached immediately.
_______________________________________
Ex-Priest Who Served More Than 10 Years In Prison For Rape Has Been Freed
WBUR News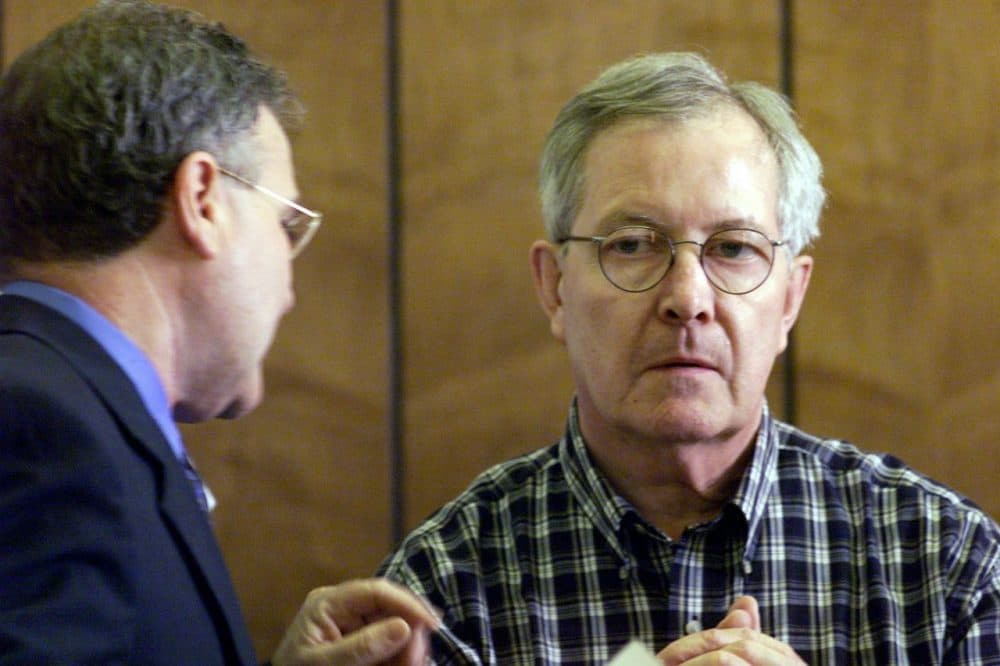 The state sex offender registry indicated that a former Roman Catholic priest who plead guilty to raping an altar boy in 2002 has been released from state custody Friday.
Ronald Paquin's release after more than a decade in state custody came after prosecutors on Friday withdrew a civil petition to have him committed as a sexually dangerous person. Paquin has reported to authorities that he is living at a Boston homeless shelter.
Essex District Attorney Jonathan Blodgett said he had no choice but to withdraw the petition under state law, because two experts who examined Paquin determined he was no longer sexually dangerous.
"Our contention is that Mr. Paquin poses a danger to the community," Blodgett said. "Unfortunately, we have no further legal options available to hold Mr. Paquin."
Under the law, anyone found sexually dangerous can be civilly committed indefinitely at a state treatment center even after their prison sentence has ended.
Paquin's current attorney, David Erickson, did not immediately return a call Friday for comment.
Now 72, he was one of the central figures in the Boston Archdiocese's sex abuse scandal. He pleaded guilty in December 2002 to child rape charges. Paquin admitted molesting a boy from 1989 to 1992 while assigned to a Haverhill parish, starting when the boy was 12.
Paquin was sentenced to 12 to 15 years in prison, and he completed his sentence in May.
Although he was convicted of raping one boy, several other people accused him of molesting them. He was later defrocked by the Vatican. At sentencing, Paquin expressed remorse through his lawyer and said that as a teenager, he was abused by a priest.
Michael Emerton, who said he was sexually assaulted by Paquin when he was a teenager in the 1980s, said he was shocked when someone from Blodgett's office called him Friday to tell him Paquin would be released.
"When he was incarcerated, we knew exactly where he was. Now a dangerous predator has been released and has been put back on the streets, and it's our job to be vigilant now, to keep track of him. The responsibility has been shifted to society," Emerton said.
The Associated Press typically doesn't identify people who say they are victims of sexual assault, but Emerton has spoken publicly about it for years.
The Archdiocese of Boston released a statement Friday afternoon saying it was disappointed in the decision. It also said the archdiocese remains committed to the safety of children.
Jeffrey Newman, who represented the victim in the case, declined to comment.
Clarification: This story has been updated to reflect that Paquin has reportedly been released from state custody. The story has also been corrected to show Paquin expressed remorse at his sentencing, not at a trial.
With reporting by WBUR's Newscast and The Associated Press