Jerry Sandusky Trial: "Victim 1" chokes back tears as he testifies about alleged abuse
CBS News
12 June 2012
Former Penn State University assistant football coach Jerry Sandusky arrives at the Centre County Courthouse for opening statements in his trial on Monday, June 11, 2012.
(Credit: AP Photo/Gene J. Puskar)
(CBS/AP) BELLEFONTE, Pa. – The second day of testimony in the sex abuse trial of former Penn State assistant football coach Jerry Sandusky got underway Tuesday morning with tearful testimony from the young man prosecutors have labeled "Victim 1" – a teenager whose mother's complaints in 2008 prompted a grand jury investigation.
The young man, now 18, tearfully told jurors the former Penn State assistant football coach performed oral sex on him after meeting him through his charity, The Second Mile. He choked back tears as he spoke of an encounter that included Sandusky fondling him, kissing him and ultimately engaging in a sex act.
"After kissing my forehead and cheek, he moved to my lips," the man said. "He kissed my lips, then he moved to my back again… Then he started to rub underneath my shorts."
The teen told the jury Sandusky would also initiate contact by blowing on his stomach and performed oral sex on him.
"I spaced," the alleged victim said. "I didn't know what to do with all the thoughts running through my head, I just kind of blacked out and didn't want it to happen. I froze."
The teen, who testified that he met Sandusky through "The Second Mile," which is the former coach's charity for at-risk youth. He said he had grown up in public housing and did not know his own father.
"I kind of thought he sees me as family and this is just what his family does," he testified.
"I didn't know what to say," testified the man. "I was embarrassed and confused and didn't know what to do. My mom felt I was doing stuff she couldn't do with me, she enjoyed the fact that I had a role model. I couldn't just say no."
He testified that after he broke off contact with Sandusky, the former coach came to his home and yelled at him for not spending more time with him. He told the court that the argument got heated and that eventually hid behind a bush to avoid Sandusky.
"I got extremely, extremely scared," testified the man. "With all the connections he had if he really thought I would say what happened that he could hurt me or someone close to me."
The teen is the second of Sandusky's accusers to testify in the former coach's high-profile child sex-abuse trial.  Sandusky has denied all allegations of sexual abuse against him. His attorney, Joe Amendola, told the court in his opening statement Monday that the alleged victims have financial motives for making their allegations.
According to the grand jury report on the case, Victim 1 alleged that he met Sandusky through The Second Mile in 2005 or 2006 when he was 11 or 12 years old. The young man told the grand jury that he began staying overnight in a furnished basement bedroom at the Sandusky house in 2007 and that Sandusky would come into the room at bedtime and "crack his back." It was a practice that allegedly led to Sandusky performing oral sex on the boy more than 20 times in 2007 and 2008.
Meanwhile, according to PennLive.com, assistant football coach Mike McQueary and alleged Victim 5 have been told to be prepared to testify Wednesday, but they will likely not testify until Thursday.
Additional reporting by CBS News' Paula Reid in Bellefonte, Pa.
____________________________
Sandusky trial: Mike McQueary 'saw sex abuse'
BBC News US and Canada
12 June 2012
Mike McQueary said he had called his father for advice "because I just saw something ridiculous".
A key prosecution witness in the Jerry Sandusky sex abuse case told the court that he saw something "more than my brain could handle" in a locker room.
Mike McQueary said he had no doubt that he saw Mr Sandusky engaging in anal sex in a shower with a boy no more than 12-years-old.
Mr Sandusky, 68, denies 52 criminal counts of abusing of 10 boys over 15 years at Penn State university.
A second accuser, still a teenager, also testified on Tuesday.
He told a Pennsylvania jury that Mr Sandusky kissed him, fondled him and engaged in oral sex with him during sleepovers in the basement of the Sandusky home.
Mr Sandusky served as assistant coach of Penn State's football team until his retirement in 1999, but had access to the campus for several years after.
His November arrest prompted a crisis at the university, which has a celebrated college football tradition.
'Something ridiculous'
Mr McQueary, a graduate assistant at the time, said he heard a "skin-on-skin smacking sound" after entering a campus locker room.
He told the jury that he saw Jerry Sandusky standing naked in a shower behind a boy, slowly moving his hips. Mr McQueary then slammed a locker door in warning and went up to his office, where he phoned his father for advice.
"I was making decisions on the fly," he said on Tuesday. "I picked up the phone and called my father to get advice from the person I trusted most in my life, because I just saw something ridiculous."
His testimony differed little from what he told an earlier hearing in December, with the exception that the alleged abuse took place in 2001, not 2002.
When asked by defence lawyers about the discrepancy between the ages he estimated the boy was, Mr McQueary said. "If [you] want to argue about 9, 10, 11, 12… the fact is he had sex with a minor, a boy."
Defence lawyers had anticipated Mr McQueary's testimony and addressed it in their opening statements.
"We don't think that he lied. What we think is that he saw something and made assumptions," Joe Amendola, Mr Sandusky's lawyer said on Monday.
The defence has also countered that it was not unusual for people Mr Sandusky knew to shower together – something he has admitted to doing.
"In Jerry's culture, growing up in his generation, where he grew up, he's going to tell you it was routine for individuals to get showers together," Mr Amendola said.
'I froze'
The second accuser, who is now 18, said he eventually told a school official about the alleged abuse by Mr Sandusky.
The young man told the jury that his school didn't believe him and responded by saying "He has a heart of gold, and he wouldn't do something like that".
However, the school referred him to a child-welfare agency, which found his account credible and set off the grand-jury investigation that would lead to the trial.
He described an early encounter with Mr Sandusky that ended in oral sex.
"I didn't know what to do with all the thoughts running through my head," he said. "I just kind of blacked out and didn't want it to happen. I froze."
Mr Amendola, asked the teenager why his testimony on Tuesday was more detailed then an earlier statement to the grand jury and to a school counsellor.
The young man, who graduated from high school last week, responded that it was an embarrassing subject, and that he didn't believe "anybody would want to talk about it".
_______________________________
Graphic Depiction in Sandusky Trial
The Wall Street Journal
11 June 2012
By KRIS MAHER
BELLEFONTE, Pa.—Jurors on the first day of the Jerry Sandusky criminal trial heard graphic testimony from a 28-year-old man who said he was sexually abused about 50 different times by the former Pennsylvania State University assistant football coach.
The witness, speaking for more than three hours, said the former coach groped him or forced him to perform oral sex repeatedly over a five-year period starting when he was 12 in athletic-shower rooms at Penn State. When asked by defense attorneys why it took him years to report the alleged abuse, he said: "I've spent so many years burying this in the back of my head."
The witness said that when he learned of the investigation and other alleged victims, he wished he had spoken sooner, adding: "I feel responsible for what happened to the other victims."
Joe Amendola, Mr. Sandusky's lawyer, portrayed the former coach during his opening statement as a "naive" man who showered with children but didn't engage in sexual activity with them. "The testimony you're going to get is going to be awful, but that doesn't make it true," Mr. Amendola told the jury.
He added that while many people would consider it strange that Mr. Sandusky showered with children, he said taking showers together was common during Mr. Sandusky's upbringing, after his parents opened a youth center in southwestern Pennsylvania.
The child-sex-abuse case has reached trial seven months after the Pennsylvania attorney general charged Mr. Sandusky with sexually abusing 10 boys over a period of 15 years, starting in 1994. Mr. Sandusky has denied any sexual activity took place with the boys and has pleaded not guilty to 52 criminal counts. The trial is expected to last for weeks.
Eight of the alleged victims are known; prosecutors brought charges in two other cases based on witnesses' accounts, and those two alleged victims haven't been identified.
Joseph McGettigan, senior deputy attorney general, depicted Mr. Sandusky as a "serial predator." In his opening statement, he spoke in soft tones as he described young men who say they were abused as boys by Mr. Sandusky. Mr. McGettigan referred to the accusers by their first names and pointed to smiling photographs of them projected onto a large screen.
Associated Press
Jerry Sandusky arriving at the Centre County Courthouse on Monday for the first day of his criminal trial.
"You're looking at them as young men up there [as witnesses], but you will see them and understand them as children when they were used and abused for sexual purposes," Mr. McGettigan said. He said six of the eight men "had no fathers" in their lives, and three of those never knew their fathers.
Legal experts said before Monday that Mr. Amendola could face a tough road as he attempts to undermine the credibility of eight separate alleged victims. During his cross examination of the first witness, he inquired about the young man's financial difficulties and asked about any financial agreement he had signed with a lawyer he engaged. The exchange became testy, as the young man, wearing a long-sleeve white shirt and dark tie, leaned into the microphone from the witness stand.
"Didn't you tell us that Jerry treated you like a son?" Mr. Amendola asked.
"No, he treated me like a son in front of other people," the young man said. "Outside of that he tried to treat me like his girlfriend."
Mr. Sandusky, 68 years old and white-haired, sat slightly hunched over in his chair and watched the first witness throughout his testimony.
Several legal experts tracking the case said they thought the prosecution had a strong day. "The state came out ahead today by a lot," said Wes Oliver, a professor at the Harrisburg, Pa., campus of Widener University's law school, who watched the proceedings.
_______________________________
Jerry Sandusky Offered Victim 4 a Contract to Keep Seeing Him
ABC News
11 June 2012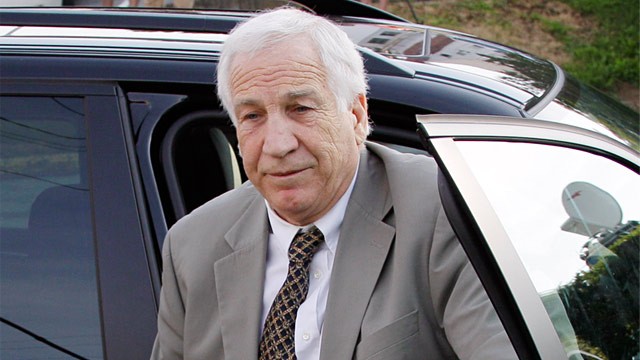 A boy who claims he was sexually abused for years by former Penn State football coach Jerry Sandusky told a jury today that when he tried to pull away from Sandusky the ex-coach had him sign a contract offering him money in return for seeing him at least once a week.
The witness, who is now 28 and identified only as Victim 4 by ABC News, collected some cash from Sandusky, but soon broke off contact.
The witness said the offer in 1999 was called the "Program" and was ostensibly made to ensure that the boy would continue with his studies and athletics. It promised $1,000 for every year of education the boy pursued after high school, plus additional money for seeing Sandusky, going to hockey practice, and working out 3 times a week, he testified.
But Victim 4 said the proposed deal came as he tired of years of sexual abuse, as often as three times a week for three years. When asked by Sandusky's lawyer Joseph Amendola whether the offer was made in good faith, the witness rejected that suggestion.
"No, no. You're not understanding. This is when I'm trying to get away from him. I signed it to shut him up. And that's not the only thing it's offering me money for… It's not that simple, not in my mind, sorry," he said.
Victim 4 also said that Sandusky drove him to buy marijuana and cigarettes and watched while the boy smoked pot in Sandusky's car.
The witness said Sandusky's attention began as soap battles in a Penn State locker room when he was 13, but became more aggressive and insistent the more time they spent together. He told the jury on the first day of the trial that he had to resort to hiding in his bedroom closet to avoid Sandusky trying to prey on him at his home.
"I'd come home from school and look out the window and he' d be there and I'd grab the phone and hide in the closet," the man, who was 13 when the alleged abuse began, testified.
The man's testimony was the first of what is expected to be a series of wrenching and sexually graphic witnesses detailing what they claim that Sandusky, now 68, did to them when they were young boys.
Sandusky is charged with 52 counts of sexual abuse involving 10 boys over a period of 15 years. The trial is expected to last three weeks.
Victim 4 riveted the courtroom with his stories of how he was allegedly coerced into sex with Sandusky through brute strength, lavish presents and his access to the Penn State football team. Sandusky even suggested that he could some day play for the nationally ranked team, even though he only weighed 90 pounds at the time.
His testimony also described how Sandusky's wife, Dottie, once walked in on them during sex. He was sharing a hotel room with Sandusky and his wife on a trip to an away football game in which Sandusky tried to force him to have oral sex in the bathroom.
"He came in and started to push down on me to motion me to go down there. I resisted but didn't say anything but was hesitant, and he said, 'You don't want to go back to Snow Shoe do you?'" Victim 4 said, referring to the town where he was living at the time. "He was trying to get me to give him oral sex and threatening me if not."
"What happened then is literally 10 seconds later, the bathroom door is not shut completely… and the other door is open, and I heard Dottie say 'Jerry' and he ran out. And she said, 'What are you doing in there?'" Victim 4 testified.
The witness told the court that Sandusky began abusing him after workouts at Penn State by throwing handfuls of soap and "play fighting" in the showers. The horseplay progressed into Sandusky touching the boy and rubbing up against the boy's hands, until both had touched the other's penis.
As the shower incidents became more frequent, the man claimed that Sandusky began maneuvering him to the floor and putting his genitals near the boy's face, and vice versa. He also tried to have oral sex and anal sex with the boy, the man claimed.
In car rides, Sandusky "would put his hand on my leg, basically like I was his girlfriend…. It freaked me out extremely bad. I would brush it off," he testified, but added "it happened every time" they were in a car.
Victim 4 said he never told anyone because he feared losing the benefits of the relationship.
"This is something good that happened to me. I didn't have a dad around, I didn't have a father figure. This is something good. I'm in high school at this point, people are jealous, other kids are jealous, and they want to tease you. They're saying things like you're being molested by Jerry, you're butt buddies. It really is happening but I've got to pretend like it's not happening to everybody else. If I ever said anything, it would have been so much worse. I denied it forever," he testified.
Under cross examination, Victim 4 admitted that he had a lawyer before he went to the grand jury and never spoke in detail of the alleged abuse before the grand jury.
At first, he said, he kept quiet because "I didn't want to lose the good things I had and I kind of looked at Jerry Sandusky as a father figure and he was nice to me other than those instances… I am feeling cool because I am hanging out with players all the time… I don't want to lose somebody actually paying attention to me."
When he was older, Victim 4 was still reluctant to speak of the alleged abuse.
"I had come to terms with it…. I thought I was the only one, but then I find out that there are others… If I had said something back then…. I feel responsible for what happened to those other kids," he testified.
Amendola attempted to convince the jury that the "Program," along with letters from Sandusky that the alleged victim read aloud into testimony, were proof that Sandusky was only trying to help the boy succeed academically and professionally.
"You have so much potential and are beginning to realize it," Sandusky wrote. "Hopefully you can handle that success and build on it. When you came over it gave me the opportunity to see something I often think, that you are becoming a leader, one who leads by example, has higher standards, is something special, and I'm convinced you can be all of that."
Amendola pointed out that Victim 4 once hit Sandusky with a bottle when the man put his hand on the boy's knee, suggesting there was little likelihood of sex if a hand on the knee elicited such a violent response.
"You've got to realize there was a friend with me at this time and I didn't want him seeing that in any shape or form," the man said.
Amendola also asked the witness about financial hardships, noting that he had not paid rent on a former apartment, to point to a possible financial motivation for the victim's testimony. The questions elicited anger from Victim 4, who said that he had never considered bringing a lawsuit against Sandusky and was reluctant to event be a part of the criminal case against the coach.
The man, who is now a father of a young child, said that he never directly told Sandusky to stop because he liked the attention of a father-figure. Amendola, however, pointed out that at one point, the accuser violently hit Sandusky with a bottle when Sandusky put his hand on the boy's knee.
"One time you hit Sandusky with a bottle? And you didn't like it? That was because he had hand on your knee? He was not trying to force you to have oral sex?" Amendola asked.
"Because he KEPT putting hand on me knee, okay? You've got to realize there was a friend with me at this time and I didn't want him seeing that in any shape or form," the man said.
The trial opened with the prosecution displaying photos of eight of Sandusky's 10 alleged victims, and Sandusky's lawyer suggesting that Sandusky may take the stand in his own defense.
Defense attorney Joseph Amendola said today in an opening statement that Sandusky would tell the jury about how his own experiences growing up explained some of his alleged behavior.
"It was routine for people to get in the showers in Jerry's culture. He's going to tell you later, it was routine for individuals to take showers together," Amendola said.
Sandusky's defense team also filed a motion to allow evidence that he has histrionic personality disorder, a condition that would explain some of his behavior as well as letters he wrote to his alleged victims. The disorder, his lawyer claimed in a court document, will show that his actions were not attempts to "groom" young boys for sexual seduction, as the prosecution has claimed.
Prosecutor Joseph McGettigan earlier promised that eight of Sandusky's accusers would take the stand to recall graphic details of the alleged abuse.
"I'm going to ask you to forgive me, because I'm going to ask (the alleged victims) to back years to when they were children, and I'm going to press them for those details," McGettigan said. "I've asked them to forgive me for the graphic answers. But I have to ask and they have to answer to go back in time. "
Amendola, who seemed to admit to the jury that the prosecution had a strong case, saying "the Commonwealth has overwhelming evidence" and "there are so many accusers." He told the jury of seven women and five men that he would try and discredit the alleged victims and other witnesses in a bid to defend Sandusky.
"It is rare, it is absolutely totally unusual for an alleged victim to have an attorney beside them, representing them, and yet six and possibly more we have evidence to show that one of them had an attorney before they ever talked to attorney general in this case," Amendola said.
"Evidence going to show that six of eight young men have civil litigation," the lawyer said. He later added, "These young men have a financial interest."
Sandusky, dressed in a gray suit jacket and khaki pants, sat hunched over at the defense table, flanked by his two defense attorneys and a legal assistant. The arrest of the former defensive coordinator last December sent shockwaves through the university, ending the careers of head coach Joseph Paterno and university president Graham Spanier, and resulting in the arrest of two other school officials.
McGettigan began the trial by projecting the pictures of eight young boys whom Sandusky allegedly molested onto a screen in front of the courtroom. He said the alleged victims would testify, and the prosecution would provide supporting documents, photographs, and evidence to support their claims. They would also describe the investigation into Sandusky that led to the 52 counts charged against him.
The victim, "just wanted a father figure," McGettigan said, "but the defendant would spoon with him, put his hand down his pants, touch his genitals."
Dottie Sandusky and her son, Matt, were escorted from their seats in the courtroom this morning to be sequestered with other witnesses. Other members of Sandusky's family remained in the courtroom.
A white tent was erected at the court's side entrance where the witnesses are expected to arrive, in order to protect them from the media and the public. Still, the alleged victims' identities will be made public for the first time when they take the stand to testify and their names are read into the public record. ABC News does not report the names of victims of sex crimes.
McGettigan also promised during opening statements to use Sandusky's own media interviews against him in court, noting that the jury would hear Sandusky's responses on NBC and in the New York Times to questions about his alleged crimes, prompting Amendola to confer with his paralegal.
The court took a break ahead of the first witness being called.
The investigation began in 2008 when a high school student in Centre County, Pa., told his mother and school administrators that Sandusky had molested him, launching a widespread but secretive effort to interview dozens of boys Sandusky mentored through his charity, The Second Mile, as well as Penn State officials who may have seen or heard about inappropriate actions.
Charges of child sex abuse were brought against Sandusky on Nov. 4, 2011, igniting a firestorm of scandal around the prestigious football program that led to the dismissal of the university's president and Paterno, and criminal charges against two school officials.
ABC News' Lauren Pearle and Candace Smith contributed to this report