Reformist group offers alternative to Catholic Voices, which has recruited 20 media-friendly members to explain traditional views
Tuesday 24 August 2010 17.20 BST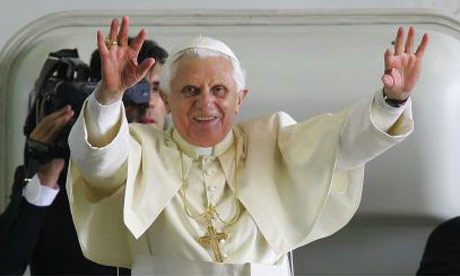 Both groups will hope to make the most of the media spotlight before and during Benedict XVI's four-day tour of the UK
A Catholic speakers' bureau is being launched ahead of next month's papal visit to provide alternative views on controversial church issues such as child abuse, women's ordination, married priests and homosexuality.
Catholic Voices for Reform will go head to head with Catholic Voices, an established group which has recruited and trained 20 media-friendly "ordinary" Catholics to articulate traditional church positions before and during Benedict XVI's four-day tour.
The new organisation, unlike its older and more conformist counterpart, will call for a wholesale transformation of the papacy and the Vatican. It will offer the media a chance to hear the views of Catholics who are "deeply concerned at the present state of the church".
"These people, women and men, have formed the backbone for the call for the change in the church, some for many years but others more recently," the group said in a statement. "They are its loyal opposition who have remained within the church calling for reform. All our members are people with different experiences who have found a conflict between these experiences and the official teachings of the church."
It said the word "reform" was to differentiate itself from the "official" group, which has the blessing of the bishops of England and Wales.
Recruits to the original bureau have spent six months preparing to explain and present church teaching on subjects that the wider public "often find baffling or offensive". They have received "briefings from experts and training in how to carry off an effective short interview" and can comment on the papal visit in "clear, human language."
The original Catholic Voices is backed by life peer and barrister Lord Brennan, president of the Catholic Union of Great Britain, and a celebrity monk, Abbot Christopher Jamison, of Worth Abbey, West Sussex. Its team of speakers includes a parliamentary researcher, several lawyers, an pro-life campaigner, a commodity buyer, a scientist and a management consultant.
A spokesman for the group described the reformists as "a lobby, not a communications exercise on behalf of the church". But one of the founders of Catholic Voices for Reform, Myra Poole, who supports the ordination of women, was not overawed by the academic and corporate pedigree of the rival lineup.
She said: "I'm not frightened of them. They are the official group, they're very with it, but we're not daft. We all have experience and know about theology. It's going to be hard because as the trip gets nearer, we're going to be up against them."
Poole also revealed that a prayer vigil will be held in central London on the eve of the papal visit and that two letters will be hand-delivered to the residence of the archbishop of Westminster, the Most Rev Vincent Nichols.
She said: "One will be for the archbishop and the other will be for the pope. We will be asking six very simple questions on reform. We're working on them now."