Channel News Asia
25 April 2018
A Chilean man who was sexually abused by a priest as a boy will urge Pope Francis to sack "toxic" bishops who covered up the assaults, he said on Tuesday ahead of a face-to-face meeting with the leader of the Catholic Church.
Chilean victim of clerical sexual abuse Juan Cruz speaks during an interview ahead of his meeting with Pope Francis, outside the Vatican in Rome, Italy, April 24, 2018. REUTERS/Alessandro Bianchi
VATICAN CITY: A Chilean man who was sexually abused by a priest as a boy will urge Pope Francis to sack "toxic" bishops who covered up the assaults, he said on Tuesday ahead of a face-to-face meeting with the leader of the Catholic Church.
Juan Carlos Cruz, who has become a symbol of the Church's abuse crisis, will spend several days in the Vatican as a guest of the pope in the residence where he lives. Strong papal action in Chile would send a long-overdue message to the entire Church, he told Reuters in an interview.
"I would say 'hold these bishops accountable, fire a few of them, if not many of them, but fire them and not give them a cushy job here at the Vatican,'" Cruz said.
"Like in a company (I would say) 'you need to be preparing your resumé'. That's what I would say to these bishops."
Cruz and two other victims, Jimmy Hamilton and Jose Andres Murillo, are each due to spend several hours with the pope on a visit that follows an extraordinary April 11 letter in which Francis acknowledged he had made "grave mistakes" in handling the sexual abuse crisis in Chile.
In that letter, Francis said there had been a "lack of truthful and balanced information" about the situation in Chile. He invited the victims whose words he had once dismissed as "slander" to the Vatican to seek their forgiveness and ordered all of Chile's bishops to a summit with him next month.
"I hope the Holy Father realises that he is surrounded by some toxic people who need to leave …," Cruz said, adding that some Chilean bishops were "guilty of misinforming the pope".
Cruz, who now lives in the United States, was a victims of the Rev. Fernando Karadima who was found guilty in a Vatican investigation in 2011 of abusing boys in Santiago in the 1970s and 1980s.
Cruz and other victims have accused Bishop Juan Barros of the diocese of Osorno of having witnessed the abuse by Karadima, who was Barros' mentor in Santiago.
Karadima, now 87 and still living in Chile, has always denied the allegations and Barros said he was unaware of any wrongdoing.
But Barros and other bishops were put under the spotlight in January when the pope sent one of the Vatican's most experienced sexual abuse investigators, Archbishop Charles Scicluna of Malta, to New York and Chile to talk to victims and bishops.
Scicluna produced a 2,300 report, which prompted the pope to call next month's meeting.
Cruz said he hoped the pope would take decisive action in order to "send a message to the world that Chile is an example of what's going to happen all over if this culture of abuse and cover up continues".
He said he was confident that some good would come out of his meeting with the pope. Francis is due to have extended meetings with each of the three men individually over the weekend and then together on Monday.
"I told him, 'Holy father, I do not want to be used as a PR exercise …,'" he said. "Good or beautiful words or tears will not cut it. There has to be concrete action taken. There's no more time left."
(Reporting by Philip Pullella; Editing by Robin Pomeroy)
___________________________________________
Pope invites Chilean sex abuse victims to Vatican for private meetings
ABC News
ROME — Apr 25, 2018, 4:20 PM E
The Vatican announced today that Pope Francis had invited three Chilean victims of clerical sexual abuse to visit him at his residence in the Vatican this weekend and meet with him in private.
The pope thanked the men — Juan Carlos Cruz, James Hamilton and Jose Andres Murillo — for having accepted his invitation, saying he will "ask for their forgiveness, share their pain for what they suffered, and above all, listen to all their suggestions to ensure that these reproachable incidents are never repeated."
The men have accused Bishop Juan Barros and others in the Chilean Church hierarchy of covering up Father Fernando Karadima's alleged sex crimes. The Vatican removed Karadima from the ministry in 2011 following reports that he sexually abused minors and he was sentenced to a lifetime of penance and prayer. Karadima later refuted the accusations of sexual abuse of children in a civil court in Chile in 2015. He was not sentenced because the statute of limitations had expired although the judge said he found the accusations truthful.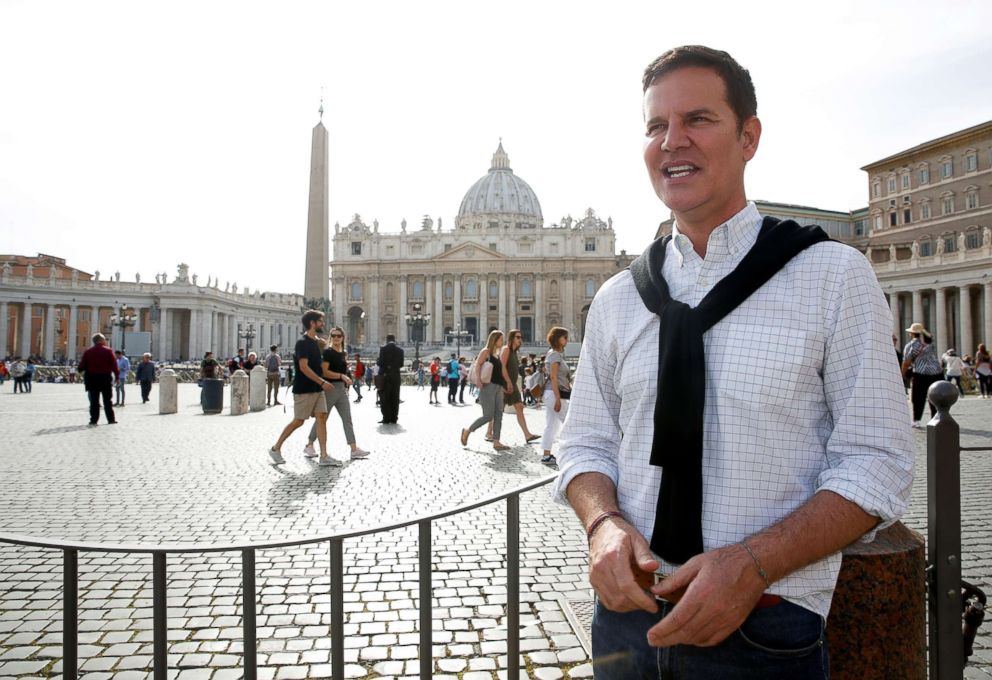 Barros reportedly has offered his resignation to the pope in the past, who has rejected it.
Vatican spokesman Greg Burke told reporters today that Francis "will see each of the men individually, to allow that each can speak as long as he felt he wanted to."
Burke added that the pope asked for prayers for the Chilean church during this painful period, hoping that "these meetings can be conducted in a climate of serene trust and can be an important step to ensure healing and that abuses of conscience, power, and especially, sex, will never again occur within the church."
The three were invited to the Vatican after Francis received a 2,300-page report by Bishop Charles Scicluna. The report was never made public but supposedly included the testimonies of 64 individuals who spoke about sex abuse cases of minors by the clergy and the subsequent cover-up by the Chilean church.
Many people, especially Chileans, had been shocked and dismayed by the pope's comments about the Chilean cases during his trip, when he said he didn't believe there was any substance to the accusations and had accused the victims of slander.
In an unusual about face, the pope admitted "grave errors" in judgment and sent Archbishop Scicluna to Chile to conduct a thorough investigation into the accusations. Scicluna is known to have conducted innumerable investigations into sexual abuse by clergy on behalf of the Holy See and of having led a Vatican board that reviews such cases. On receiving the report, the pope admitted to having misjudged the cases and blamed a lack of "truthful and balanced information."
The pope wrote a letter to Chilean bishops in April explaining his decision to invite the Chilean victims to the Vatican. He told the bishops to prepare themselves for an emergency summit in the coming weeks to discuss the scandal, which has hurt his reputation and that of the Chilean church. Barros is expected to attend the summit.
_________________________________
Chile abuse whistleblower has message for Pope Francis
Crux
Apr 24, 2018
ASSOCIATED PRESS
ROME – The key whistleblower in Chile's clerical sex abuse scandal has arrived in Rome for his audience with Pope Francis and said Tuesday he will urge the pope to get rid of the "toxic" bishops and cardinals who have defamed and discredited abuse survivors around the world.
In an interview in St. Peter's Square, Juan Carlos Cruz said he was honored Francis wants to apologize in person for having discredited victims during a January trip to Chile. Comments Francis made while defending a bishop now at the heart of Chile's scandal was one of the worst blunders of his papacy, calling into question his commitment to fighting abuse and cover-ups.
While Francis has blamed others for misinforming him, Cruz said he wants to hear the pope's explanation for having seemingly been unaware that abuse victims, and not anti-Church political activists, had for years publicly accused Bishop Juan Barros of witnessing and ignoring their abuse.
"He's not a pope from Ukraine. He's from Buenos Aires, which is an hour, 40 (minute) flight" from Chile, Cruz told The Associated Press. "So it's really difficult to understand that this was an unknown. But I want to hear him. I want to talk to him. I want to listen to what he has to say."
Cruz and two other abuse survivors, Jimmy Hamilton and Jose Andres Murillo, have several days of private and group meetings with Francis lined up starting Friday. They will be Francis's guests at the Vatican's Santa Marta hotel, where he lives.
Francis invited the three to Rome after enraging Chileans by saying during his January visit that the men's accusations against Barros were "calumny" and demanding proof.
Francis seemed completely unaware that the men – victims of Barros' mentor, Father Fernando Karadima – had placed Barros at the scene of their abuse, and that their testimony had been deemed trustworthy enough for the Vatican to use it to sentence Karadima to a lifetime of penance and prayer. Francis had previously accused "leftists" for mounting the opposition to Barros.
In response to the uproar his comments caused in Chile, Francis dispatched the Vatican's top sex abuse investigator to look into the accusations against Barros. After receiving the investigator's report, Francis issued a letter of apology to the victims and invited them to Rome.
The pope also gave a stern warning to Chile's bishops, who have a history of discrediting victims, imposing minimal sentences on abusers or covering up for them entirely.
In the letter, Francis admitted he made "serious errors in judgment and perception" about the Barros case, but he blamed a lack of "truthful and balanced information" for his missteps.
Many Chileans have pointed the finger at the retired archbishop of Santiago, Cardinal Javier Errazuriz, who was Barros' superior for many years and is a top adviser of Francis.
In emails, Errazuriz referred to Cruz as a "liar" and a "serpent" out to destroy the Chilean Church. Barros, Hamilton and Murillo sued the archdiocese for having covered up Karadima's abuse; their case is on appeal.
Cruz has urged Francis to remove "toxic" leaders like Errazuriz, who also is in Rome this week attending one of Francis's regular meetings with his nine key cardinal advisers.
"I believe he (Francis) is a good man and I believe he wants to do the right thing," Cruz said. "Unfortunately he has listened to toxic people that surround him and that has to stop. … They need to go. He needs to hold them accountable."