Lawyer for abuse victims questions appropriateness of ads in archdiocese's Catholic Weekly
The Guardian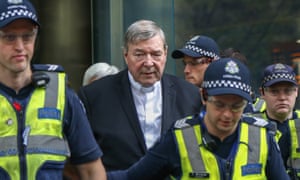 The Catholic Weekly has been running ads for the fund to support George Pell since last year. Photograph: Asanka Brendon Ratnayake/AP
The Catholic Archdiocese of Sydney has been running ads in its news publication, the Catholic Weekly, seeking donations to fund Cardinal George Pell's legal costs, a move which a lawyer representing victims of child sexual abuse, Dr Judy Courtin, describes as "utter hypocrisy".
While the Catholic Weekly has been running the ads with the bank account details for the fund since last year, it ran an article promoting the fund after Pell was ordered to stand trial earlier this month on historical sexual offence allegations. He has plead not guilty to all charges. Pell's legal team, which includes the high-profile defence barrister Robert Richter, is believed to be costing him tens of thousands of dollars every day court sits.
Details of the fund have also been appearing in the newsletters of Catholic parishes around Australia, including St Patrick's parish in Ballarat. The child sexual abuse royal commission turned its attention to Ballarat several times during its five-year inquiry, hearing evidence from survivors of abuse within the diocese, as well as bishops and priests who were witness to, or responsible for, abusing.
While the fund to support Pell is managed by the Ferdinand Zito and Associates law practice in Melbourne, it is unclear who or what organisation was responsible for establishing the fund or who is paying to have it advertised around the world.
"All clients of any legal practitioner are afforded the protection of legal professional privilege," Zito told Guardian Australia. Zito said because of this, he was unable to answer questions about the fund.
Courtin, who represented a number of abuse victims who gave evidence to the royal commission, said Pell was entitled to a defence team and to seek funding for it. But she questioned the involvement of the archdiocese in promoting that fund.
"Pell, and other defendants with adequate financial backing, can not only afford the star-studded cast that is Pell's legal team, but it is every defendant's legal right to do so. But what of the victims of crime and their role in the criminal trial process? Are their justice needs being met?
"Churches should be putting more pressure on the government to reform laws to give victims equal access to the courts and to set aside profoundly unjust deeds of release. Victims are still having shocking trouble getting justice because they received a meagre settlement in the past and signed away their future rights in a deed of release."
While the Catholic Archdiocese of Sydney has been promoting details of the Pell fund, it said it had not established it, nor was it directing the funds. It has also previously said it is not responsible for Pell's legal bills
A spokeswoman for the Archdiocese of Sydney told Guardian Australia that there was no conflict of interest in running the ads in the Catholic Weekly or while Pell was on trial.
"The Catholic Archdiocese of Sydney stands by its statement to the royal commission to address child sexual abuse, but it also recognises the rights of the accused, any accused person, to defend themselves," she said.
"Like any other citizen, Cardinal Pell is entitled to the presumption of innocence, he has pleaded not guilty and is also entitled to appoint the defence he wants."
A spokeswoman for Pell, Katrina Lee, told the New Daily that while the Archdiocese of Sydney passed on details of the fund to those who asked, "the archdiocese has not contributed to this fund nor has the Vatican provided any funding".
The ads for the fund, linked to a Bendigo Bank account, are appearing in other publications around the world. A website, cardinalpellappeal.com, has also been established.
Do you know more? melissa.davey@theguardian.com
________________________________________
The mystery adverts paying for George Pell's million-dollar defence
The New Daily
Updated:
Lucie Morris-Marr
A series of mysterious adverts are encouraging supporters to donate to a "trust fund" to help Cardinal George Pell pay for a top legal team to fight the abuse allegations against him.
Bank details of the fund, run by a Melbourne-based solicitor, are included in the adverts which have appeared in Catholic newsletters, magazines and websites around the world.
Mystery still surrounds who sent the adverts – which all share similar wording – and whether they were part of a co-ordinated campaign.
One of the adverts posted on the website of the Catholic Diocese of Ballarat says the bank account details were "provided by Cardinal Pell's staff at the Sydney Archdiocese".
All of the adverts go on to say that funds can be deposited into a Bendigo Bank account run by Ferdinand Zito and Associates, a law firm with a small office next to a post office in suburban Melbourne.
A spokeswoman for the law firm confirmed they were running the fund, but due to client confidentiality with the Cardinal they would not answer any questions.
The revelation comes after a magistrate at Melbourne Magistrates Court ruled last week that Cardinal Pell's case would proceed to a higher court, despite dropping half the charges against him, including ones more serious in nature.
In a statement after the verdict, Cardinal Pell, through his lawyers, thanked "all those who have supported him from both here in Australia and overseas" and said he was "grateful for their continuing support and prayers".
The former archbishop of both Melbourne and Sydney, on leave from his post as Vatican treasurer and currently living in a Sydney seminary, will now face two trials by jury for multiple allegations of historic sexual abuse.
A spokeswoman for the Cardinal, Katrina Lee, the Executive Advisor for the Archdiocese of Sydney, confirmed officially for the first time that the Vatican was not contributing to the legal fund.
"Since Cardinal Pell's return to Australia many people have asked how they could assist with his legal costs," she said.
"An independent solicitor's trust fund was set up for this purpose. Not set-up by or overseen by the Archdiocese.
"The Archdiocese has not contributed to this fund nor has the Vatican provided any funding."
If anyone has asked for the fund details, the Archdiocese has passed them on, Ms Lee said.
Cardinal Pell, who strongly denies all the allegations against him, has chosen one of Australia's most feared and respected criminal barristers to help him clear his name.
Robert Richter, 72, charges a rumoured fee of $16,000 per day for his services.
But the total daily bill for Cardinal Pell's team as a whole could easily sit around $30,000 per day with fees for the work of lawyers and clerks from law firm Galbally & O'Bryan plus a second criminal barrister, Ruth Shann.
Ingrid Irwin, a lawyer from Ballarat who previously represented two of the accusers in the case against Cardinal Pell – one of whom passed away in January this year – revealed she had received a payment recently from Mr Zito owing from the Cardinal.
It related to work she had carried out as a result of a court order from Cardinal Pell's legal team.
She said it was unfair the Cardinal was able to raise funds from supporters to pay for top legal counsel while the accusers were denied their own lawyers during the process.
"It's hugely unfair," Ms Irwin told The New Daily.
"And I wonder whether the Catholic Church is indeed paying for this legal fight but through a different channel via this fund which is less controversial for them."
Des Cahill, an emeritus professor at RMIT University in Melbourne who studied at the same seminary as Cardinal Pell as a trainee Catholic priest, said he believed donations from supporters would be enough to cover the legal fees, which could total millions of dollars.
"He has constantly expressed his innocence and is well liked by many conservative Catholics for what he stands for and what he represents," Dr Cahill told The New Daily.
On May 16 Cardinal Pell will return for a hearing at the County Court of Victoria when dates of the two trials are expected to be confirmed.
________________________________________
Cardinal Pell's legal team will accept public donations
The Catholic Weekly
May 4, 2018
Cardinal George Pell will face separate trials in his fight against historical sexual assault charges.
The Cardinal, who has pleaded not guilty, is due to return to the County Court in Melbourne on Wednesday, 16 May for a further directions hearing when it is expected a date for the first trial will be determined.
Half the charges he faced during the committal hearing were dismissed by the magistrate. These were described by his defence barrister Robert Richter as the "vilest of the charges".
Richter said the remaining 10 charges should run as two separate trials. "They are completely different in nature", he said and are "separated by 20 years." The Prosecution agreed to separate trials which relate to allegations when he was a priest in Ballarat in the 1970s and allegations by another accuser when he was archbishop in Melbourne in the 1990s.
When Cardinal Pell took leave from his role as Prefect of the Vatican Secretariat for the Economy to voluntarily return to Australia nearly 12 months ago to fight the charges, many supporters wanted to contribute to his legal costs.
While the Archdiocese assists with some living expenses and accommodation, as it would for any of its bishops or priests, it is not responsible for the Cardinal's legal bills arising from these matters.
An independent fund was established where people could contribute to his costs. The Archdiocese of Sydney did not establish the fund nor is it managing the fund.
Following the Cardinal's recent court appearance there has been further widespread support for the Cardinal from people wanting details of the fund to which they can contribute.
These details are:
Ferdinand Zito and Associates Law Practice Trust Account
Bendigo Bank
BSB: 633-000
Acct No: 1359-51192
Ref Code: LFGP
If you would like to request acknowledgment of the receipt of funds please email fzLFGP@fzlegal.com.au
______________________________________
Fundraising via St. Patrick's Parish Community Bulletin
Entire bulletin:  St. Patrick's Parish Community Bulletin, (St. Patrick's Church, Stalwell)
Page with relevant section highlighted (Click image to enlarge)