The Sydney Morning Herald
March 17, 2014 – 7:04PM
A close associate of Cardinal George Pell has contradicted the former archbishop's assertion that he was unaware of how much money abuse victim John Ellis was seeking from the church.
Monsignor Brian Rayner was chancellor and vicar-general of the archdiocese when Mr Ellis went through the internal church system of dealing with victims, Towards Healing.
Mr Ellis was abused for five years by priest Father Aidan Duggan at Bass Hill in Sydney, starting in 1974, when Mr Ellis was 13.
The monsignor, who represented the church authority in Towards Healing, told the royal commission into child sexual abuse on Monday he had told then-archbishop Dr Pell that Mr Ellis wanted $100,000 to cover counselling and accommodation.
"Anything to do with an amount of money, I would have to get the authorisation from the archbishop," he said as he explained that he had received Dr Pell's approval to make an initial $25,000 offer.
When asked specifically about the $100,000 figure, Mons Rayner replied: "Yes, he (Dr Pell) would have been told that."
But the hearing last week heard Dr Pell had made a statement to the commission on February 24 in which he said he was unaware Mr Ellis had "in fact sought $100,000".
The commission heard that a church meeting with Mr Ellis had ended without resolution after Mr Ellis refused to sign a deed of release for an offer of $30,000.
The monsignor said on Monday that when facilitation failed, he forwarded a letter from Mr Ellis's solicitor, who proposed mediation, to Catholic Church Insurances lawyers Monahan + Rowell.
Patrick Monahan wrote back saying he unhesitatingly would strongly recommend mediation.
The archbishop referred the matter to Melbourne-based firm Corrs Chambers Westgarth, who rejected mediation as a viable option.
Mons Rayner said on Monday he always believed Mr Ellis had been abused and he only found out weeks ago that when the matter went to the Supreme Court the church had disputed the abuse.
He left his post in 2005 and was never called to give evidence in the Supreme Court cases that ensued.
Mons Rayner was also asked on Monday about an affidavit he signed in December 2004, stating that to the best of his knowledge "there are no official documents to record priests resident in the parish".
He agreed with counsel assisting the commission Gail Furness SC it gave the impression there were no records showing Fr Duggan's various appointments.
"If the affidavit is deceptive, I regret that," Mons Rayner said.
He added that he was "sidelined" on the Ellis case after that because litigation was not his area of responsibility, but also because he had expressed his dissatisfaction when Corrs took over.
The hearing continues on Tuesday, when Mons Rayner will be cross-examined.
________________________________________
George Pell can lift veil of secrecy around church sex abuse
Cardinal George Pell: Facing a detailed cross-examination. Photo: Arsineh Houspian
Cardinal George Pell is about to appear before the Royal Commission into Institutional Responses to Child Sexual Abuse. He will face a detailed cross-examination under oath by Justice Peter McClellan and counsel assisting Gail Furness, SC. They will focus on the archdiocese of Sydney's handling of the John Ellis case. But they will also take the opportunity to question Pell about the history of the Australian Catholic Church's handling of abuse allegations.
Pell has often expressed his disgust and regret at the sexual abuse of children by church workers, especially priests. Since 1996, when he was appointed archbishop of Melbourne, Pell has worked hard to reduce the prospect of such abuse and to set in place procedures for helping victims and weeding out perpetrators. Initially, he decided to establish his own process in Melbourne, rather than working with the other bishops and religious leaders who were developing the Towards Healing protocol.
Pell has already faced the Victorian parliamentary inquiry into child abuse. Having been auxiliary bishop in Melbourne between 1987 and 1996, he told that inquiry: "As an auxiliary bishop to Archbishop Little, I did not have the authority to handle these matters and had only some general impressions about the response that was being made at that time but this was sufficient to make it clear to me that this was an issue which needed urgent attention and that we needed to do much better in our response."
The Victorian inquiry was critical of Frank Little and the Catholic Church processes before 1996. Many people inside and outside the church were left wondering if Archbishop Little didn't respond adequately between 1987 and 1996, why didn't his auxiliary bishop, Pell, do something? And if the archbishop knew during those nine years, why didn't his auxiliary?
In November, the Victorian parliamentary committee reported. Welcoming the report, Pell admitted past mistakes by the Melbourne archdiocese during his time as auxiliary bishop there. Signalling a change of approach, he wrote: "The report details some of the serious failures in the way the church dealt with these crimes and responded to victims, especially before the procedural reforms of the mid 1990s. Irreparable damage has been caused. By the standards of common decency and by today's standards, church authorities were not only slow to deal with the abuse but sometimes did not deal with it in any appropriate way at all. This is indefensible."
It is only part of the story to lay blame at the feet of deceased church leaders such as Little. The opaque hierarchical structure of the Catholic Church leaves many Australian citizens wondering about the clerical culture inside the church and its lack of transparency and accountability. While in Melbourne, Pell was able to say that, as an auxiliary bishop, he was not responsible for the supervision of erring priests. In Sydney, when he became archbishop, he had to deal with the Ellis litigation, where the court found that an archbishop and his auxiliary bishops were responsible for appointments and supervision. The differing role of auxiliary bishops in different dioceses will need to be clarified before the commission.
In Sydney, Pell brought in Corrs, his favoured lawyers from Melbourne, as his primary legal advisers. They ran the Ellis litigation very hard. Monsignor John Usher, chancellor of the archdiocese of Sydney, wrote to John Ellis on August 6, 2009, stating that he was distressed to learn that the archdiocesan lawyers had never responded to an offer of compromise and that the cardinal "will do all in his power to ensure that this sort of legal abuse is never repeated again".
Major firms briefing senior counsel in the appeal courts incurring six-figure expenses are careful to act on instructions from their clients. The commission will want to establish who in Pell's office was responsible for authorising or failing to arrest the legal abuse.
In preparation for his pending appearance, Pell made a second and more specific admission of the need for a change of approach. He wrote: "Whatever position was taken by the lawyers during the litigation, or by lawyers or individuals within the archdiocese following the litigation, my own view is that the church in Australia should be able to be sued in cases of this kind."
We need to know which diocesan personnel appoint and supervise church workers, including priests, and which diocesan personnel actually run the show, issuing instructions to lawyers who, in the past, have pursued individuals such as Ellis.
The spotlight on the Ellis case should lead to better church administration for the good of everyone, especially those abused or wronged by those in authority. Together, Pell and McClellan can provide us with a better-lit path through the thickets of past abuse and maladministration.
Frank Brennan is a Jesuit priest and professor of law at the Australian Catholic University.
_____________________________________
Monsignor Brian Rayner disputes Cardinal George Pell's evidence at the royal commission into child sexual abuse
news.com.au
March 18, 2014 12:00AM
CARDINAL George Pell's former right-hand man has disputed evidence given to the royal commission into child sex abuse by his boss.
Cardinal Pell, Australia's most senior Catholic cleric, has told the commission in a statement he never knew former altar boy John Ellis was willing to settle for $100,000 before the church spent $1.5 million fighting his case.
However Monsignor Brian Rayner, the former chancellor of the Catholic Archdiocese of Sydney, said yesterday that he would have told the cardinal that Mr Ellis had suggested the six-figure sum in negotiations through the Church's controversial Towards Healing ­protocol.
"I had regular meetings with the archbishop and I would have kept him informed," Monsignor Rayner said.
The archdiocese won the landmark case with a ruling that the Church was not a legal entity and could not be sued, blocking all other similar claims against it around the country in what has become known as the Ellis defence.
Counsel assisting the royal commission, Gail Furness SC, told the commission that: "The cardinal will give evidence that he was, at this time (of the legal proceedings) unaware that Mr Ellis had in fact sought $100,000, a matter that was known to his chancellor (Monsignor Rayner).
____________________________________
George Pell knew abuse victim wanted just $100,000, monsignor tells inquiry
Cardinal's former right-hand man says he ran all financial matters by Pell, contrary to evidence that Pell denied knowing the figure
The Guardian
Australian Associated Press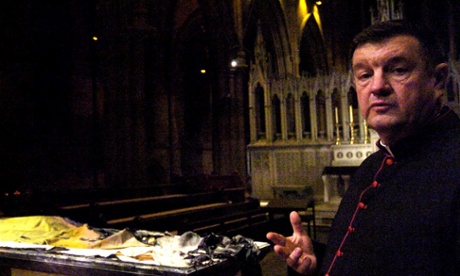 Monsignor Brian Rayner talking after a fire that damaged St Mary's Cathedral in Sydney in 2005. Photograph: Elizabeth Hanna/AAP
Cardinal George Pell was told an abuse victim was seeking only $100,000 from the Catholic church, contrary to earlier evidence that Pell denied he knew the figure, a royal commission has heard.
The commission is examining John Ellis's experiences when he approached the Catholic Archdiocese of Sydney over sexual abuse by a priest between 1974 and 1979.
It heard last week that Ellis sought an ex-gratia payment of $100,000 because of needs arising from ongoing trauma following abuse by Father Aidan Duggan at Bass Hill.
Monsignor Brian Rayner, who was chancellor and vicar-general of the archdiocese between 2003 and 2005, told the inquiry on Monday he ran all financial matters by Pell. As such, he was Pell's right-hand man in administrative affairs.
Asked by counsel for the commission Gail Furness SC whether he had told Pell that Ellis and his wife Nicola had asked for $100,000 for counselling and accommodation costs related to the impact of the abuse, Rayner replied: "Yes, he would have been told that."
In evidence last week Ellis said that when he met Pell in February 2009, the then archbishop told him: "I had no idea that you sought an ex-gratia payment of only $100,000. I was told that your claim was for millions and needed to be defended."
Ellis, who was originally offered $25,000 and then $30,000, met Rayner in a facilitation meeting in April 2004 but the complaint was unresolved.
Ellis refused to sign a deed of release which would have blocked further action against the church. He sued Pell and the trustees of the diocese.
Rayner said he told the archbishop that Ellis had rejected the offer.
Pell offered no opinion but was probably not surprised, he said.
Asked why, he said: "Mr Ellis, with his legal background, was going down a path that was not all that easy to – we were not really able to know what was going to happen next and how we could in fact come to a happy conclusion with Mr Ellis."
Rayner said if Pell was away and he needed his authority, he went to his private secretary, Michael Casey, who spoke to the cardinal daily.
Casey is due to take the stand after Rayner.
The hearing continues.
_____________________________
Royal Commission: Monsignor admits swearing 'deceptive' affidavit
The Sydney Morning Herald
John Ellis gives evidence to the Royal Commission.
A senior Catholic Church official has admitted he swore a "deceptive" and wrong affidavit for court proceedings in the John Ellis case, the Royal Commission into Institutional Responses to child sex abuse has heard.
The Archdiocese's Chancellor, Monsignor Brian Rayner, apologised that an affidavit he swore in the court proceedings in 2004 was "deceptive". He agreed he had information about the abuser Father Aidan Duggan's appointments to the parish of Bass Hill between 1974 and 1978. Yet he had signed an affidavit conveying the impression the church had no evidence Father Duggan was at Bass Hill during the years Mr Ellis alleged he was abusing him there except for 1975. "If the affidavit is deceptive then I regret that aspect," Monsignor Rayner said. He said he did not prepare it and did not read it carefully nor take the opportunity to correct it.
Sixteen years after they last had sexual contact, the former altar boy Mr Ellis visited Duggan at the Little Sisters of the Poor Nursing Home at Randwick.
The church had used the excuse that Duggan was too far gone in senile dementia to answer allegations against him as a basis for treating Mr Ellis' claim of abuse as "uncorroborated".
Mr Ellis has given evidence  that he saw a flash of recognition cross Father Duggan's face, but the old priest said nothing. It was enough to make the  Monsignor Rayner, who'd served fulltime for 20 years as a priest in the military and was also at the meeting, well up.
"He made a groaning sound and appeared unable to communicate. He spoke no words at all while we were with him," said Monsignor Rayner, now a parish priest at Gymea in Sydney's southern suburbs.
"The situation was very moving. I became aware of how the witness had been subject to abuse over time but also from my own personal side where I have, since the earliest years, had a great love of the church and the papacy and the priesthood, to have seen a priest in this situation where he was now suffering from dementia, to think how with his noblest of ideals in his ordination, how he had ended up in this situation, that was very moving".
Monsignor Rayner who as Archdiocesan chancellor was the official church authority to deal with victim's complaints, said he told Cardinal Pell about the amounts of money victims of sex abuse sought. But for an agreement to be reached, "finally the decision would have been made by the Archbishop himself".
He said he had "never doubted" that Mr Ellis was telling the truth about the abuse by Father Duggan, which began in 1974 when he was a 13-year-old altar boy and continued into his adulthood.
The Commission has heard that in 2004, Mr Ellis and his wife, Nicola, nominated a figure of $100,000 to meet his counselling and accommodation. The church offered him $25,000 under its Towards Healing complaints process. Monsignor Rayner said he couldn't remember where this $25,000 figure came from. He said the amount was "quite inappropriate" but it "did not help the matter at all" that Mr Ellis "always said, 'Whatever you pay me I will take that off the amount when I sue'."
The former Archdiocesan chancellor said it was the Archdiocese's practice that no compensation could be paid unless the claimant signed sign a deed releasing the church from any further liability. "So that was the background. Why would we then increase it when it is not going to bring the matter to an end?"
Commission chair Justice Peter McClellan asked Monsignor Rayner why the church could not make what it considered a just response regardless, since Mr Ellis had indicated he understood any amount he was paid would be deducted from any verdict he might win in court.
Monsignor Rayner said "my hands were tied". But he hoped that if Mr Ellis had been prepared to sign a deed of release, that "the Archbishop or myself would have come up with a larger amount to his (Mr Ellis') satisfaction".
Mr Ellis did sue, and lost his case. It finished up costing the church $1.5 million after it voluntarily met Mr Ellis' costs and made ex gratia payments to him of $568,000.
Another Commission hearing began in Adelaide on Monday, reports AAP. A bus driver,  Brian Perkins, who worked at the Catholic St Ann's Special School, went on to sexually abuse intellectually disabled children and had prior convictions. His background was not checked, the commission heard.
In her opening address, counsel assisting Sophie David said when Perkins got the job he had three convictions for sexual offending against children, dating back to 1956 and had received two jail terms.
But the school principal did not carry out a police check on Perkins who stayed at St Ann's until 1991 when he was investigated in relation to pornographic photos of students, she said.
Perkins was the school's bus driver, a volunteer in woodwork classes and did respite work for parents of students on weekends.
He was arrested in 1993 and bailed, absconded from South Australia in 1994 and was not extradited until 2002.Some 12 years after allegations were first made, he pleaded guilty to sex charges and was sentenced to 10 years jail, where he died in 2009.
Ms David said the hearing would focus the action or inaction of police, the school and the Catholic Church.The first witness will be a former student, now 38, who was aged between 11 and 15 when he was abused by Perkins.The hearing is continuing.
with AAP
_________________________________
Cleric's conflict over oath of secrecy
The Australian

March 14, 2014 12:00AM
Dan Box
A SENIOR Catholic Church cleric says he obtained permission from the Vatican to break his "oath of secrecy" before giving evidence to the royal commission about the handling of a case of child abuse by a Sydney priest.
The admission, by Brian Rayner, the former chancellor of the Archdiocese of Sydney, marks the first time the commission has heard publicly that such an oath exists, or that church witnesses feel it may prevent them giving evidence.
Called to the witness stand only minutes before the commission adjourned yesterday's hearing, Monsignor Rayner said he was required to take the oath after his appointment and it meant "that matters during the office will not be discussed elsewhere".
The cleric, who also served as vicar-general of the archdiocese between 2003 and 2005, said he did not know whether other senior church witnesses expected to give evidence during the hearing had sought similar consent to speak freely.
Asked who required him to take the oath, he replied "immediately, it would be the archbishop and beyond that it would be church practice universally". The archbishop at the time was Cardinal George Pell.
The commission heard that Monsignor Rayner recently sought personal advice from the Pope's representative in Canberra, Archbishop Paul Gallagher, about what evidence he should give during the current hearing.
Without this, "I would have been in a dilemma about what would have been appropriate to reveal to the commission and what should have been kept private", he said. "There are certain things that will be dealt with within the church with which I would be familiar but it probably wouldn't be appropriate for me to reveal elsewhere."
Monsignor Rayner said the papal nuncio advised him to "give whatever evidence was required" despite his oath. He did not know if other witnesses due to give evidence, including the current chancellor and private secretary to the archbishop as well as Cardinal Pell himself, had sought the same advice.
The Royal Commission into Institutional Responses to Child Sexual Abuse is investigating the church's response to the abuse of a Sydney altar boy, John Ellis, who lost his attempt to sue the archdiocese in 2007.
Cardinal Pell had ultimate responsibility for the handling of such litigation, Monsignor Rayner said, although "under instruction from the archbishop, anyone that he required to carry it out or carry it through would be responsible".
Mr Ellis initially attempted to resolve his complaint through the church's "Towards Healing" process, the commission heard, before ultimately launching legal action in August 2004.
In a 2005 email to the church's lawyers, Cardinal Pell's secretary Michael Casey wrote "the final position which the archdiocese came to was that it was not possible to make a determination that Father Duggan had abused Ellis as alleged".
The church official who oversaw Towards Healing, Michael Salmon, told the commission yesterday he had believed Mr Ellis's account and the church had also "accepted the complaint".
A previous assessment of Mr Ellis's case, commissioned by the church, also found "the allegations of improper sexual conduct … more likely than not occurred", the commission heard.
________________________________
Catholic official released from vow
9News msn
5:54pm March 13, 2014
A senior Catholic official had to be released from a vow of secrecy before he could freely give evidence to the royal commission into child sexual abuse.
Monsignor Brian Rayner was chancellor and vicar-general in the Archdiocese of Sydney when abuse victim John Ellis sought redress for abuse suffered when he was an altar boy at Bass Hill, in Sydney between 1974 and 1979.
Monsignor Rayner told counsel assisting the commission, Gail Furness SC that he had gone to the Papal Nuncio to be released from a vow of secrecy he took when he held the chancellor's position in Sydney.
The nuncio, Archbishop Paul Gallagher, the Pope's diplomat in Australia, is based in Canberra.
Monsignor Rayner said the nuncio advised him to give "whatever evidence was required by the royal commission".
Ms Furness: "By that do you understand to tell the truth?"
Monsignor Rayner :"That's correct".
He said had he not spoken to the nuncio he would have been in a dilemma as to what would be appropriate to reveal to the commission and "perhaps what should be kept private".
There would be certain things in the church he would be familiar with which would probably not be appropriate for him to reveal elsewhere and the nuncio clarified for him that he should answer questions put to him regardless of the vow, he said.
The Monsignor who is now parish priest at Gymea said for two years he was Archbishop Pell's second-in-command in administrative matters.
He said the archbishop had a lot of "right-hand men".
Earlier on Thursday the commission heard that Monsignor Rayner played a central role in the internal church process for abuse victims in the case of John Ellis.
He was central to negotiating a financial offer to Mr Ellis who rejected $30,000 because it came with the requirement that he sign a deed of release.
Mr Ellis lost his litigation when the court ruled the church was not a legal entity which could be sued and Archbishop Pell also could not be sued because he was not in charge at the time of the abuse.
The commission has heard that when the case came to court the Sydney Archdiocese "vigorously defended" Mr Ellis' claim and disputed whether sexual abuse had occurred.
On Thursday, Raymond Brazil who facilitated the church mediation attended by Monsignor Rayner and Mr Ellis and his wife Nicola in 2003 said he understood the church authority had accepted Mr Ellis's claim that the abuse had occurred.
The commission heard that Nicola Ellis had taken notes of that meeting and recorded that the Monsignor said "he never had any reason to doubt what JAE (John Andrew Ellis) has said".
Mr Brazil said his "own notes from the time recorded a similar comment".
Mr Ellis has said when the Towards Healing process failed the Melbourne law firm Corrs Chambers Westgarth disputed the fact the sexual abuse had ever happened.
One of the issues the commission is investigating is why the church denied the abuse after initially accepting it had happened.
The hearing continues on Monday when Monsignor Rayner continues his evidence.