Catholic World News – June 04, 2015
After a member of the special papal commission on sexual abuse unleashed a public attack on Cardinal George Pell, the full commission released a statement that endorsed neither the attack nor the embattled cardinal.
"The Pontifical Commission for the Protection of Minors, as mandated by the Holy Father, Pope Francis, has no jurisdiction to comment on individual cases or inquiries," the commission said in a statement released June 2. The statement went on to observe that questions about the response of Church officials in Australia to sex-abuse complaints are being investigated by a royal commission there.
Cardinal Pell, who was Archbishop of Melbourne before taking his current post as prefect of the Secretariat for the Economy, has been asked to appear before the royal commission again (having already testified twice) to answer questions about his handling of abuse cases. Peter Saunders, a member of the papal commission, lashed out at the cardinal in an Australian television interview, saying the Cardinal Pell has an "almost sociopathic" attitude toward abuse victims.
While other Australian prelates have come to the defense of Cardinal Pell, the abuse commission—headed by Cardinal Sean O'Malley—maintained a studied neutrality. Rather than rebuking Saunders for his harsh attack on the cardinal's integrity, the commission's statement backed the call for Cardinal Pell to answer the latest charges. Without naming the cardinal, the commission's statement said that it is "essential that those in positions of authority in the Church respond promptly, transparently and with the clear intent of enabling justice to be achieved."
 __________________________
Vatican's No. 3 fights allegations in Australian abuse probe
Washington Post
By Kristen Gelineau and Nicole Winfield | AP June 4 at 9:16 AM

FILE – In this Sept. 14, 2004 file photo, the then Archbishop of Sydney, Cardinal George Pell celebrates a special mass in Sydney's St. Mary's Cathedral. Pell, now the Vatican's third-most-powerful official, has been dogged for years by allegations that he mishandled the Catholic Church sex abuse crisis in his native Australia, and now the scrutiny is more intense than ever. (Rick Rycroft, File/Associated Press)
SYDNEY — Cardinal George Pell has been dogged for years by allegations that he mishandled the Catholic Church sex abuse crisis in his native Australia, and now the scrutiny is more intense than ever. Australia's latest inquiry is as high-level as it gets, and since Pell is now the Vatican's third-most-powerful official, the same can nearly be said for him.Pell, whom Pope Francis placed in charge of the Vatican's finances last year, is accused of creating a victims' compensation program mainly to protect the church's assets and of using aggressive tactics to discourage victims' lawsuits, all while he was a bishop in Australia.

Pell is also facing accusations from earlier in his career when he was a priest and auxiliary bishop and not in the ultimate position of authority: that he ignored warnings about an abusive teacher, bribed the victim of a pedophile priest to stay silent and was part of a committee that moved that priest from parish to parish.

Pell has repeatedly denied wrongdoing and defended his record on confronting the abuse scandal as archbishop of Melbourne, and later of Sydney. But the investigation by Australia's Royal Commission into Institutional Responses to Child Sexual Abuse is raising eyebrows in the Vatican, where the pope promised to hold bishops accountable for failing to protect children and care for victims.

The Vatican's position was further complicated this week when Peter Saunders, a member of Pope Francis' sexual abuse advisory commission, spoke out against Pell. The issue has now become so fraught that three Vatican offices have issued statements trying to limit the damage by distancing themselves from Saunders' comments and, to some degree, what is happening Down Under.

Pell testified twice last year before the long-running Royal Commission — the highest form of investigation in Australia — and with pressure mounting, he offered to appear again. On Monday, the commission took him up on that, asking him to testify at a later date.

The commission is looking at how the Catholic Church and other institutions dealt with decades of abuse across Australia. Given the scale of abuse in Catholic institutions, much of the attention has focused on how the church — and Pell — responded.
____________________________
 Vatican official and sex abuse survivor 'will not be silenced' by George Pell legal threat
Peter Saunders stands by his call for Cardinal George Pell to be removed as head of the Vatican's finances over allegations he protected paedophile priests
The Guardian
02 June 2015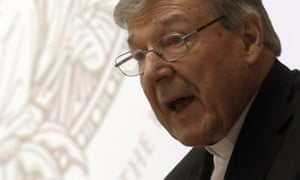 Cardinal George Pell has indicated he is prepared to give evidence at an Australian inquiry into how institutions handled allegations of child sex abuse. Photograph: Gregorio Borgia/AP
Child sexual abuse survivor Peter Saunders says he will not be silenced by the church despite the threat of legal action by Cardinal George Pell, Australia's most powerful Catholic.
During a TV interview on Sunday night, Saunders – who was appointed by Pope Francis to lead the Vatican's commission for the protection of children – accused Pell of lacking compassion for those abused within the church.
During the interview, Saunders called on the pope to remove Pell from his position as head of the Vatican's finances, saying his alleged involvement in covering up abuse and protecting paedophile priests made his position "untenable".
The comments prompted a swift reaction from Pell, whose spokesperson issued a statement on Sunday night saying; "In the circumstances, the cardinal is left no alternative but to consult with his legal advisers."
The pope's spokesman Federico Lombardi said Saunders was expressing his "personal views" and not those of the commission. Pell's response to allegations against him "must be considered reliable and worthy of attention and respect".
But on Tuesday Saunders told Guardian Australia: "Our church has a history of spending millions on defending paedophiles.
"George Pell, obviously a wealthy man, will think nothing of using his wealth to silence me but I have said nothing that others haven't said and it is only my opinion.
"It is not slanderous."
Saunders established the National Association for People Abused in Childhood in Britain 16 years ago and was hand-picked by the pontiff to work with the Vatican. As a child Saunders was abused by two Jesuit priests and the head of a Catholic primary school.
The Archbishop of Melbourne, Denis Hart, defended Pell on Tuesday morning, telling ABC radio in Australia that Saunders's descriptions of Pell "doesn't fit the man".
"I would describe George Pell as a man who courageously, when he became archbishop, introduced the first system for dealing with child sex abuse, trying to bring relief to victims, trying to bring care and also some financial compensation," Hart said.
"And he was a world leader in this regard.
"He's made some mistakes and he has admitted them and apologised for them. But very clearly he comes across as someone who is totally dedicated to putting right this awful, awful scourge."
On Monday, the royal commission into institutional responses to child sexual abuse, which since 2013 has been investigating how Australian institutions handled allegations of abuse, said Pell had been invited to personally appear before the commission when it returns to Ballarat in Victoria later this year.
During the first round of hearings in Ballarat in May, the commission heard damning evidence from a victim who alleged Pell bribed him to keep quiet about being abused by a senior Catholic priest.
"In the ordinary course, witnesses are summonsed to appear at a hearing," the commission spokeswoman said.
"However a person resident overseas cannot be summonsed. The chair has received a letter from Cardinal Pell indicating that he is prepared to come to Australia to give evidence. The royal commission will ask him to give evidence in the second of the Ballarat hearings."
Pell has previously appeared twice before the commission, however, via video-link from Rome.