Peter Comensoli says he accepts victim was abused but wonders whether he was wrong in naming cardinal as abuser
The Guardian    Australia
Thu 22 Aug 2019 04.09 BST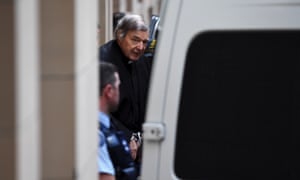 Catholic archbishop of Melbourne Peter Comensoli believes Cardinal George Pell, above, is innocent. Photograph: James Ross/EPA
Catholic archbishop of Melbourne Peter Comensoli says he believes convicted paedophile Cardinal George Pell when he protests his innocence, and has speculated if the sole living victim got the name of his abuser wrong.
A day after Victoria's court of appeal upheld Pell's conviction for the rape of a 13-year-old choirboy and sexual assault of another at Melbourne's St Patrick's Cathedral in 1996, Comensoli said while he respected the courts, he also believed his friend and would continue to visit him in prison.
"I believe in what he said to me, on many occasions, that he's innocent and I continue to be really quite shocked with all of how things are developed," Comensoli told 3AW on Thursday.
But he went on to say he also believed the victim who came forward to police was abused within the church – but questioned whether it was Pell who abused him.
"I believe both [men]," Comensoli said.
"I genuinely think that I can take on my knowledge of the man in terms of George Pell and accept what he has said to me. I can also take on what I've heard of [the victim] and what he said in terms of abuse."
Pell, who was once among the most powerful figures in the Vatican, now has 28 days to apply for appeal to the high court. That application needs to be granted before it can be heard.
Two judges would consider the application either on written submissions alone or during a hearing when submissions are limited to 20 minutes for each side.
The court has to consider factors including whether their hearing an appeal is a matter of public importance, whether the decision relates to a matter of law, or if it's in the interests of the administration of justice.
If Pell, 78, is unsuccessful and remains in prison, he could die there, Comensoli said.
"He's an old man, his health's never been real good for a while," he said.
The Vatican press office released a statement acknowledging the court of appeal's decision and said it would wait until any further appeals are exhausted before taking action.
"As the proceedings continue to develop, the Holy See recalls that the cardinal has always maintained his innocence throughout the judicial process and that it is his right to appeal to the high court," press officer Matteo Bruni said.
The Vatican has previously flagged its own internal investigation into the evidence against Pell.
One of Pell's victims died in 2014, while the other gave evidence at his trial.
In their 325-page decision on Wednesday, the chief justice, Anne Ferguson, and president Chris Maxwell found that man, now in his 30s, came across as truthful.
But in his dissenting judgment, Justice Mark Weinberg highlighted inconsistencies in the victim's evidence.
The man said after the court decision that he felt a responsibility to come forward after the death of the other victim, his childhood friend.
"The experiences I have been through have helped me understand what is truly important," he said.
Pell did not appeal his six-year sentence, so it stands, along with a minimum three years and eight months before he's eligible for parole.
The earliest Pell can be released is October 2022, when he will be 81.
_______________________________________________
Vatican invokes Cardinal George Pell's 'right to appeal' after child sexual abuse conviction upheld
Former Vatican treasurer, and most senior Catholic cleric in the world to be convicted of child sexual assault, maintains innocence after losing appeal
The Guardian    Australia
Wed 21 Aug 2019 07.57 BST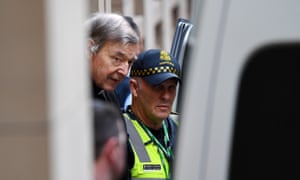 Cardinal George Pell is taken from the court in Melbourne, Australia, back to jail after his appeal against child sexual abuse convictions was dismissed. Photograph: James Ross/AAP
The most senior Catholic cleric in the world to be convicted of child sexual abuse, Cardinal George Pell, has lost his appeal against his conviction, but maintains he is innocent.
In a brief statement issued after the decision the Vatican reiterated that Pell maintained his innocence, and that it was now "Pell's right to appeal to the high court".
"At this time, together with the church in Australia, the Holy See confirms its closeness to the victims of sexual abuse and its commitment to pursue, through the competent ecclesiastical authorities, those members who commit such abuse," the statement also said. No mention was made of stripping Pell of his cardinal title.
On Wednesday the Victorian court of appeal in Melbourne, Australia, dismissed Pell's appeal, with two of the three appellant judges describing the complainant who accused Pell as a compelling, truthful witness.
The jury had not been unreasonable in convicting Pell on one count of sexual penetration of a child under the age of 16 and four counts of an indecent act against a child under the age of 16, the chief justice, Anne Ferguson, and appeal court president justice, Chris Maxwell, found.
A third judge, Mark Weinberg, disagreed, finding the complainant was inclined to embellish aspects of his testimony and that he could not exclude the possibility that some of what he said was concocted. But in the court of appeal judges are required only to reach a majority decision.
Pell was escorted back to jail, where he will continue to serve a six-year sentence for sexually abusing two 13-year-old choirboys in 1996, while he was archbishop of Melbourne. After Sunday solemn mass at St Patrick's Cathedral in Melbourne, Pell orally raped one of the boys in the priest's sacristy and indecently assaulted both of them. Pell offended again against one of the boys about a month later, when he grabbed the boy's genitals in the church corridor, once more after Sunday solemn mass.
"Throughout his evidence, [the complainant] came across as someone who was telling the truth," Ferguson said. "He did not seek to embellish his evidence or tailor it in a manner favourable to the prosecution. As might have been expected, there were some things which he could remember and many things which he could not. And his explanations of why that was so had the ring of truth."
'We are not used to this': victim advocates welcome rejection of Cardinal Pell's appeal – video
The judges unanimously agreed that Pell's other two grounds of appeal, which concerned legal issues, failed. He will be eligible for parole in 2022.
Through his lawyer the complainant issued a statement, saying: "Some commentators have suggested that I reported to the police somehow for my own personal gain.
"Nothing could be further from the truth. I have risked my privacy, my health, my wellbeing, my family. I have not instructed any solicitor in relation to a claim for compensation. This is not about money and never had been. Although my faith has taken a battering it is still a part of my life, and part of the lives of my loved ones."
The second victim died of a heroin overdose at the age of 30 in 2014, and his father shed tears after the appeal dismissal.
In a statement, Pell's spokeswoman said the cardinal was "obviously disappointed with the decision today".
"However his legal team will thoroughly examine the judgment in order to determine a special leave application to the high court. Cardinal Pell maintains his innocence. We thank his many supporters."
When he learned his fate in the court, Pell bowed his head slightly, but did not show any expression.
Pell was made a Companion of the Order of Australia in 2005 for his service to the Catholic church and for his work in education and social justice. Following the court decision, Australia's prime minister, Scott Morrison, said he believed Pell would be stripped of those honours.
"That is a process that is done independently, and that course will now follow," he said.
The archbishop of Melbourne, Peter Comensoli, called upon the public to respect the court's decision. He said that his thoughts and prayers were with the man who had brought Pell before the courts.
"I humbly acknowledge it has been a challenging time for him, and I stand ready to offer pastoral care and spiritual help, should he seek it," Comensoli said. Pell, too, would receive care. "In Christian charity, I will ensure that Cardinal Pell is provided pastoral and spiritual support while he serves the remainder of his sentence, according to the teaching and example of Jesus to visit those in prison," he said.
The president of the Australian Catholic Bishops Conference, Archbishop Mark Coleridge, offered similar sentiments, saying: "This has been and remains a most difficult time for survivors of child sexual abuse and those who support them".
"We acknowledge the pain that those abused by clergy have experienced through the long process of the trials and appeal of Cardinal Pell," Coleridge said. "We also acknowledge that this judgment will be distressing to many people."
The decision and reasons from the appellant judges ran to some 300 pages, but Ferguson read a summary of the judgment to a court packed with media, survivors and Pell supporters on Wednesday.
"Cardinal Pell's conviction and this appeal have attracted widespread attention, both in Australia and beyond," she said.
"He is a senior figure in the Catholic church and is internationally well known. As the trial judge, Chief Judge Kidd, commented when sentencing Cardinal Pell, there has been vigorous and sometimes emotional criticism of the cardinal and he has been publicly vilified in some sections of the community. There has also been strong public support for the cardinal by others. Indeed, it is fair to say that his case has divided the community."
She said it was important that Pell was not made a scapegoat for any perceived failings of the Catholic church to address child sexual abuse. But she was unequivocal about her and Maxwell's judgment in relation to the five charges on which Pell was convicted.
"The complainant was a very compelling witness, was clearly not a liar, was not a fantasist and was a witness of truth," she said.
_______________________________________________
At the verdict George Pell didn't flinch; he just pursed his lips a little. He was going back to jail
The cardinal's defenders will cry foul again – but this time it was the judges and not a jury who destroyed their hero
The Guardian   Australia
Wed 21 Aug 2019 05.30 BST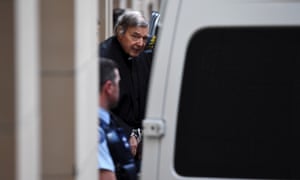 'So George Pell goes back to prison. He left with good grace, a formal nod to the bench and a slow walk from the room. We won't be seeing this bulky figure again for a few years.' Photograph: James Ross/EPA
As the time came, even the patter of keyboards died away. It was so quiet in there. The judges arrived looking ready for the occasion. But George Pell has withered in the weeks since his appeal. He was ashen as he entered the box.
Making sense of those weeks has been a game for lawyers, victim advocates and the press: would the judges of the Victorian court of appeal hold a man in prison so long if they planned to release him? Wouldn't they hurry things along? Were they irrevocably split? Or were they taking the time to write an acquittal that would survive a high court challenge?
The verdict was swiftly delivered. As it sank in, there were little gasps in the room. The silence was so deep heavy breathing could be heard across the court. Pell displayed once more his Olympian detachment. Don't believe reports that he flinched. His lips pursed a little as he stared at the judges. That's all.
As Anne Ferguson, the chief justice of Victoria, read her dry summary of the court's 300-page judgment, the tension in the room dissipated. Hers was an ordinary legal chore. She was getting on with business.
So many big questions turn on the cardinal's fate. The court's decision will have repercussions around the world. It's an extraordinary victory for police and prosecution. But it marks a bitter defeat for those supporters who have indulged in florid conspiracy theories to explain the destruction of their hero.
But none of this was the court's worry. The three judges had only to decide who was telling the truth in this matter: a young man remembering a brief ordeal in the St Patrick's Cathedral sacristy 22 years ago, or one of the most powerful figures in the Catholic world denying he had committed such a brazen crime?
Appeals from jury decisions in sex abuse cases can be extraordinarily complex. This wasn't. All the judges had to do – once they unanimously flicked away a couple of technical arguments about evidence and procedures – was to decide whether the facts stacked up against the cardinal.
They were a third jury. The first jury couldn't make up its mind. The second convicted. And, after looking at all the evidence again – they watched the videos, toured the cathedral, examined the robes – the judges of the court of appeal by two to one upheld Pell's conviction.
Juries don't give reasons. Judges do. The key to their decision was clearly the accuser whose name we can never publish and whose evidence we will only ever read in summary. Ever since his allegations emerged a couple of years ago, those who have met him speak of an extraordinarily convincing young man.
Two of the three judges agreed. They did not doubt his evidence: "[He] was a very compelling witness, was clearly not a liar, was not a fantasist and was a witness of truth." Pell's failure is set out in hundreds of pages of judicial prose but it's really as simple as this: most of the judges believed his accuser.
Mark Weinberg SC parted company with them here. Weinberg is regarded as one of the great authorities on criminal law in this country. He's spoken of as man who ought by right to have sat on the high court. His questioning during the appeal in June was particularly lucid.
Weinberg was not impressed by Pell's accuser. "His evidence contained discrepancies, displayed inadequacies, and otherwise lacked probative value so as to cause him to have a doubt as to the applicant's guilt. He could not exclude as a reasonable possibility that some of what the complainant said was concocted … "
But Weinberg didn't persuade Ferguson or Chris Maxwell to that point of view. One more vote would have saved him. But it wasn't there. So Pell goes back to prison. He left with good grace, a formal nod to the bench and a slow walk from the room. We won't be seeing this bulky figure again for a few years.
What now for Pell's defenders? Do they enrol Ferguson and Maxwell among all the other conspirators, the journalists and police they accuse of being in cahoots to turn Pell into a figure so hated no jury could ever fairly judge him?
Surely not. But some will no doubt try. Around the world they argued the real jury was the first jury, not the one that convicted him but the one that couldn't make up its mind. Now they have already begun dismissing the majority decision of the court of appeal in favour of Weinberg's dissent – the real verdict that would have set Pell free.
Their faith in this man is depthless, proof against any evidence that might be brought to bear against him. Many of Pell's supporters stood outside the court after the verdict looking shellshocked in the sunlight. This was not as they – or indeed so many in the court – imagined things would turn out.
Overhead, helicopters hovered to catch a shot of the cardinal in a van being taken back to the Melbourne city jail. He will soon be shifted to one of those country jails where Victoria houses its paedophiles. He will know so many of the priests and brothers there.
Let's hope he finds some sort of peace while Rome decides what to do with the most senior man in its ranks ever to be imprisoned for crimes that have stained the reputation of the church around the world.
Australia, meanwhile, can claim a more than modest victory for the law. We don't often see power take such a tumble in this country. It will take time to sink in.