Cardinal George Pell has had his bail revoked in the County Court in Melbourne, meaning tonight he will spend his first night behind bars.
ABC    (Australian Broadcasting Corporation)
27 February 2019
[Click here to access original article with accompanying video clip ]
Key points:
George Pell was convicted of five child sex offences in December
He will be sentenced on March 13
He has withdrawn an application for bail and will remain in custody
Pell, 77, been remanded in custody for the first time on five child sex offence charges, which he was convicted of last December.
A jury found him guilty of sexually abusing two choirboys when he was archbishop of Melbourne in the late 1990s.
Pell will be sentenced on March 13.
"Goodbye you creep," a woman called out as Pell walked from the dock and into custody accompanied by corrections officers.
Pell had been granted bail after his conviction in December last year, because he required knee surgery in Sydney.
He will now be taken to the Melbourne Assessment Prison, which sits on the edge of the city's CBD near Southern Cross Station and a few blocks from the County Court.
He will enter via a side entrance, through a secure airlock, with a rolling metal door on either side.
Here, Pell will hand over his belongings, sign a receipt and await assessment.
That will include basic checks, such as his physical and mental condition and whether he is taking any medication.
The assessment will also take into consideration his personal safety.
The risk is likely to be high, given his public profile and the nature of the crimes he has been convicted of.
Offenders against children are often regarded as targets for violence within the prison system.
As he left the court, Pell's lawyer, Robert Richter QC was asked how he thought Pell would go in prison.
"Well, I hope," he responded.
Photo:The boys were abused at Melbourne's St Patrick's Cathedral. (ABC News: Danielle Bonica)
'Callous, brazen offending'
Pell's pre-sentencing hearing was told his crimes each carried maximum jail terms of 10 years.
Prosecutor Mark Gibson SC told Chief Judge Peter Kidd that Pell's offending involved two vulnerable boys and should be classed as serious.
"These acts … were, in our submission, humiliating and degrading towards each boy and gave rise to distress in each boy," he said.
"There has been a breach of trust in this case in the sense that Cardinal Pell was the driving force and in charge of this cathedral and these two choristers were a cog in the cathedral wheel … in Sunday masses."
Mr Gibson said Pell had displayed a "degree of callous indifference" by continuing his attack on the boys despite their protests.
Mr Richter said the crimes were "no more than a plain vanilla sexual penetration case where the child is not volunteering or actively participating".
But Judge Kidd said that he did view it as a "serious example of this kind of offending", and that the objective fact was that it was a "forcible, blatant attack on two boys".
"I see this as callous, brazen offending … he did have in his mind some sense of impunity," he said.
"I'm not near [considering this] low-end offending, I'm not even near it in my mind."
Lawyers acting for Pell said in a statement today said that he continued to maintain his innocence "despite the unprecedented media coverage".
The statement said Pell had not applied for bail because he believed it was "appropriate for him to await sentencing" and an appeal has already been lodged.
"Like any person he has the right to pursue his legal rights and will do so."
________________________________________
Stooped, frail and grey, church's big man makes shuffling 'perp walk'
The Age
February 27, 2019 — 11.19am
There was the same roiling media maul that once regularly greeted George Pell for his pre-trial hearings, those held last year across the road in the Melbourne Magistrates courts when it was being decided whether the cardinal even had a case to answer.
There were the familiar catcalls and jeers from members of the public who had come to see the most powerful Australian Catholic brought low.
But this time was altogether different. Graver by a degree barely comprehensible.
Pell was now a convicted criminal, found guilty by a jury of sexual offences against choirboys 22 years ago. His shuffle from the roadside, Lonsdale Street, to the glass-walled County Court, walking stick in hand, through the lines of police, cameras whirring all around and a great crowd jostling just to see him, was now what is known in the crime novels as a ''perp walk''.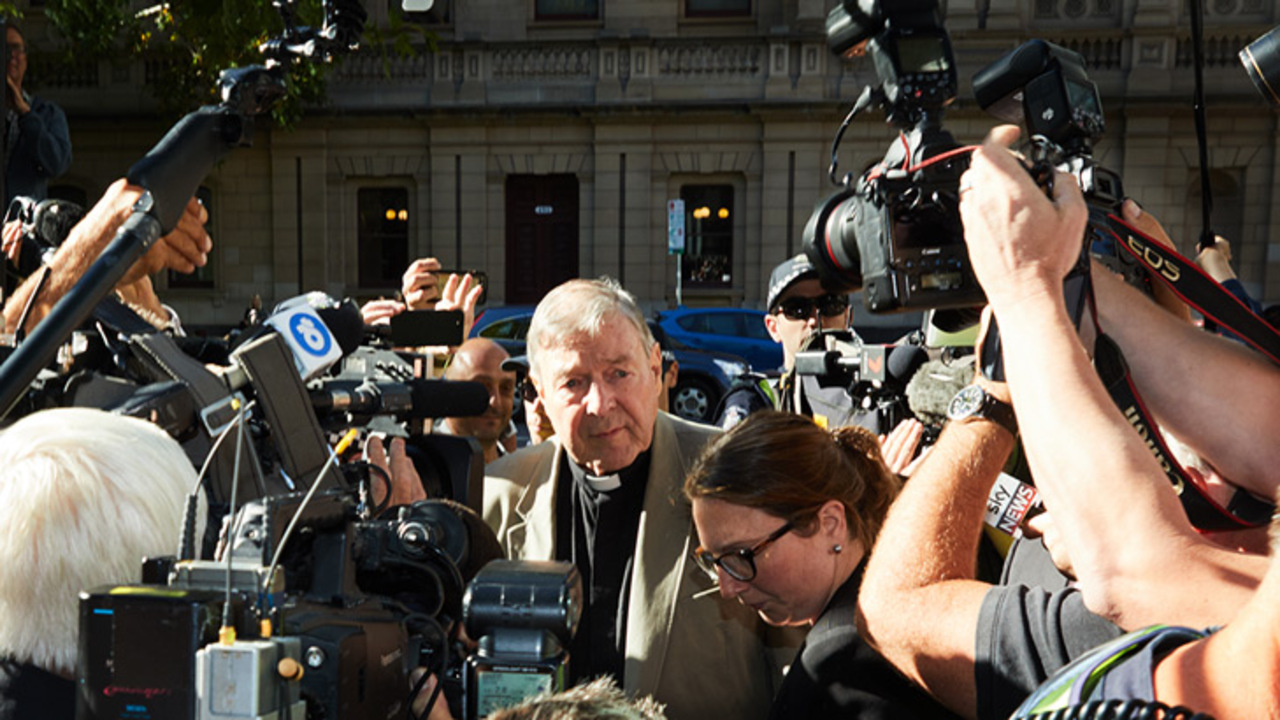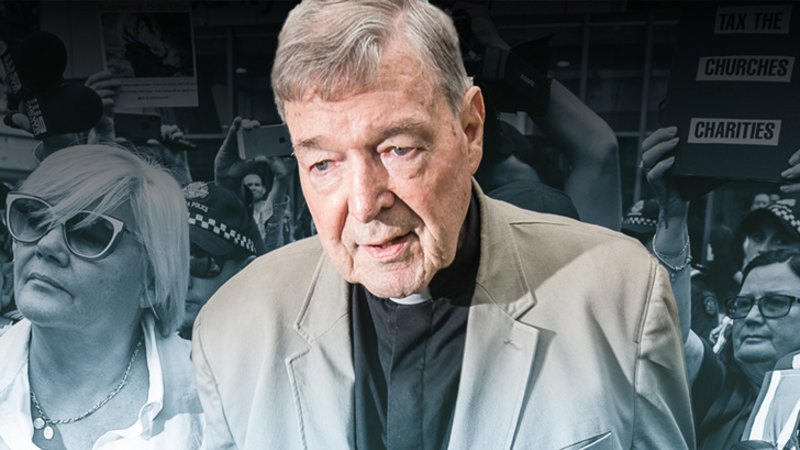 "May you rot in hell," yells a man in the scrum as Cardinal George Pell arrives at court for a pre-sentencing hearing.
There were those in the crowd who fantasised, out loud, that they'd soon see this man of the church in handcuffs. The truth was, Pell was, indeed, a perp: the most senior Catholic clergyman in the world found to have been the perpetrator of sex crimes against children.
Upstairs, in courtroom 3.3 on the third floor, his immediate fate was to be decided by the judge who had overseen his trial, Peter Kidd, and who had declared him, after the jury had done its work, guilty. Five times.
One count of sexual penetration of a child under 16 and four of committing an indecent act with or in the presence of a child under 16. Each carrying a potential maximum sentence of 10 years in prison. Pell sat alone at the very rear of the court. The dock.
Security guards sat at a distance either side.
Pell had aged visibly over the past months. Gravity seemed to have been at work. The stoop of the body was almost now resolving to the shape of a hump. The hair, grey for years, was thinner, the scalp more visible. The perp walk revealed the big body, once that of a ruckman, moved slower.
Within courtroom 3.3, Pell, never expressive, gazed through spectacles, chin in hand, over the heads of the packed public gallery where sat journalists and artists and the silent ranks of those known as victims, or the families of victims or their representatives, which is to say, victims of the crimes of the clergy.
At the bar table Pell's bearded defender, Robert Richter, QC, sat jotting notes as the prosecutor, Mark Gibson, SC, launched into a retelling of the evidence that led to Pell's conviction, of two choirboys, aged 13, in the sacristy at St Patrick's Cathedral, Melbourne, 22 years ago.
There were no catcalls in here. The gallery sat silent. It seemed unimaginable. It was not. A cardinal was to be remanded.
Soon, Mr Richter – and everyone in the courtroom – was in no doubt about Judge Kidd's view of the cardinal's offending.
''People don't go ahead and do what he did without thinking about it,'' the Judge shot back when Richter ventured that Pell had had no time to think about what he was doing to the choirboys.
''People make choices. And he continued to make choices over five minutes.''
And lest anyone was still somehow in doubt: ''I see this as callous, brazen offending,'' said the Judge.
''Blatant. He did have in his mind some sense of impunity. How else did he think he would get away with this?''
Richter and his defence weren't to be given any quarter from this judge.
''You put to the jury only a madman would commit these offences,''  Kidd told the defence QC.
''The jury rejected that. There are no medical records suggesting he is mad. The only inference I can make is that he thought he could get away with it.''
And any chance that Pell might get off lightly seemed dispelled.
''There was an element of force here. This is not anywhere near the lower end of offending,'' Kidd said.
Pell, down the back of the court, peered straight ahead. Who could detect what was going on behind that dispassionate face of his?
But was it just imagination or did he sink deeper within the dock as the thrust of his defence was met by the parry of his earthly judge?
If you or anyone you know needs support, you can contact the National Sexual Assault, Domestic and Family Violence Counselling Service on 1800RESPECT (1800 737 732), Lifeline 131 114, or beyondblue 1300 224 636.