Premier Denis Napthine says there will be 'no more cover-ups, no more hiding, no more sweeping these things under the carpet'
Tuesday 25 March 2014 09.16 GMT
Australian Associated Press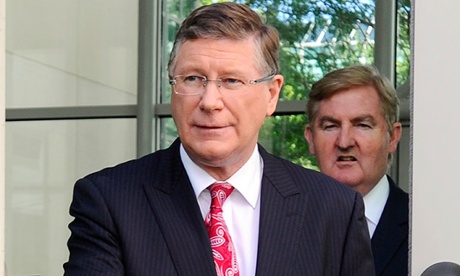 Victoria premier Denis Napthine said priests hearing of abuse at a confessional would have a moral responsibility to act. Photograph: Alan Porritt/AAP
Victorians who fail to report suspected child sexual abuse and workers who cover it up will face jail.
The premier, Denis Napthine, declared the era of cover-up and silence over. "Every adult in Victoria who is aware of child sexual abuse must report it to police," he said.
"No more cover-ups, no more hiding, no more sweeping these things under the carpet, no more shifting alleged perpetrators from one part of an organisation to another."
Under the new laws, adults who fail to report suspected child sexual abuse will face up to three years' jail.
Workers in positions of care who fail to take action to protect children from sex abuse face up to five years' jail.
The laws were created in response to a parliamentary inquiry last year that found senior church leaders trivialised child abuse and ensured perpetrators were not held accountable.
The committee's Betrayal of Trust report found Victorian Catholic clergy and the Salvation Army were the main culprits in inflicting "unimaginable harm" on children and had a culture of denial and concealment.
Legislation for the new laws was introduced into parliament on Tuesday.
A third offence for those who groom children for sex, punishable by up to 10 years' jail, has already passed parliament and will come into effect in coming weeks.
Under the new legislation, priests who learn from children in a confessional that they have been abused are not required to tell police.
But if they become aware of abuse outside the confessional, they must report it under the legislation.
Napthine said if a child told a priest of abuse during a confessional, the priest had a moral and ethical responsibility to talk to the child outside the confessional and report it.
"I don't think any priest, any person could live with themselves if they didn't do that," he said.