The Courier-Mail
February 19, 2014 12:00AM
THIS Catholic school principal did not refer serious allegations of sexual abuse in his school to police because he believed "the Bishop must not be compromised".
Terence Michael Hayes, principal when teacher Gerard Byrnes assaulted 13 girls at his Toowoomba school, failed to apologise when he took to the stand at the royal commission into child sex abuse.
Under a grilling before a packed public gallery, Mr Hayes admitted: a victim was forced to re-enact the sexual abuse in his office using her dad's hands to show how Byrnes touched her; he omitted accusations when reporting the abuse to his superiors that Byrnes put his hands down a girl's pants; he never liked Byrnes, despite re-hiring him after he retired.
Mr Hayes is still working at another Catholic school.
Byrnes is behind bars.
Mr Hayes told the commission he thought it was more appropriate to refer allegations against Byrnes to the Catholic Education Office than the police.
"The view that I formed was that principals were of the understanding that the CEO was the first port of call, and that the Bishop must not be compromised," Mr Hayes said.
"The CEO told the principals that they were there to help us."
Byrnes' crimes occured within the past decade, despite protocols in place in the school for how to deal with sexual abuse. The inquiry heard how the first girl who came to his office with a complaint was forced to re-enact the abuse using her father's hands in Mr Hayes's office.
Junior Counsel Assisting Andrew Naylor, SC, asked Mr Hayes whether the girl had been asked to "demonstrate'' her allegations after describing them in detail.
"Am I correct in understanding that after (the girl) had described to you the conduct of Mr Byrnes, you asked her to demonstrate what he did using her father?'' he said.
Mr Hayes replied that that wasn't true.
"Cathy (Ms Long) asked the girl to demonstrate,'' he corrected, refering to the school's student protection officer.
"Did you think that that was an appropriate request to make, given what had been said about the kind of conduct that Mr Byrnes allegedly engaged in?'' Mr Naylor asked.
Mr Hayes said he believed it was.
The Commission heard how Mr Hayes' letter to the CEO detailing the allegations omitted accusations that Gerard Byrnes had not just put hands inside the shirts of girls, but down their pants.
Mr Hayes said he was in a hurry to get the letter out to the CEO and did not deliberately omit the allegations.
Junior Counsel Assisting Andrew Naylor, SC, questioned why Mr Hayes did not tell authorities, as required by state law and the school's own child protection manual.
Mr Hayes insisted he did follow procedure by informing the Catholic Education Office, speaking with Brynes and writing a letter to Byrnes.
He denied a suggestion by Mr Naylor that he said to Byrnes during that meeting: "Let's hope it will all blow over, see you next term.''
"Absolutely not, I refute that, that is wrong, I never said that," Mr Hayes said.
Mr Hayes said he did not actively seek to re-hire Byrnes as a supply teacher in July of 2008 but had to balance the school's need for staff with his own dislike of Byrnes.
Assistant principal Megan Wagstaff told the commission she was not equipped with the skills to deal with the "catastrophe'' which hit the school in 2008.
Commissioner Jennifer Coate asked: "Do you think you were properly equipped as the deputy principal of the school in terms of knowledge, training, and understanding of this complex area…?
"No I was not,'' replied Ms Wagstaff
Ms Wagstaff said while she followed protocol in reporting the first complaint of Byrnes' behaviour in 2007 to the principal, she did not follow procedure correctly.
"There's a different procedure that needs to be followed," she said.
Ms Wagstaff said she left off dates and names of children in her initial report.
"Knowing what we know now, it could have been handled very differently," she said.
The inquiry resumes today.
________________________________________
Toowoomba abuse victim of teacher Gerard Byrnes told to re-enact her allegations for school principal and student protection officer, using her father as a stand-in
The Courier Mail (Brisbane, Australia)
February 19, 2014 12:00AM
kate kyriacou

THERE were four of them in the principal's office – the young girl, her dad, a woman taking notes and the principal himself.
They told the girl she should feel comfortable. That she was brave. That she could tell them anything. She started talking. She told them what she had told her dad.
A teacher, Gerard Byrnes, had been touching her. He had put his arm around her when she was sitting on the floor for news time and rubbed her chest.
When she walked up to a desk, he put his hand up her skirt. It had made her feel uncomfortable, she said.
Principal Terry Hayes listened as the school's Student Protection Officer, Catherine Long, took careful notes.
When she was finished, they asked whether she might show them what she had described.
Her father could act out the part of her abuser, they suggested. They asked her, using her father's hands, to relive her abuse so they could ensure they knew exactly what she meant by her allegations.
That extraordinary description of the meeting was heard by a packed public gallery as the royal commission met for a second day.
Junior Counsel assisting Andrew Naylor, SC, asked Mr Hayes whether the girl had been asked to "demonstrate" her allegations after describing them in detail, using her father.
Mr Hayes said that wasn't true. "Cathy (Ms Long) asked the girl to demonstrate," he said.
Despite requesting the re-enactment, the royal commission would hear, it was that very incident – where the teacher put his hand up the girl's skirt – that Mr Hayes would later forget to include in a letter detailing the accusations to the Catholic Education Office.
__________________________________________
School did not inform police of alleged abuse for more than year, inquiry told
Principal, student protection officer and Catholic Education Office were aware of complaints against teacher later jailed for 44 counts of child sex abuse and took no action, commission told
Australian Associated Press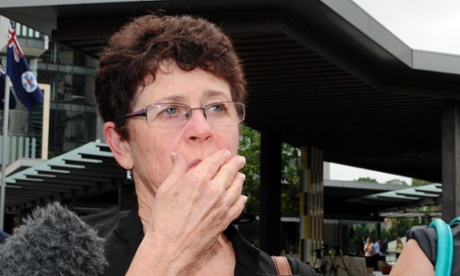 Catherine Long, a former child protection officer at a Queensland Catholic school, leaves the the child abuse royal commission in Brisbane after giving evidence. Photograph: Dan Peled/AAP
A Queensland Catholic school did not tell parents or police about sexual abuse allegations against a teacher for more than a year, an inquiry has heard.
Complaints of abuse were first made against Gerard Byrnes in 2007 but he remained working as a teacher at the school until he resigned in June 2008, the royal commission into institutional responses to child sexual abuse in Brisbane was told on Monday.
A month later, Byrnes was re-employed as a relief teacher at the school in July and held the position until he was arrested that November. Over his course of employment at the school he sexually abused 13 girls.
The principal, Terence Hayes, the school's student protection officer, Catherine Long, and the Catholic Education Office were aware of the sexual abuse complaints and took no action, the commission was told.
Hayes was said to have told one girl's father he would deal with her abuse complaint internally in September 2007 but denied knowing anything when police informed other parents their daughters had also been abused in 2008.
A mother, known as KP, told the inquiry that after police swooped on the teacher, the Catholic Education Office and the school denied any prior knowledge of the abuse.
"I found out later, through media reports and court processes, that this was not even true. Mr Hayes was aware of complaints about Mr Byrnes for over a year but did not report them to police," KP told the inquiry by videolink.
"A report should have been made to the police straight after the first complaint was made to the school. If this had happened, KC and the other girls would not have been abused."
Another mother, known as KO, was told by police that her daughter, KA, had been abused by the teacher in 2008.
At KA's birthday party another girl told KA that she and her father had met Hayes and told him she had been abused by the teacher in 2007.
"Terry Hayes had told the family at the time the school would deal with it," KO told the inquiry via videolink. "The family then moved to Brisbane not long after, so nobody else knew what Mr Byrnes was doing to the girls. We weren't warned or informed by the school."
Long told the commission she could not believe that 13 girls did not have the courage to speak out about being sexually abused by their teacher.
Long, who is still a teacher at the school, was present at a 2007 meeting between Hayes and a girl who had a complaint about being abused by Byrnes.
She said although she was the school's student protection officer at the time, she did not report the complaint to police. "No, I didn't think I was in charge of the situation," Long said.
"I was there as the note taker. The principal was there. He was in charge, not me, and that's not passing the buck, that's where I thought we stood."
Byrnes was eventually arrested in 2008 before being jailed for 44 counts of child sex abuse in 2010.
Long said Byrnes had regularly given lollies to schoolgirls and they were seen "hanging off him" when he was on playground duty, but she hadn't seen his actions as grooming.
But Long also said she still struggled to believe that her colleague could have abused so many girls with so many other adults around without anybody noticing.
"I don't get that our children, with all of the student protection and everything else we have, didn't have the courage to come forward," she told the inquiry.
"They didn't speak to us, the people they knew and trusted supposedly, they couldn't talk to their parents, and you heard their mums today, they still haven't spoken up.
"Why? What is it that's caused this, that's stopped these kids from speaking out? So I struggle with it."
The inquiry was adjourned until Tuesday morning.