Paul David Ryan has told the royal commission he could not explain how so many notorious pedophiles came to operate in the Ballarat diocese
The Guardian
Sunday 24 May 2015 08.29 BST
Megan Neil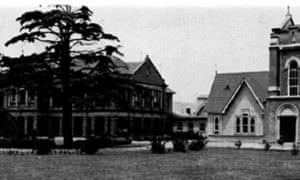 Ballarat's St Patricks College in 1970. Photograph: Supplied/AA
Catholic church leaders buried their heads about clergy abusing children in Ballarat and should have made victims a priority, a priest convicted of indecent assault has told the royal commission into institutional responses to child sexual abuse.
Paul David Ryan, 66, told the commission he could not explain how so many notorious pedophiles came to operate in Ballarat diocese at the same time. But he agreed the culture of the diocese allowed it.
"And that allowed me to happen too, even though I was independent of them," Ryan told the commission during a private hearing, according to a tendered transcript.
"Probably a gross misdirection of who should be supported, for a start: in other words, victims weren't made a priority.
"Certainly burying their head about their responsibilities and seeing if, 'OK, let's try and avoid making this a scandal', and all that type of thing."
Ryan said Ballarat Bishop Ronald Mulkearns knew about him in 1977 but did not revoke his priestly faculties until 1993.
"I'm sure he must have known about others," he said. "I don't know whether he buried his head in the sand, but it would have been like an elephant in the room that we don't acknowledge, sort of thing, to him. It must have been."
Ryan said the church did not know how to deal with it, tried to avoid scandal and did not have a process to ensure justice for the victims.
"The clergy like myself should have come last; it was the other way around."
Ryan was jailed in 2006 for 18 months after admitting three charges of indecent assault against one victim between 1990 and 1991.
Australia's worst pedophile priest, Gerald Francis Ridsdale, will give evidence to the commission's Ballarat public hearing via videolink from jail for at least two days from Wednesday.
Peter Blenkiron, who was abused by Brother Edward Vernon Dowlan at Ballarat's St Patrick's College in 1974, said it was time to move forward from the horrors of the past so no more abuse survivors in Ballarat committed suicide.
"The phoenix must rise from the ashes and unfortunately those ashes are the bodies of people who have suicided," Blenkiron told reporters. "We must take some lessons from it and make sure it never happens again."
• Readers seeking support and information about suicide prevention can contact Lifeline on 13 11 14 or Suicide Call Back Service on 1300 659 467