February 8 2017 – 4:49PM
The Catholic church is a "law unto itself" in need of serious cultural reform if it is to properly address widespread allegations of child sexual abuse within its ranks, a royal commission heard.
The Catholic Archbishop of Brisbane Mark Coleridge told the Royal Commission into Institutional Responses to Child Sexual Abuse there was a lack of transparency within the church.
Painful and difficult stories in their thousands emerge from the Royal Commission into Institutional Responses to Child Sexual Abuse.
"We are, as it were, a law and a world unto ourselves," he said.
The third day of the three-week public inquiry into Catholic church authorities is examining the factors behind clerical sexual abuse.
The inquiry heard there were multiple causes including the church's hierarchical structure, poor governance, lack of women in leadership roles and a culture of secrecy.
"We haven't yet embraced adequately a transparency that is appropriate . . . for an unusual community of communities like the Catholic church," Archbishop Coleridge said."A culture of concealment is one of the things we have to put behind us."
The Holy See has previously declined a 2014 request from the royal commission to release documents relating to Australian clergy accused of child sexual abuse
Royal commission chairman Justice Peter McClellan. Photo: Jeremy Piper
"The Holy See responded . . . that it was, and I quote, 'Neither possible nor appropriate to provide the information requested'," counsel assisting the commission Gail Furness SC told the hearing on Monday.
Catholic authorities had a "great deal more work" to do on improving culture, Archbishop Coleridge told the commission.
Patrick Parkinson is a professor of law at the University of Sydney and president of the International Society of Family Law.
"Cultural change is . . . extremely difficult but it is the task at hand," he said.
The archbishop released a video ahead of the commission's hearing, describing its data on alleged clerical sexual offending as a "horrific portrait of appalling abuse".
The commission's research found there had been 4444 alleged victims of child sexual abuse within Catholic institutions over the past 35 years and 1880 alleged offenders. It found, overall, seven per cent of priests were alleged perpetrators.
Peter Johnstone, president of Catholics for Renewal and a former senior public servant, told the inquiry the real numbers could be higher.
"The statistics … are quite conservative given that they're based on those who have come forward," he said.
Mr Johnstone said greater inclusion of women would help change the culture of the church.
"Women are half the population and should be involved in good governance," he said. "That sort of thing has to be said very clearly to the Pope, to the Holy See, to the bishops of this country."
Archbishop Coleridge told the hearing that women were playing a more significant role.
"There has been an increasing tendency to include both lay people and women particularly in decision-making processes, with real responsibility," he said.
"If the Catholic church says it cannot ordain women we are obliged to explore ways in which women can exercise genuine responsibility in the decision making processes at the highest levels."
Patrick Parkinson, a professor of law at The University of Sydney, told the commission there may have been a "culture of facilitation" in male religious orders which explained the high proportion of alleged perpetrators in orders such as St John of God, the Christian Brothers and the Marist Brothers.
"That gave people permission, I suspect, to continue offending," he said.
The hearing before Justice Peter McClellan continues.
Blue Knot Helpline 1300 657 380. Care Leavers Australia Network 1800 008 774. Survivors & Mates Support Network 1800 472 676
____________________________________________
Catholic archbishop tells abuse inquiry celibacy vows are not to blame
Mark Coleridge says celibacy may be an aggravating factor in child sexual abuse by priests but it is not a causative one
The Guardian
Wednesday 8 February 2017 04.27 GMT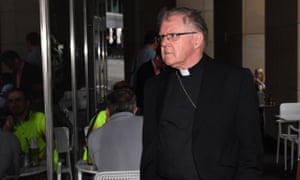 Archbishop Mark Coleridge told the royal commission into institutional responses to child sexual abuse that he had no right to ask priests about their sex lives. Photograph: Paul Miller/AAP
The archbishop of Brisbane, Mark Coleridge, has said he does not believe that celibacy is a causative factor in child sexual abuse within the Catholic church.
Coleridge has also said he has little idea how many priests are breaking their vows to celibacy and believes that he, as a bishop, has no right to ask them about their sexual lives.
"The relationship between a bishop and a priest, or a bishop and any other human being, is a very delicate one," he said.
"There are certain things that I am not entitled to know. I'm just trying to even imagine how that would work out practically, how I would discover the details of a priest's sexual life?"
The issue of celibacy again came before the royal commission into institutional responses to child sexual abuse on Wednesday, as commissioners attempt to understand the root cultural causes that allowed child abuse to occur and be covered up at such a staggering scale.
It heard from a panel of experts on Wednesday morning, including the University of Sydney law professor Patrick Parkinson.
Parkinson said he believed that the combination of celibacy and emotional isolation among clergy was a causative factor in child abuse.
"The combination of mandatory celibacy – and unchosen celibacy really for many priests and religious – combined with the emotional isolation of being in the position of pastoral responsibility that they have, is I think causative," Parkinson said.
"I think it explains some of the shocking figures that we've heard, it explains the increased risk, which I think is still there, the increased risk of child sexual abuse in the Catholic church community, compared to the general risk … in the general population."But Coleridge, previously the archbishop of Canberra and Goulburn, said he still did not believe that celibacy, by itself, was a causative factor. He said the question of whether it was an aggravating factor was still "on the table".
The archbishop said the idea that humans could not exist without sexual activity was wrong. It was not, he said, like food or water. He also disagreed that it left clergy emotionally isolated.
"It leads to a kind of solitude, but solitude that doesn't have to be loneliness," he said. "I have lived a celibate life for the best part of 50 years … and I can't say that I've been racked by loneliness, I've had to learn to inhabit a creative solitude, certainly, but that can be a kind of enrichment."
The commission heard evidence on Tuesday from the US priest and former canonical lawyer for the Vatican Father Thomas Doyle, who said he believed half of all priests failed to keep their vow of celibacy.
Asked about that view, Coleridge said he had no idea how many priests within his diocese were celibate. He said Doyle's figure may be accurate but that it was not his place to ask about the priests' sexual activity.
That prompted the royal commission's chair, Peter McClellan, to ask Coleridge whether, given his position as bishop, he should know such things?
Coleridge responded: "Your honour, I can't know the details of the sexual behaviour of the clergy with which I work, how can I know that?
"I have no right to go to a priest who is not an employee of mine and say, 'Excuse me, are you in a sexual relationship?'"
Coleridge was also asked whether, if confronted with evidence of abuse now, he would go to civil authorities. He said he would and that he believed that other bishops, "in the light of what we're learning", would do the same.
Also on the panel was the president of Catholics for Renewal, Peter Johnstone, whose group has long been critical of the handling of the abuse crisis by the church.
Johnstone said canon law must be changed to create an "unambiguous" requirement for priests to report child abuse. He said it was "very sad" that governments, through mandatory reporting schemes, had to consider enacting laws to make it a criminal offence not to report child abuse.
"It is very sad that we have to talk about a criminal requirement to get the church to actually report," Johnstone said.
The commission is also considering the lack of female representation in leadership roles within the church.
Johnstone said "anyone who understands the challenge of leadership" was keenly aware that gender balance was vital for good governance.
"Women are half the population and they should be involved in good governance and any sensible leader in any part of society knows that, that's the way, in fact, you lead," he said.
Coleridge said he worked with many women in his diocese who were in positions of influence.
"I work closely with, and make decisions with, a larger group of women, and men, none of whom are ordained," he said.
The hearing continues on Wednesday.