Ten News (Australia)
Published: 04 March 2016
Image credit: Reuters
---
Cardinal George Pell has meet with Ballarat victims of child sexual abuse, in what he called a "hard, honest and occasionally emotional meeting."
It came after four days of testimony to the Royal Commission via videolink in Rome, where Cardinal Pell continuously denied personal wrongdoing and knowledge of paedophile priests in Victoria in the 1970s and '80s, and alleged several Catholic officials who did have knowledge deceived him for decades.
Reading from a statement after meeting a group of about a dozen survivors, Cardinal Pell said his focus now is on the victims' healing and paving a path forward as a church and community.
"I am committed to working with these people from Ballarat and surrounding areas," he said.
"I know many of their families and I know the goodness of so many people in Catholic Ballarat; a goodness which is not extinguished by the evil that was done."
Victim David Ridsdale, nephew of convicted paedophile priest Gerald Ridsdale, said "we met on a level playing field. We met as people from Ballarat."
Earlier, Anthony Foster, father of two girls who were abused by a priest as children, held up a photograph of his daughters and said, "A Catholic priest was raping them when this photo was taken. That's why we've been fighting for so long."
One of Mr Foster's daughters later committed suicide.
"I don't need to meet the Pope," he said. "I want my girls back."
When asked what the response from the church should be now, he said, "Humility. Begging forgiveness from us.  Doing everything they can to restore the lives of all the victims out there. We need some real action and we need the whole weight of the church helping these victims and ensuring it doesn't happen again.
"This was my perfect family. We created that. The Catholic Church destroyed it."
Cardinal Pell said he listened to each of the survivor's stories and heard of their suffering, and pledged to fix what damage he could.
"One suicide is too many," Cardinal Pell said.
"And there have been many such tragic suicides.
"I commit myself to work with the group to try to stop this, so that suicide is not seen as an option.  I too, despite the separation of distance, want to make Ballarat a model and a better place for healing and peace."
He suggested launching a research centre to enhance victim healing and ensure child protection going forward.
"I owe a lot to the people and community of Ballarat," he said. "It would be marvellous if the city became well known as an effective centre and example of practical help for all those wounded by the scourge of sexual abuse," he said.
_______________________________________
Cardinal George Pell: five paedophile priests in diocese was a 'disastrous coincidence'
Vatican finance chief claims at least two archbishops deceived him by not revealing what was happening
4:54AM GMT 03 Mar 2016
Vatican finance chief Cardinal George Pell speaks to the media at the Quirinale hotel in Rome  Photo: AFP
Vatican finance chief Cardinal George Pell said that it was a "disastrous coincidence" that five paedophile priests preyed on children in the Australian town where he was based, as survivors accused him of lying.
On Thursday Cardinal Pell gave evidence for a fourth and final day to the Royal Commission into Institutional Responses to Child Sexual Abuse in Sydney via videolink from Rome and came under intense questioning from lawyers representing victims of abuse by the clergy.
The cardinal has consistently denied any wrongdoing during his time in the town of Ballarat and the city of Melbourne where he grew up and worked in the 1970s and 1980s. During the same years paedophile priests abused dozens of children.
Cardinal Pell, who revealed Pope Francis had been given a summary of each day's evidence, has claimed at least two archbishops and other people in authority deceived him by not revealing what was happening during a period of what he called "crimes and cover-ups".
Cardinal George Pell gives evidence from Rome via video-link  Photo: 9 News
Asked if he felt the focus on him amounted to a witch hunt, he replied: "I have never expressed such a view but I must confess the idea has occurred to me."
He called the presence of at least five paedophile priests in Ballarat at the same time in the 1970s a "disastrous coincidence", while admitting a boy complained to him in 1974 about Brother Edward Dowlan.
The cardinal said the boy "mentioned it casually in conversation" that Dowlan was "misbehaving" with boys and he ran the rumours past a school chaplain but did nothing more.
"With the experience of 40 years later, certainly I would agree that I should have done more," he said when told that Dowlan, who is now in jail, went on to abuse dozens of children.
Another notorious priest based in Ballarat was Gerald Ridsdale, with whom Cardinal Pell once shared church accommodation.
From left, Paul Levey, Peter Blenkiron , Paul Auchettl, Gordon Hill, Tony Wardley, Garry Sculey and Phil Nagle, survivors of child abuse by Catholic clergy in Australia, answer to media in Rome  Photo: AFP
The cardinal again denied trying to buy the silence of Ridsdale's nephew David, who was abused by his uncle.
"That certainly did not happen because I would certainly remember it," said Pell, who accompanied Ridsdale to court as part of his "Christian duty", when he was convicted of more than 100 charges of sexual abuse against children.
Cardinal Pell, who denies knowing about Ridsdale's abuse, dismissed allegations as "demonstrably false" that he was once heard saying to a fellow priest: "Haha, I think Gerry's been rooting boys again."
On Tuesday, the head of the Vatican Treasury told the commission the crimes of Ridsdale were "not of much interest" to him at the time, a statement he backpedalled from Thursday.
"I remember messing up this sequence completely. I regret the choice of words. I was very confused, I responded poorly," he said.
A group of abuse survivors who travelled to Rome to witness the testimony said they did not believe Pell.
"We feel we have been deceived and lied to," the group said, reading a statement outside the hotel where Pell was giving evidence and where they hope to hold a meeting with him.
"The Royal Commission at some stage in the future will give a recommendation on the evidence given by George. We feel George has not been honest nor truthful. George will have to live with this chosen course."
Australia's most senior Catholic clergyman rebuked allegations he was lying during his testimony.
"I'd say that is completely untrue and unjustified by any evidence," he told the commission, adding that some of the stories from survivors were harrowing.
"One of the other things I regret as a Catholic priest is the damage that these crimes do to the faith of the survivors, of the victims and their friends and family and generally throughout society. I lament that," he said.
Australia ordered the Royal Commission in 2012 after a decade of growing pressure to investigate allegations of widespread paedophilia.
It has spoken to almost 5,000 survivors and heard claims of abuse involving churches, orphanages, community and youth groups and schools.
________________________________
Once again Cardinal Pell has thrown his men to the wolves – it's everyone's fault but his
Over and over again, Pell gave evidence that it was others who failed to disclose the crucial details he needed in order to act on child sexual abuse
The Guardian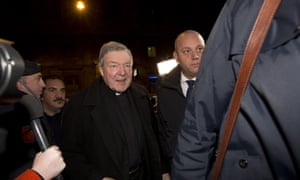 Australian Cardinal George Pell arrives at the Quirinale hotel in Rome, Tuesday, March 1, 2016, to testify via videolink from the Rome hotel to the Royal Commission sitting in Sydney. Photograph: Alessandra Tarantino/AP
" … on that Monday 24 March I watched Cardinal Pell being questioned in the royal commission and I woke up at 4.40 the next morning and thought, 'It's too disgusting, the way he threw his men to the wolves to protect himself.'"
So said church historian Father Edmund Campion at the Catholic Institute of Sydney on 27 May 2014.
So he could have said on 2 March 2016.
Cardinal George Pell's evidence this week to the royal commission on institutional responses to child sexual abuse is – to many – shocking. Audible gasps can sometimes be heard from the public gallery in Sydney.
The criticism of Pell emanates along a spectrum from Ray Hadley to David Marr. Even Andrew Bolt was moved to condemnation – though that position didn't last. Bolt came to his senses, so to speak, and remembered that he was, after all, Andrew Bolt.
Most of the criticism of Pell is sparked by this one stark statement, given in response to questions about what the younger Pell knew about convicted serial paedophile Gerald Ridsdale: "It was a sad story and it wasn't of much interest to me … I had no reason to turn my mind to the evils Ridsdale had perpetrated."
Let's set aside that perhaps any priest – indeed, any human with a functioning conscience – might have shown some interest once stories and rumours started to swirl in Ballarat. Pell shared a house with Ridsdale, Pell sat on a committee of priests who made decisions to move Ridsdale from parish to parish, Pell was vicar for education when Ridsdale was a school chaplain at St Alipius, and Pell accompanied Ridsdale to court when he was finally charged.
Pell had more reasons than most to turn his mind to what Ridsdale was perpetrating.
Back to Ed Campion's comments. In 2014 Pell threw his men – John Davoren, John Usher, and Michael Casey – to the wolves. What Campion observed back then is a now an established pattern. In responding to the Victorian parliamentary report into child sexual abuse in 2013, Pell sheeted home the blame to dead church officials: "By the standards of common decency and by today's standards, church authorities were not only slow to deal with the abuse but sometimes did not deal with it in any appropriate way at all. This is indefensible."
The wolves keep getting fed. They must be getting satiated by now. This week it was the Cardinal's then-superior in Ballarat, Bishop Ronald Mulkearns, who Pell says lied to him in an act of "gross deception". Then it was his fellow Ballarat consultors, or formal advisors to the bishop, who wilfully withheld details from him. Then it was the Catholic education office who lied to him about allegations against Father Searson. Then it was fellow curia members, monsignors, who didn't tell him details of children's complaints of inappropriate touching and reports of grotesque acts of cruelty and physical assaults even in meetings where they were discussing what to do about Searson. Then it was Archbishop Frank Little who deceived his auxiliary bishop Pell.
Over and over again, Pell gave evidence that it was others who failed to disclose the apparently crucial details he would have needed in order to act.
When counsel assisting, Gail Furness, put to Pell that his version of events – essentially, that he was a victim of a conspiracy to keep him in the dark – was implausible, Pell was ready with an answer: they did it because they feared him, because he alone would have asked the hard questions, because he alone would have challenged the status quo – if only he had known.
After all, Pell proudly proclaims that he brought in the Melbourne Response, one of the first processes in the Catholic Church globally to address child sexual abuse. I'll grant him that, but I'll also grant that the Melbourne Response is about handling complaints, limiting publicity and liability, and it goes nowhere near far enough to ensure this atrocity never happens again.
Pell tries to portray himself as the bobbing cork in the ocean, drifting along unaware of the flotsam and jetsam around him. Others polluted the waters, others failed on the clean-up – but not him. Once secure dry land, once he got into power, Pell apparently looked around and decided to clean up the problems of which he had previously been unaware.
It's everyone's fault but his. According to Pell, it has always been thus. Ed Campion may not be the only Catholic sleeping restlessly tonight, wondering how our Church and its leadership has come to this.
_________________________________
Cardinal Pell pressed over denials he knew about paedophile priests
Counsel for the royal commission suggests George Pell's claims he was unaware of child sexual abuse in Ballarat are implausible
Tuesday 1 March 2016 03.24 GMT
Last modified on Tuesday 1 March 2016 04.42 GMT
Ben Doherty and Melissa Davey
Cardinal George Pell's repeated insistence he knew nothing of paedophile priests being shielded by the church in the 1970s and 80s was "implausible", the royal commission into child sex abuse has heard.
On Tuesday the most senior Australian Catholic was warned he would be "culpable too" if the commission decided he did know of abuse being covered up.
In a combative appearance, Pell resolutely defended his position that while he was a priest in Ballarat he was unaware paedophile priests were being moved between parishes to escape prosecution, and to protect the reputation of the church.
For a second day, Australia's most senior Catholic will face questioning about what he knew of abuse that occurred within the Diocese of Ballarat and the church's response
Read more
Pell claimed he knew nothing of the offending of priests, and that he was lied to and deceived by more senior church members who hid from him the activities of paedophiles in the clergy.
Counsel assisting the commission Gail Furness suggested to Pell his ignorance was "implausible", and he was warned by the commissioner Peter McClellan that "if we were to come to the view that you did know, you would be culpable too".
"I have the full backing of the pope," the 74-year-old cardinal had told reporters as he arrived at the Hotel Quirinale in Rome on Monday night, just hours after he met with the pontiff for a previously scheduled meeting in the Vatican.
Pell, the prefect of the secretariat for the economy at the Vatican – essentially the Catholic church's treasurer – has already appeared twice before this commission in person in Australia.
For this third appearance, he has been granted dispensation to appear via videolink after Vatican doctors ruled he was too ill to fly because of a heart condition.
The focus of Pell's evidence Tuesday was the movement of the notorious paedophile priest Gerald Ridsdale, who was shifted from parish to parish across the diocese of Ballarat, as allegations emerged of him raping and abusing children in every place he worked.
Ridsdale was ultimately convicted of more than 140 counts of sexual offences against children, some as young as four, committed between the 1960s and 80s.
In the 70s when Pell was a priest in the diocese of Ballarat, it was "common knowledge" among police, among teachers and parents, and among the broader Catholic communities in a succession of parishes where Ridsdale worked, that he was assaulting children, the commission heard.
The commission was told Ridsdale had sought a move from Apollo Bay after he heard people were "saying things down at the pub about you and kids", and later fled the parish of Inglewood in the middle of the night after learning of "talk around town that you have been interfering with boys" and that police were making inquiries.
The specifics of Ridsdale's offending were known by senior church officials, including, the commission was told, the bishop of Ballarat at the time, Ronald Mulkearns, who continually moved Ridsdale to new parishesto shield him from prosecution and protect the church's reputation.
The decision to move Ridsdale was taken by church consultors, of which Pell was one, at meetings at which Pell was present.
But Pell says he never knew anything of Ridsdale's offending. He said Mulkearns and others at the meetings who knew of his offending had deceived him and lied to him about why he was being moved. He said there were many reasons why priests might be moved repeatedly, and rapidly, between parishes.
"These matters were not discussed at the consultors' meetings."
Pell said he bore no responsibility for Ridsdale being moved to protect the paedophile from prosecution and the church from scandal, because, he says, he did not know Ridsdale was abusing children.
Cardinal Pell's response to question about paedophile priest draws audible gasp
He said he never knew that Ridsdale was living with a 14-year-old boy in the presbytery of the church at Mortlake, despite a slew of documents and correspondence detailing parishioners' and others' concerns about the arrangement.
Advertisement
The boy had been seen sleeping on a stretcher in Ridsdale's bedroom, and has given evidence to the commission he was "sexually abused almost every day".
At a meeting that discussed Ridsdale being moved to the Catholic Enquiry Centre, away from children, the commission established that at least three consultors at the meeting knew Ridsdale was being moved because of his paedophilic assaults.
Furness said it was "implausible" that Pell did not know of the offending but Pell asserted he was not wilfully blind to paedophilia within the church.
"I knew nothing about his [Ridsdale's] paedophila, I knew he was a somewhat difficult person, and that he'd been shifted around quite a bit."
Paul Levey, who was forced to live with Ridsdale when he was just 14, said it was tough to sit through Pell's evidence.
Levey went to a bar in Rome with other survivors, trying to calm down after what he says was a difficult day of evidence from Pell. Levey suffers from severe deep vein thrombosis which requires medication and frequent walking around, but he said he had refused to leave the Hotel Quirinale and the room where Pell was giving evidence from, despite the pain he was in.
"At one point I had to get paper and write my thoughts down, or I would have lost it," he said.
"But I didn't lose it, I held my ground and I tried to stay calm. To hear Pell say that he wasn't aware of Ridsdale's abusing was just a joke. He and the other consultors moved Ridsdale multiple times and no one took any notice as to why? I don't believe it."
Levey said his mother had called the bishop of Ballaratmultiple times to share her concern that her son was being abused. But she was ingnored, Levey said.
He said he was also angered by Pell's claims that Ridsdale was "a sad story and it wasn't of much interest to me".
"What, allegations of pedophilia wasn't of much interest to him? Surely any allegation would cause people to say what, where, who? Everyone here was pretty anxious and worked up after hearing that."
He said he was pleased the commission had asked tough questions of Pell.
Pell said he had been lied to repeatedly by Mulkearns over the reasons for Ridsdale's constant movements, actions he said were "grave and inexplicable".
"His [Mulkearns'] repeated refusal to act [to stop Ridsdale offending] is, I think, absolutely extraordinary."
Incurious George: Pell heard talk of sex abuse by priests, but 'rarely indulged' rumours
Read more
Pell said it was "totally unacceptable" for paedophile priests to be protected by moving them and that, if he had known, he would have questioned the movements.
The cardinal agreed with McClellan that church officials who knew of paedophilic assaults and did not act to stop them were culpable.
But McClellan warned Pell: "If we were to come to the view that you did know, you would be culpable too."