The Sydney Morning Herald
Four out of five child sexual abuse survivors will be covered by the $3.8 billion national redress scheme, following a decision by Anglicans, Salvos, the Scouts and YMCA to join the Catholic church in endorsing it.
Flanked by institution representatives in Canberra on Thursday, Social Services Minister Dan Tehan said those who had yet to sign up would be judged by the public and thanked those who had.
"For owning up to past wrongs, to owning up to behaviour that can only be described as despicable and deplorable, to turn a page," Mr Tehan said.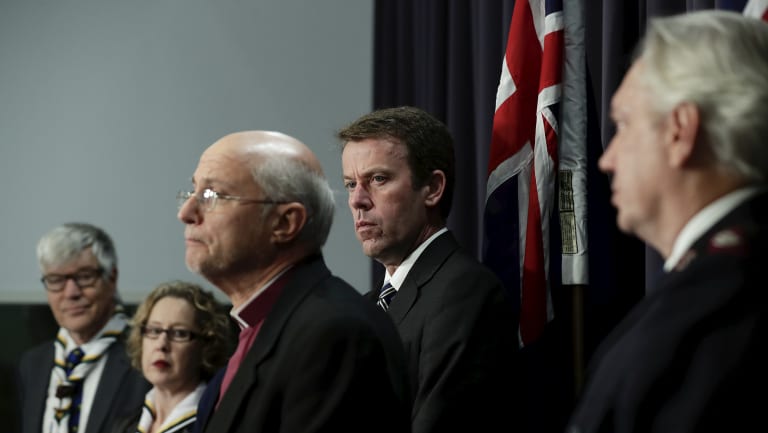 The Anglican Church had reached an "in-principle agreement" to join, a day after the Catholic Church said it would sign up to the scheme.
It would form an independent incorporated entity to provide a single point of engagement for Anglican dioceses, schools and welfare agencies.
The dioceses of Melbourne, Brisbane and Tasmania have already resolved to join and others are expected soon.
"We think this will be a very important part of the process for the healing of survivors of abuse," Bishop Stephen Pickard told reporters.
The YMCA also said on Thursday it was working with all 19 YMCAs across Australia to help ensure it can be part of the scheme, once it is expected to start in July.
"We can't change the past for survivors but we can change their future," YMCA Australia chief executive officer Melinda Crole said.
"The YMCA hopes survivors of sexual abuse will finally feel heard, have the support and recognition they deserve."
Scouts Australia chief commissioner Neville Tomkins praised the government for providing the scheme to recognise the impact of "horrific crimes".
Major Brad Halse said the Salvation Army was "profoundly sorry" for the abuse children suffered, and his organisation wants to be ready for the redress scheme from July 1.
Legislation to enable the opt-in scheme passed the House of Representatives on Tuesday night, and Mr Tehan said the scheme could begin on July 1 if it passed the Senate.
The Catholic Church has estimated it will itself be liable for about $1 billion in compensation.
Mr Tehan was hopeful the last state yet to join, Western Australia, would sign up in the next couple of weeks, after reaching an agreement with state attorney-general John Quigley.
The scheme will cover about 60,000 institutional child sexual abuse survivors nationally, with compensation payments capped at $150,000.
 _________________________________
Churches, Scouts and YMCA join Australian abuse redress plan
The Sacramento Bee
May 31, 2018 12:52 AM
By ROD McGUIRK Associated Press
CANBERRA, Australia
Four in five victims of child sexual abuse in Australian institutions will be eligible for compensation after three churches, the Scouts movement and the YMCA joined a federal government redress plan, an official said on Thursday.
The Catholic Church, Australia's largest denomination, on Wednesday became the first non-government institution to commit to the 3.8 billion Australian dollar ($2.9 billion) national plan.
The Anglican Church, Salvation Army, Scouts Australia and the Young Men's Christian Association, better known as YMCA, committed to join on Thursday.
Flanked by representatives of the churches and associations, Social Services Minister Dan Tehan said their participation meant that 80 percent of Australia's 60,000 known abuse victims were now covered by the plan.
"Can I thank the institutions who are here with us today for the leadership that they have shown, for owning up to past wrongs, for owning up for behavior which can only be described as despicable and deplorable … for wanting to turn a page, to provide redress and make sure that those survivors get the justice that they deserve," Tehan said at Parliament House.
The Catholic Church estimates it alone will be liable for about AU$1 billion ($757 million) in compensation.
Archbishop of Adelaide Philip Wilson last week became the most senior Catholic cleric in the world to be convicted of covering up child sex abuse. He faces a potential two-year prison term when he appears in court in June to be sentenced for protecting a pedophile priest in the 1970s.
Pope Francis' former finance minister, Cardinal George Pell, faces trial on sexual assault charges in Australia. The exact details and nature of the charges have not been disclosed to the public, though police have described them as "historical" sexual assaults, meaning they are alleged to have occurred decades ago.
Catholic leaders have long backed a national redress plan but the churches, charities and other non-government institutions needed the state and territory governments to sign on first.
Western Australia would be the final state to join, although state Attorney-General John Quigley said the negotiations with the federal government could be finalized within two months.
Tehan said the plan was on track to begin on July 1 if legislation passes the Senate.
The plan will cover people who were sexually abused as children by institutional figures over decades. Payments will be capped at AU$150,000 ($113,000), with previously received compensation being deducted from any new amount.
The plan was recommended by the Royal Commission into Institutional Responses to Child Sexual Abuse, which made its final report in December.
Australia's longest-running royal commission — which is the country's highest form of inquiry — had been investigating since 2012 how institutions responded to sexual abuse of children in Australia over 90 years. The inquiry heard the testimonies of more than 8,000 survivors of child sex abuse. Of those who were abused in religious institution, 62 percent were Catholics.