[google translation of French article.  Scroll down for French text]
radio-canada.ca
19 May 2012
Father Donald Grecco was convicted of sexual assault in 2010, but the story does not end there. His three victims have decided to launch a civil suit against Father Grecco and the Diocese of St. Catharines and a former bishop of the diocese will continue too.
Michael Blum's hands are shaking so that he can barely pour water into a cup. He can no longer work and suffers from insomnia.
He was only 14 when Donald Grecco attacked him for the first time. The abuse he suffered deeply marked him.
"It's a very difficult time that caused me great harm financially, physically and mentally," he says.
M. Blum and another victim that we can not name because of a publication ban, are suing Donald Grecco and the Diocese of St. Catharines for $ 3 million each.
A third victim has recently accepted a settlement agreement.
Michael Blum was attacked at St. Stephen's Church of Cayuga.
The plaintiffs say that the diocese was negligent, it had a duty to protect and to remove Grecco from the priesthood as soon as complaints were made against him.
The Diocese of St. Catharines did not return calls, but in documents submitted to the Court, it completely denies the allegations.
Michael Blum also tried to prosecute the former bishop of the diocese, James Wingle.
In 2005, he said he warned the diocese that Grecco had assaulted him.
James Wingle was the head of the Diocese of St. Catharines at the time and, according to the suit, should have acted to remove from office Grecco, but did not.
Two weeks after Grecco pleaded guilty to criminal charges, Bishop Wingle suddenly resigned.
It was found when we tried to give him a notice of prosecution and Mr. Blum is resigned to exclude it.
Finally in April, private detectives found him in Montreal and handed him a notice of action in the cause of the victim who can not be named.
The allegations against James Wingle have not yet been proven.
Robert Talach, the lawyer for two victims, said the testimony of the former Bishop Wingle is very important.
"It's important to have accountability in this process, the diocese is responsible as an institution, but the leaders have a responsibility too," he said.
A trial date has not yet been set.
_____________________________
Des poursuites contre le diocèse de St. Catharines et un ancien évêque
Mise à jour le vendredi 18 mai 2012 à 17 h 41 HAE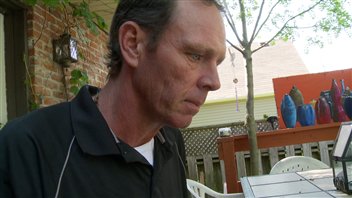 Michael Blum © Radio-Canada/Mark Chambers
Le père Donald Grecco, a été condamné pour agressions sexuelles en 2010, mais l'histoire ne s'arrête pas là. Ses trois victimes ont décidé de lancer des poursuites civiles contre le père Grecco et le diocèse de St. Catharines et un ancien évêque du diocèse sera poursuivi lui aussi.
Les mains de Michael Blum tremblent tellement qu'il peut à peine verser de l'eau dans une tasse. Il ne peut plus travailler et souffre d'insomnie.
Il n'avait que 14 ans lorsque Donald Grecco l'a agressé pour la première fois. L'abus qu'il a subi l'a profondément marqué.
« C'est une épreuve très difficile qui m'a fait beaucoup de tort financièrement, physiquement et mentalement », affirme-t-il.
M. Blum et une autre victime que l'on ne peut pas nommer à cause d'un interdit de publication, poursuivent Donald Grecco et le diocèse de St. Catharines pour 3 millions de dollars chacun.
Une troisième victime a récemment accepté un règlement à l'amiable.
Michael Blum a été agressé à l'église St. Stephen de Cayuga.
Les demandeurs disent que le diocèse a été négligent, qu'il avait un devoir de les protéger et de retirer Grecco de la prêtrise dès que des plaintes furent formulées à son égard.
Le diocèse de St. Catharines n'a pas retourné nos appels, mais dans des documents soumis à la Cour, il nie complètement les allégations.
Michael Blum a aussi tenté de poursuivre l'ancien évêque du diocèse, James Wingle.
En 2005, il dit avoir averti le diocèse que Grecco l'avait agressé.
James Wingle était à la tête du diocèse de St. Catharines à l'époque et, selon la pousuite, aurait du agir pour retirer Grecco de ses fonctions, mais ne l'a pas fait.
Deux semaines après que Grecco ait plaidé coupable aux accusations criminelles, Monseigneur Wingle a subitement démissionné.
Il était introuvable quand on a tenté de lui remettre un avis de poursuite et M. Blum s'est résigné à l'exclure.
Finalement en avril, des détectives privés l'ont retrouvé à Montréal et lui ont remis un avis de poursuite dans la cause de la victime que l'on ne peut pas nommer.
Les allégations contre James Wingle n'ont pas encore été prouvées.
Robert Talach, l'avocat des deux victimes, affirme que le témoignage de l'ex-évêque Wingle est très important.
« C'est important qu'il y ait de l'imputabilité dans ce processus, le diocèse est responsable comme institution, mais les leaders ont aussi une responsabilité à assumer », dit-il.
La date du procès n'a pas encore été fixée.