CNN
updated 6:56 PM EDT, Wed April 25, 2012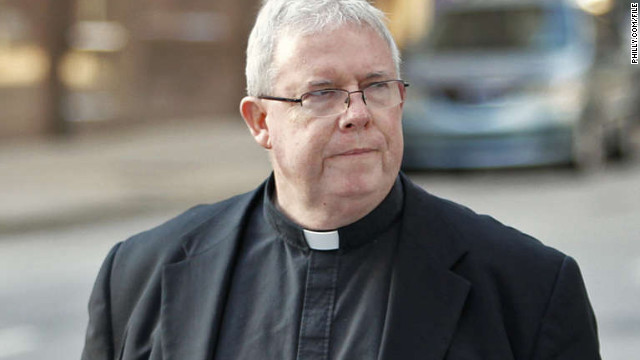 Monsignor William Lynn was responsible for investigating reports of sexual abuse by priests in Philadelphia.
STORY HIGHLIGHTS
Victim was 10 when abuse occurred, and the priest responsible has been convicted
Of the two now on trial, one is accused of trying to rape a 14-year-old, the other of a cover-up
Witness also alleges abuse by a priest and a teacher, who will go on trial in September
A number of alleged victims of clergy abuse have testified since the trial began March 26
Philadelphia (CNN) — A former altar boy molested in a church sacristy testified Wednesday in the child sexual abuse and conspiracy trial of two Philadelphia priests.
"He told me God loves me, this is what God wants, and it was time for me to become a man," the witness told jurors.
Just days before the trial began, defrocked priest Edward Avery of the Philadelphia Archdiocese pleaded guilty to involuntary deviate sexual intercourse and conspiracy to endanger the welfare of a child after admitting that he sexually assaulted the 10-year-old altar boy during the 1998-99 school year. Avery, 69, was sentenced to two-and-a-half to five years.
Currently on trial are the Rev. James Brennan, who is accused of the attempted rape of a 14-year-old, and Monsignor William Lynn, who is accused of covering it up. Lynn is the first high-ranking church figure charged with child endangerment for shuffling predator priests from parish to parish.
Lynn, who was the secretary for clergy under former Philadelphia Archbishop Cardinal Anthony Bevilacqua, is accused of knowingly allowing Avery and Brennan access to children despite allegations of sexual abuse of minors. From 1992 until 2004, Lynn was responsible for investigating reports that priests had sexually abused children.
Both have pleaded not guilty.
Before the witness described his ordeal, Assistant District Attorney Mark Cipolletti showed jurors his grade school photo. The image of him with a small smirk and wearing a blue polo shirt and sleeveless sweater vest faced the jury as he described his extracurricular activities at a Catholic grade school in northeast Philadelphia.
The boy, now in his 20s, was in the fifth grade when Avery undressed with him in a small storage room, told him that God loved him, had him engage in oral intercourse and then ejaculated on him.
When asked why he didn't tell anyone about the incident, he said he was "too scared."
"I thought that I would get into trouble and that no one would believe me," he said. "I thought I did something wrong, and, he's a priest."
The witness also alleges abuse by the Rev. Charles Engelhardt, who was a priest at the same parish, as well as by Bernard Shero, a teacher at the school. Engelhardt and Shero go on trial in September.
He described a life of substance abuse, a suicide attempt and a criminal history including drug possession that he testified came as a result of the sexual assault by Avery.
He said he did not tell anyone about the abuse until 2009, after a group therapy session for his drug use.
Although jurors were told that Avery is no longer on trial, they have not been told that he pleaded guilty. His guilty plea does not require him to testify.
Lynn's defense attorneys argued earlier this week before Common Pleas Court Judge M. Teresa Sarmina that they did not want Avery's guilty plea entered into the court record out of fear that it would taint the jury.
Assistant District Attorney Patrick Blessington said that if the defense attacked the witness's creditability, the prosecution would tell the jury that Avery pleaded guilty to the molestation only, and not to a conspiracy charge.
After the witness's testimony, defense attorney Jeff Lindy, with less ferocity than usual, told the court he had no questions for the witness, opting not to cross-examination him.
A number of alleged victims of clergy abuse have testified since the trial began March 26, but Avery's accuser is the first whose claim falls within a statute of limitations.
He is part of a 2011 Philadelphia grand jury report.
Sarmina did not rule Tuesday on whether or not to allow the jury to hear about the guilty plea and added that she would "wait and see" how the defense proceeded during cross-examination.
Before the former altar boy's testimony, jurors heard from another former altar boy who said Avery molested him in the late 1970s.
Now in his late 40s, the man told jurors that Avery moonlighted as a disc jockey, spinning records at various events, from weddings to bar gigs.
When he was 15 years old, the witness said, he assisted Avery at one of his DJ gigs at a Philadelphia bar. While there, the boy and the priest were served large amounts of alcohol, and he eventually passed out inside the bar.
After the gig, Avery took him to a church rectory to spend the night, where they shared the same bed at the behest of the priest because the couch was "covered with clutter." At one point, he said, he awoke to Avery's hand on his genitals.
"I really didn't know what to think. I really admired this guy. I hero-worshiped him," said the witness, who is now married with five children and living in North Carolina.
During a ski trip to Vermont when the boy was 18, Avery slept in the same bed with and fondled his genitals, the former altar boy said.
"I felt betrayed, I felt unsafe, I felt confused," he said.
He also broke down in tears as he read a letter he sent in 1992 alerting the archdiocese of the abuse, and a letter he wrote directly to Avery, while members of the jury looked away and instead followed along by reading the letter enlarged on courtroom monitors.
Despite the allegation, prosecutors say Lynn and other high-ranking church officials assigned Avery to the parish, where he had access to minors and where he abused the fifth-grader in the sacristy.
Testimony has been heated as teary witnesses have taken the stand, describing the alleged abuse by dozens of diocesan priests during overnight stays, at vacation homes or at parish rectories.
The trial has provided a rare behind-the-scenes portrait of one of the largest Catholic archdioceses in the United States, with nearly 1.5 million members. In addition to the graphic testimony, hundreds of pages of internal personnel files of priests accused of child sexual abuse — some of them confidential — are now part of the court record.
Two separate grand jury reports accused the archdiocese of failing to investigate claims of sexual abuse of children by priests.
A 2011 report led the Philadelphia District Attorney's Office to criminally charge four Philadelphia priests and a parochial school teacher with raping and assaulting boys in their care, while Lynn was accused of allowing the abusive priests to have access to children.
Prosecutors also plan to call Monsignor Kevin Quirk to the witness stand next week. A West Virginia judge ordered Quirk to testify, noting he was a "necessary and material witness," according to court documents obtained by CNN. Quirk presided over Brennan's 1996 canonical trial for an alleged sexual abuse of a minor.
A gag order barring all parties involved in the criminal case from talking to the media imposed by a Philadelphia judge remains in effect.
__________________________________
Ex-altar boy testifies about sexual abuse by Philadelphia priests
25 April 2012
Monsignor Lynn returns to the courthouse after lunch recess on the opening day of his child sex abuse trial in Philadelphia, Pennsylvania (Tim Shaffer Reuters, REUTERS / March 26, 2012)
Dave Warner Reuters9:29 p.m. EDT, April 25, 2012
PHILADELPHIA (Reuters) – A 23-year-old man testified on Wednesday in the child sex abuse case against the Philadelphia Catholic Archdiocese that he was molested by two priests, one of whom prosecutors said had been known to church officials as a sex abuser years earlier.
The testimony came at the trial of Monsignor William Lynn, former secretary of the clergy, who is charged with child endangerment and conspiracy over accusations he covered up abuse allegations against priests, many of whom were simply transferred to unsuspecting parishes.
The case has put a spotlight on the Philadelphia Archdiocese, the nation's sixth largest with 1.5 million adherents, and experts say has likely caught the eye of the Vatican, given Lynn's rank as the highest U.S. church official to go to trial in the abuse scandal.
Lynn faces the possibility of 28 years in prison if convicted.
Wednesday's witness testified that in 1998 when he was 10 years old and serving as an altar boy, he was abused by Rev. Charles Engelhardt and Edward Avery, who is no longer a priest, at St. Jerome's in northeast Philadelphia. Reuters does not identify victims of sexual assault unless they come forward to identify themselves.
Avery ordered him to do a strip tease in a church storage room, he testified.
"I was swaying back and forth and took off my clothes," he said before detailing sex acts that he said Avery demanded.
He said that before the abuse incidents: "I was happy. I was outgoing, a people person." In the years that followed, he said he battled drug abuse and as a teenager attempted suicide.
Prosecutors said the Archdiocese knew seven years earlier that Avery had abused someone else and not only did nothing but transferred him to St. Jerome's.
Avery pleaded guilty and is serving up to five years in prison for sex crimes, while Engelhardt awaits separate trial on sex abuse charges.
Prosecutors also read several memos to the jury that Lynn had written about allegations of sexual misbehavior by Francis Giliberti, a monsignor in Media, Pennsylvania, in the late 1970s.
The memos described Giliberti watching boys masturbate and, in one incident, inspecting a boy's genitals. He was removed from the ministry in 2004 and has never been criminally charged.
The prosecutors sought to use the memos to bolster their case that Lynn did nothing about complaints against Giliberti.
"It shows how outrageous his activity and inactivity was," Assistant District Attorney Patrick Blessington said.
(Editing by Ellen Wulfhorst, Cynthia Johnston and Lisa Shumaker)
________________________________
Ex-altar boys testify of sex assaults by priest
philly.com
Posted: Wed, Apr. 25, 2012, 1:19 PM
By John P. Martin and Joseph A. Slobodzian
INQUIRER STAFF WRITERS
The two men followed starkly different paths to the witness stand.
The 49-year-old was raised in the outer suburbs, graduated from medical school, got married, and had five children. The 23-year-old from Northeast Philadelphia was kicked out of two high schools, attempted suicide, and spent much of the last decade hooked on heroin and prescription drugs.
But in tense and emotional testimony to a Common Pleas Court jury on Wednesday, both described a bond: Each said he was sexually abused by his parish priest, Edward Avery.
"God loves you, and this is what God wants," Avery allegedly told the Philadelphia altar boy after forcing him to dance a striptease and engage in oral sex at St. Jerome's Church in 1999, when the boy was 10.
Together, their testimony represented a pillar of the landmark conspiracy and endangerment case prosecutors are trying to prove against Msgr. William J. Lynn, the former secretary for clergy under Cardinal Anthony J. Bevilacqua. They contend Lynn's failure to remove Avery from active ministry after learning of one allegation in 1992 enabled the priest to abuse the fifth-grader at St. Jerome's seven years later.
Avery pleaded guilty to that assault days before the trial opened, but Lynn has denied the charges. His lawyers have portrayed him as one of the only church officials who tried to identify and isolate dangerous clerics such as Avery, but one who lacked authority to do enough.
Avery was a gregarious priest who once cultivated celebrity status in the region. He moonlighted as a frenetic, hat-wearing disc jockey at bars and parties, and he became a vocal and visible advocate for Hmong refugees in the 1980s.
"He had a lot of charisma. He was very popular with young people," the 49-year-old physician told jurors. (The Inquirer does not identify victims of sex crimes without their permission.)
The man said he became friends with Avery in the late 1970s, when he was an altar boy and the priest was an assistant at St. Phillip Neri Church in East Greenville. Avery would often take the boys on trips, including to a Jersey Shore house where the boys would drink alcohol and the priest would wrestle them, according to the witness.
He was 15, he said, when he accompanied Avery to a disc-jockey job at Smokey Joe's bar at University City, where he got so drunk he passed out in a back hallway. Avery took him to his rectory at nearby St. Agatha-St. James Church and had the boy sleep in his bed. There, he said, Avery fondled him. He said he pretended to sleep and never confronted the priest.
"I really admired this guy," the doctor testified. "I hero-worshipped him, and I really couldn't accept that this happened."
But the same thing happened three years later, he said, when he accompanied Avery and his brother on a ski trip to Vermont.
In 1992, the man confronted Avery in a letter and sent copies to Lynn's predecessor, the Rev. John Jagodzinski. The accuser said he didn't want money or scandal.
"I wanted to know that he wasn't a risk," he testified under questioning from Assistant District Attorney Jacqueline Coelho.
Lynn interviewed the priest and his accuser in fall 1992. Avery denied the allegation, but Lynn still recommended that he be removed from his post as a pastor at a Mount Airy parish and sent to St. John Vianney, the archdiocese-owned hospital where accused priests were treated. Lynn also identified Avery as "Guilty of Sexual Misconduct with Minors" in a list of suspected priests he drafted in 1994.
Defense lawyer Thomas Bergstrom highlighted records that show Lynn had notified Bevilacqua one day after hearing the accusation. And he showed the witness memos that suggest Lynn met, wrote, or talked by phone with him more than a half-dozen times in the four months that followed.
"Monsignor Lynn responded to you, did he not?" Bergstrom asked the man.
"Yes," he replied.
After Avery completed his hospital treatment, Lynn recommended he serve as chaplain at Nazareth Hospital in Northeast Philadelphia. But Avery was allowed to live at the rectory at St. Jerome's, a sprawling parish with a school about five blocks from the hospital.
In 1999, the altar boys there included the 10-year-old son of a Philadelphia police officer. In a photo shown to jurors, the boy wore a blue sweater vest, a light-colored crew-cut, and a smile. "Mom always said I was a cute kid," he testified.
Earlier that school year, the man said, he had been sexually abused by another priest at the parish. (That priest, the Rev. Charles Engelhardt faces a separate trial because he belongs to an independent religious order. So, too, does a former schoolteacher at St. Jerome's who is also accused of raping the boy.)
Avery, he said, told the altar boy he had heard about his "sessions" with Engelhardt and proposed his own. "I tried to act like I didn't know what he was talking about, but when he mentioned that, my stomach turned," he testified.
Twice in the ensuing weeks, Avery forced him to strip and engage in oral sex in a room near the church sacristy after he served a Mass with the priest, according to his testimony. He told no one about the abuse.
"I was scared," he said. "I thought I did something wrong. And it was a priest."
Within a year, he said, he began drinking alcohol and smoking marijuana. By high school, he graduated to prescription medication and eventually heroin. He has since spent time in nearly two dozen drug treatment programs, he said.
He did not report the abuse to the archdiocese until 2009. Church officials in turn reported it to prosecutors. Because it fell within a newly amended statute of limitations, the man's claim became a focus of the 2011 grand jury report that faulted Lynn and the archdiocese for its response to abuse victims. The accuser has also filed a lawsuit seeking damages against Lynn, Avery, and the church.
Judge M. Teresa Sarmina had warned defense lawyers that their cross-examination could have opened the door for prosecutors to tell jurors Avery admitted the assault. He is now serving 21/2 to five years in prison.
So Lynn's lawyers, Bergstrom and Jeffrey Lindy, chose not to question the St. Jerome's altar boy. Instead, they asked that jurors be read a statement noting that he came forward in 2009, five years after Lynn had left his post in the archdiocese administration.
Avery was removed from ministry in 2003 and defrocked three years later. At least five other men have since come forward with accusations against him, prosecutors say.
The first accuser told jurors that he pressed Lynn as late as 2002 to assure him that Avery had been removed from any post that gave him access to children. "I didn't get feedback from him that I really had been taken seriously."
The judge asked if the abuse had a lasting impact.
"It caused a great deal of doubt for me," he replied. "I'm still a practicing Catholic, my wife much more so than I. I have had a difficult time."
---
Contact John P. Martin at 215-854-4774 or [email protected], or follow him on Twitter @JPMartinInky.