Conviction of Carlos Cruz ends six-year court case over child prostitution at Casa Pia state-run orphanages
Friday 3 September 2010 15.17 BST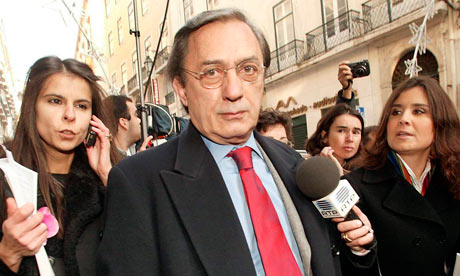 Portuguese TV presenter Carlos Cruz, who paid for sex with a 14-year-old boy according to the verdict Photograph: Tiago Petinga/EPAOne of
Portugal
's most famous television presenters and a former ambassador were among six men found guilty today of involvement with a paedophile prostitution ring that exploited children from state-run orphanages.
The guilty verdicts handed down to TV presenter Carlos Cruz and the others exposed the truth of more than three decades of rumours about systematic abuse of young boys at the 230-year-old Casa Pia network of orphanages.
It was only when a former orphanage boy called Joel came forward in 2002 and accused some of the country's best-known names of being involved that Portugal woke up to full horror of the scandal.
Members of Portugal's media, civil service and professional elite were alleged to be regular abusers of the boys, some younger than 14. Even well-known politicians were involved, it was initially rumoured. A flood of accusations from boys who had passed through the Casa Pia system followed. Some 32 boys alleged at least 800 crimes.
The case pitted the orphanage boys against a group of well-educated, influential people – including a former ambassador to Unesco, a lawyer, a doctor and Cruz. Today, eight years after they dared to speak out, the boys finally won their case.
The four men and two former orphanage employees were found guilty. An 18-year sentence went to Carlos Silvino, a 53-year-old Casa Pia worker, who confessed to 600 crimes and gave evidence against other defendants.
"The court recognised that we were telling the truth," said victim Bernardo Teixeira. "It's a happy ending for us. The paedophiles are going to jail."
The court case lasted six years, bringing additional outrage over the slow speed of Portugal's legal system. The case was already in court when the 2007 disappearance of three-year-old Madeleine McCann made world headlines. Portuguese police were, at the time, defensive about claims, particularly in the British press, that they had a history of mishandling cases involving children.
Buried in the case paperwork are allegations that Casa Pia was known to paedophiles internationally and that some flew in to abuse children from the orphanage, according to at least one source familiar with the case.
Portuguese media provided live running coverage of the reading of the sentence. The judges said they were giving only an abbreviated version of events, with a much fuller judgment due to be made public next week.
The senior member of the three-judge panel, Ana Peres, began by warning those present that the abuse they described would be graphic and shocking. "Some of the accounts could be considered pornographic," she said.
Cruz, 68, who was once voted Portugal's most popular man, had paid for sex with a 14-year-old, the judges declared. He also abused at least one other boy. The father of two was known as "Mr Television" after several decades as a national star.
Former ambassador Jorge Ritto, 74, and a doctor, Ferreira Diniz, were also found guilty of abusing several young boys. The former Casa Pia ombudsman, Manuel Abrantes, also sexually abused the children.
The court found that young boys had been regularly taken to a house in the eastern town of Elvas during the 1990s to meet the paedophile clients. Abuse had also taken place in Lisbon.
Some of the victims who gave evidence were present in court to hear the verdicts. Psychiatrists who have helped the victims said several had tried to kill themselves after denouncing the abuse to the police. One threw himself from a second-floor window.
Lawyers said their clients would almost certainly appeal against any guilty sentences. "It seems inevitable that we will have to appeal," said Cruz's lawyer, Antonio Serra Lopes, before the sentence was read out. "This is the first round."
_______________________________ 
Jail terms of up to 18 years in Portuguese paedophilia case
SifyNews (sify.com)
 2010-09-03 22:30:00
A Portuguese court Friday found six out of seven defendants guilty in a high-profile paedophilia case which has shocked the nation, and handed out prison sentences of up to 18 years.

The accused, who included several prominent personalities, were charged with having abused or helped to abuse at least 32 children staying at the state-owned Casa Pia children's homes. 

Six male defendants were found guilty of crimes including sexual abuse, rape, sex with minors and procurement. 

The seventh accused was a woman suspected of having allowed her house to be used for abuse. The court said there was evidence of her having done so, but that her case did not meet the legal requirements for sentencing her. 

Former Casa Pia driver Carlos Silvino, who had been charged with abusing and procuring children for wealthy paedophiles, was sentenced to 18 years. He was found guilty of 167 sex crimes, most of which were abuse crimes. 

Silvino was the only one among the accused to have pleaded guilty to some of the charges. He explained his behaviour by saying he himself had been abused as a child. 

Popular television presenter Carlos Cruz, who continued protesting his innocence, was handed seven years. 

High society doctor Joao Ferreira Diniz also got seven years; former Portuguese diplomat Jorge Ritto six years and eight months; lawyer Hugo Marcal six years and two months; and former Casa Pia supervisor Manuel Abrantes five years and nine months. 

The defendants were also ordered to pay the victims damages ranging from 15,000 to 25,000 euros ($19,200 to $32,000). 

The prosecution had asked for minimum jail terms of five years. The accused faced sentences of up to 10 years. 

The court said the sex abuse took place in different places, such as private houses, a holiday camp and a school garage. 

It rejected arguments by the defence that the children had been manipulated to invent stories about the accused. 

The court said the Casa Pia institution shared some of the responsibility in 'ignoring and downplaying' situations that could harm the children in its care. 

The verdicts were expected to be followed by a lengthy appeal process. 

The scandal broke in November 2002 when a media report uncovered the alleged abuse of children, most of them boys, over several decades. 

Evidence of abuse at the Casa Pia homes had surfaced in the 1980s, but investigations were dropped and documents disappeared in what some believe was a cover-up. 

In the trial, 32 alleged victims testified, providing gruesome accounts of the abuse they had suffered. 

The five-year trial was the longest ever in Portugal, featuring 460 sessions at four different courtrooms, 920 witnesses and more than 60,000 pages of documents. 

Charges were dropped against three people during the trial, including a former labour minister. 

Moves by defence lawyers lengthened proceedings, drawing attention to the perceived slowness and inefficiency of Portugal's judicial system. 

The defendants 'are people without scruples,' an alleged victim named Miguel, now aged 23, told the daily Publico. 'And they don't feel any remorse … Those things are in my memory, they come up in nightmares.' 

Not all the abusers had been brought to justice, one of the victims, Bernardo Teixeira, said. Many people had got away with their crimes because of the 'errors of police and the state', he charged. 

He said some of those who escaped charges had 'important' social status. 

The trial is seen as having smashed the taboo of openly discussing child abuse in Portugal, where such investigations have increased. 

Suspicions that members of Portugal's elite had abused children staying at one of the country's oldest and most respected public institutions shocked the nation. 

The paedophiles targeted the most defenceless children, such as orphans and deaf-and-dumb boys. 

The Casa Pia case has been compared with that of paedophile and child murderer Marc Dutroux, which uncovered a web of judicial and political corruption in Belgium.
_________________________
Portugal's elite linked to paedophile ring
Abuse was reportedly going on at Lisbon orphanage for 20 years
Wednesday 27 November 2002 11.38 GMT
A scandal over a paedophile ring run from a state orphanage gripped Portugal yesterday as it threatened to engulf diplomats, media personalities and senior politicians.
Photographs of unnamed senior government officials with young boys from Lisbon's Casa Pia orphanage were among the evidence reportedly available to police after they arrested a former orphanage employee called Carlos Silvino.
A number of former residents, and the mother of one boy who is still there, have denounced sexual attacks on children at what is known as Lisbon's most famous orphanage.
Mr Silvino, it was claimed, abused children himself and procured boys for a powerful group of clients.
He has publicly denied the allegations and was expected to repeat that denial at a closed-door bail hearing in Lisbon yesterday.
What has most shocked the Portuguese have been the revelations that systematic sexual abuse of children at the home had allegedly been going on for more than 20 years and had been known to police and other authorities for most of that time.
A former president, General Ramalho Eanes, was allegedly among those who knew about abuse at the home but failed to stop it.
The identity of the mysterious group of powerful paedophiles remained a secret yesterday, with only one person prepared to admit she knew at least some of the names.
Former secretary of state for families, Teresa Costa Macedo, said she had sent a dossier containing photographs and testimonies from children to the police 20 years ago but they had done nothing about it, while she was subjected to a campaign of threats.
"He [Silvino] was just one element in a huge paedophile network that involved important people in our country," Mrs Costa Macedo explained in a newspaper interview. "It wasn't just him. He was a procurer of children for well-known people who range from diplomats and politicians to people linked to the media."
The material sent to the police, which yesterday appeared to have been lost, was damning proof of the activities of the paedophile ring, Mrs Costa Macedo said.
"There are photographs, an account of the methods used to spirit children out of the orphanage and testimonies of a number of children," she explained.
Mrs Costa Macedo said that many of the photographs were found at the house of a Portuguese diplomat in the town of Estoril, 20 miles from Lisbon. Four children who had gone missing from the orphanage were discovered at the house, where they had spent several days allegedly under lock and key.
President Eanes was introduced to five boys who told him of the abuse occurring at the orphanage in 1980 but failed to act on it, according to Mrs Costa Macedo.
There was no suggestion that General Eanes, a popular and respected figure who did not comment on the allegations yesterday, was involved in the paedophile ring.
Portuguese police insisted yesterday they had no record of the documents sent to them by Mrs Costa Macedo.
She said she had been the target of a campaign of intimidation to make her stop investigating the case.
"I received anonymous threats, by phone and post. They said they would kill me, flay me and a lot of other things," she said.
That campaign had started again yesterday, she said, with threatening phone calls made to her home.
Portugal has increasingly been under the scrutiny of anti-paedophile groups who have denounced its lax laws and uninterested courts for creating a paedophiles' paradise in Europe.
Belgian and Dutch paedophile groups are reported to have operated in Portugal, with foreigners travelling to the island of Madeira to seek out young children.
Investigators from the Swiss-based Innocence in Danger group, which claims children regularly disappear from the poorer streets of Portuguese towns and cities, say they too have been harassed and threatened.
Mr Silvino claimed his accusers were making up their allegations. "It is all lies," he said.
The orphanage's director and deputy director were sacked on Monday as the government pledged to clear up the case as soon as possible.