[Note regarding Ghomeshi lawyers and Cornwall ties…
Marie Henein represented Cornwall lawyer, Church Canon Lawyer  and "alleged" child molester Jacques Leduc at his second sex abuse trial in Cornwall Ontario.  Leduc's first trial – an outright travesty – was stayed on technicalities.  Leduc was ordered back to trial.  Henein then – with assistance from the Crown – got Leduc off again on technicalities.  That second "trial" never got off the ground.  Another travesty of justice.   It started with the sandbagging of Perry Dunlop and, believe it or not,  flat refusal to allow him to retain a lawyer once he realized what was happening!   It continued with an outright spin on Carson Chisholm's testimony.  
Mission accomplished.  Leduc "walked."  He is as free as a bird.  Both Heneien and Danielle Robitaille (pictures below) then represented and protected Jacques Leduc at the multi-million-dollar Cornwall Public Inquiry.  Scroll down page for links to relevant  Sylvia's Site blogs ]
 IFpress.com
Toronto Sun
Wednesday, November 26, 2014 10:45:16 EST PM
By Joe Warmington, Toronto Sun
Jian Ghomeshi leaves College Park Court with lawyer Marie Henein, right, and co-counsel Danielle Robitaille, left, after being freed on bail on Wednesday, November 26, 2014. (Craig Robertson/Toronto Sun)
ORONTO – Four counts of sexual assault and another for an alleged choking and the accused was still home in time for some of his mom's home cooking.
Who says Canada's justice system is slow?
It doesn't seem to be for police officers before the courts or former CBC star Jian Ghomeshi.
That was some efficiency. In and out in just a few hours. No night or two in jail. He barely even had to deal with rush hour.
Perhaps the hardest part of the day was trying to get off the elevator inside College Park and negotiate his way through the enormous media throng who have been waiting to get a glimpse of the former Q host since this scandal broke last month.
All the longtime media people I checked with told me they had never seen a bigger horde in Toronto. There were more cameras than for Mayor Rob Ford scrums and three times what was outside the court when Const. James Forcillo was charged with murder in the case of Sammy Yatim.
It was a frenzy.
Having Ghomeshi walk through it was a brilliant move by defence lawyer Marie Henein who with co-counsel Danielle Robitaille flanked him.
He looked stressed and under siege — which was much better for them than him looking like a man in hiding. His legal team will have more moves down the road. When it comes to top legal representation, you get what you pay for.
Henein, who said her client will plead not guilty, was able to arrange her Ghomeshi's surrender with Toronto Police. He was transported in handcuffs to the College Park Courts but was not seen in public with them on or in a jail jumpsuit, for that matter. What a trial this will be.
But on this day sympathy is reserved for the brave alleged victims.
"The past month has seen a major shift in the conversation about violence against women," Lucy DeCoutere, a captain in the Canadian Armed Forces who also has appeared in the Trailer Park Boys shows, said in a statement. "It has been an overwhelming and painful time for many people, including myself, but also very inspiring. I hope that victims' voices continue to be heard and that this is the start of a change that is so desperately needed."
Imagine the continued courage these women are going to have to muster.
As someone who has been defended by Henein on serious charges, former hockey coach and agent Dave Frost said she will pull out all the stops.
"In my case she literally left nothing unturned," said Frost, who was eventually acquitted of the sexual exploitation charges against him.
By 2009 he was found not guilty of all the charges with the judge saying "some testimony" was "simply not believable" and some "tainted by collusion."
Henein has decided to let any talking in the case happen inside the court but her dogged approach to provide a robust defence, and her lethal cross examination skills, are legendary. "We will address these allegations fully and directly in a courtroom," Henein said outside the court.
The women, and the allegations they have made, will certainly be tested in court.
A hint of what that could mean comes across in a YouTube video clip from a Law Society of Upper Canada workshop a few years back where she told lawyers in sexual assault cases there is nothing wrong with bringing in an "application, especially in front of a judge-alone trial, to introduce all this otherwise inadmissible evidence and if it's excluded, well, oh, well, the judge has heard it" and later she's confident the judge will be able to disabuse his or herself of the fact that the victim has a very extensive and lewd prior sexual history."
It's tough stuff that defence lawyers call "doing their job."
Getting Jian Ghomeshi out on bail all in less than a normal work day shows just how good Marie Henein is at hers.
____________________________________
Marie Henein is the lawyer Jian Ghomeshi needs, say justice system observers
In just a few days for top criminal lawyer Marie Henein, Jian Ghomeshi has gone from punchline to client. But given her track record for winning, he probably doesn't mind.
The Toronto Star
Published on Wed Nov 05 2014
By: Alyshah Hasham Staff Reporter,
In just a few days for top criminal lawyer Marie Henein, Jian Ghomeshi has gone from punchline to client.
"As criminal lawyers we represent people who have committed heinous acts. Acts of violence. Acts of depravity. Acts of cruelty. Or as Jian Ghomeshi likes to call it, foreplay," Henein said at a gala on Oct. 29 to big laughs from the crowd of about 450 lawyers, including judges of both the provincial and superior court where his case might be heard if charges are laid.
But her latest client — under investigation by police for serious allegations of physical and sexual assault — is unlikely to mind given her reputation for winning.
Henein is the lawyer Ghomeshi needs, observers of the criminal justice system say.
Ruthless, smart, hardworking, an exceptional strategist and known for eviscerating cross-examinations, she is a go-to criminal lawyer in high-profile cases — and is high on the list of barristers whom lawyers themselves would call, if they got into trouble.
In 2010, she got all charges dropped against Michael Bryant, including criminal negligence causing death, after bike courier Darcy Allan Sheppard died. In his book, the former attorney-general of Ontario heaped praise on the "finest barrister I ever met."
She "seemed to channel Hannibal Lecter," Bryant wrote in his 2012 book, 28 Seconds . "So able was she to find a person's deepest frailties and exploit them."
Other former clients include junior hockey coach David Frost, acquitted of sexually exploiting his players in 2008, and Gerald Regan, the former premier of Nova Scotia, acquitted of a string of historic sexual assaults.
Perhaps unexpectedly, another former client and ardent fan, is Jane Doe — the well-known activist and head of a coalition of groups focused on violence against women. Henein represented the Feminist Coalition pro bono in the Bedford case at the Supreme Court, which led to the high court striking down prostitution laws.
"She is a brilliant feminist and did outstanding work for our coalition," Doe said Wednesday. And despite emotions running high in light of the shocking allegations by nine women against the fired CBC radio host "I do feel strongly that everyone is entitled to the fullest and best representation — and she's the one."
Henein will defend Ghomeshi alongside former Crown attorney Scott Hutchison and Danielle Robitaille, both partners at Henein Hutchison LLP.
Henein was previously a partner at famed criminal lawyer Eddie Greenspan's firm and served a term as co-chair of the Masters of Law program at her alma mater Osgoode Hall, and 14 years as an adjunct professor at the school.
In 2013, Henein was the recipient of the Laura Legge award, which recognizes female lawyers in Ontario who have demonstrated exemplary leadership. She was also the first female defence lawyer to as president of the Advocates' Society.
"Marie is well-respected by every participant in criminal justice system," said lawyer Jonathan Rosenthal, who has known Henein for 20 years.
"She is a very smart woman. Personally, I certainly wouldn't want to be cross-examined by her."
He also noted her "ballsy" sense of humour — showcased by her Ghomeshi jokes while emceeing at the Criminal Lawyer's Association gala last week.
"Will be completely appropriate," she promised on Twitter before the gala where she noted that she and Eddie Greenspan have worked together for many years: "Some criminal. Some regulatory. Some light BDSM."
Both jokes drew huge laughs from the crowd at the Ritz Carlton.
With Henein representing him, the case against Ghomeshi, if or when charges are laid, is far from a "slam-dunk," observed one source in the legal community.
But since Ghomeshi has been "hung, drawn and quartered" in the media and on social media, he needed a good lawyer to make sure he has a chance at a fair trial.
"She is as good as it gets," the source said. "It's like 'who you gonna call?' She's the Ghostbuster."
Henein recently deleted her Twitter account, but not all of her online presence has been scrubbed. A Law Society of Upper Canada video from 1998 shows Henein explaining defence strategies around getting a sexual assault complainant's sexual history to be introduced at trial.
Suggesting one final tactic she said: "Sometimes you bring the application, especially in front of a judge-alone trial to introduce all this otherwise inadmissible evidence and if it's excluded, well, oh, well, the judge has heard it."
After slightly shocked laughter from the audience, she continued: "No, no, I'm absolutely confident that the judge will be able to disabuse his or her mind of the fact that she has a very extensive and lewd prior sexual history."
Another respected Toronto lawyer — who happened to graduate from Osgoode Hall the same year as Henein — has been hired to investigate allegations about Ghomeshi within the CBC.
Janice Rubin, an employment lawyer with a reputation for being a thorough and balanced workplace investigator, has co-written a book on the subject and has been called into high-profile situations before.
Rubin, who 11 years ago co-founded law firm Rubin Thomlinson LLP, conducted the probe into allegations of sexual harassment by a trustee at the TDSB earlier this year. A frequent media commentator, she has also appeared on CBC shows, both radio and TV.
A CBC spokesperson said management was aware of Rubin's prior history with the CBC when they made their decision to hire her for the investigation.
Rubin will deliver two reports, one into the complaints, and one into changes CBC can make to prevent "similar issues from arising in our organization in the future," said CBC's executive vice-president for English services, Heather Conway, in a staff memo.
Complaints not involving the Ghomeshi investigation are to go to human resources, CBC has said.
With files from Star Staff
Correction – November 7, 2014: This article was edited from a previous version that mistakenly said Marie Henein was the first woman to serve as president of the Advocates' Society.
____________________________________
Who Is Marie Henein, Jian Ghomeshi's Lawyer?
The Huffington Post Canada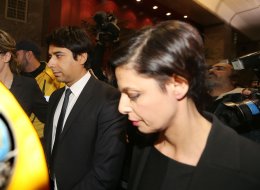 It wasn't long ago that Marie Henein was reportedly making light of disturbing allegations against Jian Ghomeshi.
In October, she emceed the Criminal Lawyers Association (Ontario) gala, whereshe joked about the sexual assault allegations leveled against the ex-CBC host, according to The Toronto Star.
"As criminal lawyers, we represent people who have committed heinous acts," Henein is quoted as saying. "Acts of violence. Acts of depravity. Acts of cruelty. Or, as Jian Ghomeshi likes to call it, foreplay."
But Henein was not making light of the situation as she stood in now-client Ghomeshi's corner Wednesday as he faced a throng of media at Toronto's College Park Court.
The barrister told the assembled journalists Ghomeshi plans to plead not guilty to four counts of sex assault and a count of "overcome resistance – choking."
Henein is no stranger to famous clients. A graduate of York University's Osgoode Hall Law School and Columbia University, Henein worked for Edward Greenspan, arguably the best-known defence lawyer in Canada, who has represented well-known defendants such as Robert Latimer, Garth Drabinsky and Conrad Black, The Globe and Mail reported.
Together, Henein and Greenspan defended ex-Nova Scotia premier Gerald Regan, who was acquitted of a series of sexual assaults.
Henein started her own practice in 2002 and has successfully defended several clients in high-profile cases, including David Frost, the controversial hockey coach and agent who was acquitted of sexual exploitation charges in 2008.
She also defended former Ontario attorney-general Michael Bryant, against whom charges of dangerous driving and criminal negligence were dropped following the death of bike courier Darcy Allan Sheppard.
An anonymous source talking to The Toronto Star said Ghomeshi needed strong representation to ensure he had a fair trial after being "hung, drawn and quartered" in the press.
"She is as good as it gets," the source told the Star. "It's like 'who you gonna call?' She's the Ghostbuster."
___________________________________
Christie Blatchford: Jian Ghomeshi's lawyer's sexual violence jokes expose double standard
National Post
November 7, 2014 5:50 PM ET
Brett Gundlock/National Post/File
Jian Ghomeshi's lawyer Marie Henein, in a 2009 photo. Never underestimate a lawyer's self-regard Christie Blatchford writes.
I love criminal lawyer Marie Henein, if not perhaps, quite as much as she does.
Jian Ghomeshi's new hired gun is gorgeous, smart, ferocious, hideously accomplished and, oh yes, funny.
Just late last month, at a big Criminal Lawyers Association (Ontario) gala where she was the emcee, Ms. Henein had them — about 450 lawyers and judges — laughing in the aisles.
"As criminal lawyers, we represent people who have committed heinous acts," she said on Oct. 29. "Acts of violence. Acts of depravity. Acts of cruelty.
"Or, as Jian Ghomeshi likes to call it, foreplay."
At another point, she noted that she and the famous Eddie Greenspan — they successfully defended former Nova Scotia premier Gerald Regan, then accused of a number of historic sex offences — had worked together for many years.
Or, as she inimitably put it, "Some criminal. Some regulatory. Some light BDSM."
I read the jokes in a front-page profile of Ms. Henein in the Toronto Star this past Wednesday, a day after it was learned publicly she is  representing the former host of CBC Radio's Q.
While Mr. Ghomeshi is facing no criminal charges at this writing, three of the women who complained he either physically assaulted them outright or sexually harassed them have come forward to Toronto Police. A criminal investigation is underway. Hiring Ms. Henein was unquestionably the smartest thing Mr. Ghomeshi has done in some time, if not perhaps in his whole life.
Now I loved Ms. Henein's jokes. I howled.
But then, as I wrote her the next day (I was in Montreal at the Luka Magnotta trial), "I speak as one for whom nothing is sacred." I was curious, though: Had she had any blowback?
"And what," I asked her in the same note, "do you think would have happened if a man had made those jokes, especially in relation to a fellow he was soon to be representing?"
"Good questions all, C, " she replied. "I leave it to you to answer."
So, here goes.
I think we all know what would have happened to a man who made the same remarks.
At this moment in what has come to be called the "national conversation" — where women and even a few men are publicly disclosing their own experiences with sex assault and harassment and increasingly everyone else is required to profess immediate unwavering belief in both storytellers and their stories — any man who made light about sexual violence as Ms. Henein did would have been simultaneously bidding farewell to his job, reputation and, metaphorically at least, his privates.
Look at the ridiculous nonsense now being directed at Liberal leader Justin Trudeau, who learned of allegations of misconduct by two of his MPs and promptly took action — suspending the two, with pay, and asking the Speaker to investigate.
The purported victims are New Democrat MPs. Mr. Trudeau took pains not to identify them in any way, yet now Opposition Leader Tom Mulcair and others are accusing him of "re-victimizing" the two purported victims.
And that's what happens to young Mr. Trudeau, who is as are many men his age, exquisitely sensitive to the concerns of women, and who inarguably from a feminist perspective did the right thing.
Imagine, instead of the glam Ms. Henein at the mike that night, it had been a paunchy male defence lawyer
Imagine, say, instead of the glam Ms. Henein at the mike that night, it had been a paunchy male defence lawyer who within the week would be acting as Mr. Ghomeshi's mouthpiece. I don't think even Eddie Greenspan himself could have come away from it unscathed, as Ms. Henein did.
Or even, God forbid, imagine it had been a boy prosecutor who made the jokes; those lawyers who laughed so hard at Ms. Henein would have been at the AG's office the next day, demanding his head. For a prosecutor, it would have been goodbye Mr. Johnson, that's what it would have been.
It should be said that the dazzling leap made by Ms. Henein — from using Mr. Ghomeshi as a punching bag for laughs one day to representing him the next — was not unique to her. Criminal lawyers have an absolutely magnificent regard for their own ability to be objective.
Not so many years ago, I was in danger of being cited for contempt by a judge in a trial I was covering.
My bosses had to hire me a lawyer, and they got the best one they knew — Alan Gold.
When he came to court for us the next morn, the trial lawyer, David Bayliss, who was wanting my ass in a sling, was kind enough to tell the judge that perhaps we weren't aware that Mr. Gold recently had written a very critical article about me and my kind of journalism. Mr. Bayliss even read aloud a few excerpts.
Now Mr. Gold hadn't thought to disclose that little tidbit to us, the client; of course he hadn't. In his own mind, if not in mine, he was perfectly capable of putting aside his visceral loathing for how I write and vigorously defending me.
We got a new lawyer. I was not cited for contempt. I have liked Mr. Bayliss ever since. But the point is, never underestimate a lawyer's self-regard.
I meant what I said to Ms. Henein: She was funny, and I can't think what I consider sacred.
The world I want to live in is a world where nothing is, and where anyone who can write jokes like that can make them — not just girls.
Postmedia News
cblatchford@postmedia.com
___________________________________________
A fewe BLOGS from Sylvia's Site regarding Marie Henein's defence of Jacques Leduc
12 September 2009:  BLOG Update
24 January 2009:  BLOG Cheap shot
22 January 2009:  BLOG  Why the silence?
17 July 2008:  BLOG  Why the sweet deal?
16 July 2006:  BLOG I am Ashamed