Radio-Canada.ca
Updated Tuesday, 30 April 2013 till 17h 36 EDT
[This is a google translati0n – scroll down for original French text]
Notre Dame of the Assumption Cathedral of Our Lady of the Assumption.The Diocese of Moncton is in a precarious financial situation and announced cuts. Several positions are deleted. In addition, the diocesan center in Dieppe, and surrounding land are sold.
"We will not sell it at the cost of sacrifices there. We'll wait until it's on the market at a good time to do so, to assess, "said Bishop Vienneau.
Several factors contributed to the financial problems of the diocese, including payments to victims of Father Camille Leger that are higher than expected.
The Bishop Valery Vienneau says that even without the victim compensation program, the diocese would have had to make cuts. However, they were less important. The quest and investments of the diocese reported less income.
A committee has recently been formed to examine the financial situation of the diocese. The diocese confirmed that many employees will be laid off. It will remain a dozen at the end of the rationalization process.
_______________________________
Compressions importantes au diocèse de Moncton
Radio-Canada
Mise à jour le mardi 30 avril 2013 à 17 h 36 HAE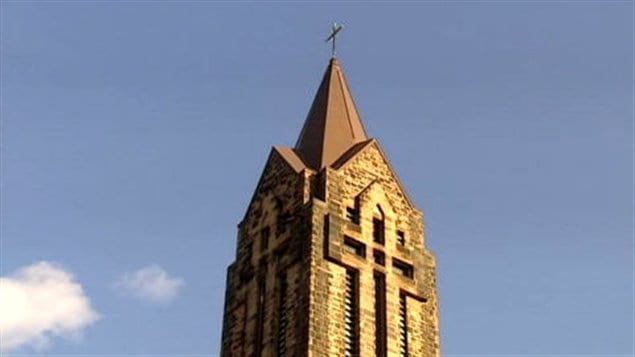 La cathédrale Notre-Dame-de-l'Assomption.
Le diocèse de Moncton est dans une situation financière précaire et annonce des compressions. Plusieurs postes sont supprimés. De plus, le centre diocésain, situé à Dieppe, et les terrains qui l'entourent sont mis en vente.
« On ne va pas vendre ça à des prix de sacrifices là. On va attendre que ce soit sur le marché à un bon moment de le faire, faire évaluer », explique Mgr Vienneau.
Plusieurs facteurs expliquent les problèmes financiers du diocèse, dont les paiements versés aux victimes du père Camille Légère qui sont plus élevés que prévu.
L'évêque, Mgr Valery Vienneau, affirme que même sans le programme d'indemnisation des victimes, le diocèse aurait dû faire des compressions. Elles auraient toutefois été moins importantes. La quête et les placements du diocèse rapportent moins de revenus.
Un comité a récemment été formé pour examiner la situation financière du diocèse. Le diocèse confirme que plusieurs employés seront mis à pied. Il en restera une douzaine à la fin du processus de rationalisation.
Les employés travaillent actuellement au centre diocésain. Ceux qui s'occupent des paroissiens francophones de vont déménager au presbytère de l'église Christ-Roi, à Moncton, où réside déjà l'évêque. Les autres secteurs vont déménager au presbytère de l'église Sainte-Augustine.