Arnprior Chronicle-Guide
26 September 2013
By Steve Newman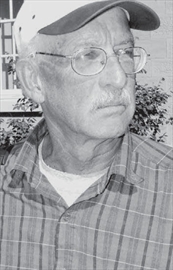 Wilno resident Mike Shulist, who was molested as a child by an area Roman Catholic priest, was in Pembroke Superior Court last week to lend support to the victims of molestation by Father Daniel Miller and to hear several victim impact statements.
News –Father Daniel Miller sat still, looking forward in the direction of Justice Timothy Ray and very occasionally speaking to his lawyer Robert Carew, during a series of emotional victim-impact statements in Pembroke Superior Court Sept. 17
Miller, a well-known former Arnprior priest, pleaded guilty June 3 to five counts of sexually molesting young boys in Renfrew County parishes about 40 years ago. The boys, all ages 9 to 13 at the time, were from Arnprior, Deep River and Eganville parishes. One boy was molested at the rectory in Pikwakanagan, while the other incidents all occurred during overnight visits at the Renfrew home of Father Miller's mother. Several supporters of the victims also attended the Sept. 17 proceedings after Miller pleaded guilty. There were more than 50 people, including court officials, in attendance for the morning and afternoon sessions. The audience heard impact statements as well as arguments by the defence and Crown Attorney Jason Nicol regarding length and kind of sentencing.
Those in the audience included Deep River Mayor David Thompson, Pembroke based Father Peter Proulx who was sitting in as the official observer for the Roman Catholic Diocese of Pembroke, and Wilno resident Mike Shulist. Now a retired educator, Shulist was abused in 1964 by Father Bernard Prince, who was subsequently imprisoned for abusing more than a dozen children.
Portions of the victim-impact statements, pointed out Justice Ray, ventured outside the intended boundaries of such statements from the victims and parents of the victims, with comments about what the justice system and church should do about the history of molestation.
But that still left the victims and victims' relatives with many claims of severe physical and psychological devastation because of the sexual abuse. In most cases, each boy was molested once. In the case of one boy, the incidents are said to have occurred three to seven times.
The first impact statement was read by a victim who says he grew up with parents who provided financial and spiritual support to the church, including a grandmother who played the church organ for more than 60 years.
"I explicitly knew the Catholic church was important," he said.
He also said words cannot sufficiently describe the anger the molestation has caused his family members. "I can only hope for justice," said the man, who was nine years old at the time of the abuse.
Like several victims, he recalls the sense of fear he retained, the fear that prevented him from telling his parents. "I mostly feared telling my parents who were fiercely protective of me and my siblings."
Still struggling with the abuse, he said he hoped to better deal with issues surrounding the molestation, with the help of time, family support and his own maturity, he said, "I promise you that my life changed forever that day."
REMAINS ANGRY
Clearly he remains angry, noting that every time he hears about abuse by "members of the cloth" he's "sickened to the core."
The case against Father Miller was made possible in part because his mother, upon hearing about the abuse of her son, went to officials of the diocese in 1999 to complain.
Because of a publication ban, the victims cannot be identified, except to say they were altar boys from the Roman Catholic churches in Eganville, Arnprior and Deep River. Another victim, from Deep River, said in his victim impact statement that he kept his secret for 43 years, claiming he put most thoughts of the incidents "in a box in the depths of my mind."
He said he hopes to "get through" the incidents with Father Miller with the help of his faith in Christ, counselling and family support.
LONG JOURNEY TO FORGIVENESS
Meanwhile, he said he prays for Father Miller every night and continues "on a long journey to forgiving him."
Another victim impact statement was read by the daughter of a victim's mother. Her words included: "Here today we are all victims for the same reason … let us all stand together and hope that justice will be served."
Another mother, in her victim-impact statement, expressed her guilt at not knowing that her sons had been abused. She suggested she was even angrier because Father Miller married her and her second husband (before she knew about the abuse). She also indicated that when she confronted Father Miller, years later, about the alleged abuse, he confessed to abusing each of them.
Another victim recalled how the abuse left him frightened, confused and scared, and how the ride home in the car with Father Miller, after the abuse, happened in total silence.
In later life, the victim says he refused to allow his son to become an altar boy, but never provided a good reason.
A former Arnprior altar boy, and victim of Miller's molestation, said he didn't tell of the abuse for the longest time because Miller had told him he'd go to hell if he told anyone. The very fact Miller told him not to tell anyone had the victim concluding that "right away I knew what he did was wrong."
Years later, he still had difficulty revealing what happened, saying "in a way I felt guilty about telling the police about the abuse."
The victim said the incident still weighs on him, as he has struggled to remain sober, has tried to commit suicide twice, and has remained irritable and angry with the people he loves.
He also said he's thankful every day that he didn't have his own children.
Now in his late 40s, he says the incident has left him feeling, "I have been robbed of my potential."
On questioning from defence counsel, the victim acknowledged he had had a lengthy criminal record.
Following the victim-impact statements, defence lawyer Carew argued some credit should be given for undergoing efforts of rehabilitation without any court order to do so, and for having not reoffended since the last molestation.
The molestations are said to have occurred in the period of 1969 to 1978.
ADMONISHMENT
When Carew indicated Miller had suffered significantly because the molestations had cost him his job, there were murmurings from the crowd. At this point, Justice Ray admonished the audience, saying he was try to make sense of important matters and that anyone wishing to make noises or comments would be escorted from the court room.
Carew went on to recommend a conditional sentence, of house arrest, that doesn't exceed nine months.
Given the conditions of the case, crown attorney Jason Nicol said a conditional sentence was not appropriate. "The only reasonable sentence is jail, the only question is how long," he argued.
He also said, in the case of the family that used to regular invite Father Miller for Wednesday-morning breakfast, that he had a "devastating lifelong impact on the life of all the kids."
Nicol also indicated that Miller's abuse happened many times, to many victims, over a significant period of time.
Nicol said a jail sentence of seven to nine months would not be harsh and punitive, but well within the range of sentences awarded to others found guilty of such crimes. In conclusion, he recommended a nine-month jail term.
Afterwards, outside the court room, 1964 abuse victim Mike Shulist of Wilno spoke about the importance of being there to support the abuse victims.
"It's going to be a long struggle," said Shulist. "It's hard to keep a secret for (more than) 40 years and have it on the front page of every paper."
With tears running down his cheek, Shulist said it was important to be in the court room so the victims know they have the support of other community members.
Justice Ray will sentence Father Miller Nov. 28 in Pembroke Superior Court.