Peterborough Examiner
Monday, December 5, 2016 3:56:39 EST PM
Rev. Bill Moloney. Peterborough Examiner file photo
No criminal charges will be laid after a Peterborough Catholic priest was investigated for sexual misconduct alleged to have taken place in the 1980s at the summer camp where he was the longtime director, parishioners learned on the weekend.
The news about Rev. Bill Moloney, who is on leave from his role as priest at Immaculate Conception Church, was shared by Rev. Joe Morin on behalf of Bishop William McGrattan during masses at the sanctuary on Rogers St. in East City on Saturday and Sunday.
The Haliburton Highlands OPP Detachment had informed the diocese that their investigation about the alleged incident at Camp Northern Lights had concluded and no charges would be laid, said Deirdre Thomas, a spokesperson for the diocese.
Moloney stepped down from the directorship of the camp for kids aged nine to 13 founded in the 1970s by the Knights of Columbus. He is also the chaplain at three schools: St. Peter's Secondary School, and Immaculate Conception and Monsignor O'Donoghue elementary schools.
Now that the police investigation is done, the diocese will conduct its own internal probe over the next couple of months, Thomas said. It will include a "comprehensive review of the exercise of responsible priestly ministry," she added.
Moloney will remain on leave until the internal investigation is complete. Rev. Peter Seabrook will continue in his role as acting administrator, Thomas said.
At Camp Northern Lights just south of Haliburton, Jim Gibson took over Moloney's job as director and chairman of the board of directors.
Parishioners at Immaculate Conception, who learned of the allegations from the Bishop himself when he stepped in to conduct services in early November, continue to hold Moloney and "all of those impacted by the situation" in their prayers, Thomas said.
jabain@postmedia.com
___________________________________
Peterborough priest cleared of allegations of sexual misconduct: diocese
Fr. Bill Moloney now the subject of an internal investigation
mykawartha.com
05 December 2016
Peterborough This Week
By   Lois Tuffin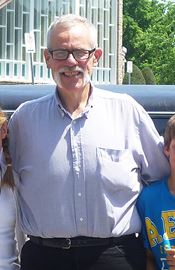 Father Bill MoloneyA photo of Father Bill Moloney taken in front of his former St. Anne's Parish in Peterborough in 2012. Father Moloney is being investigated for sexual misconduct involving a boy at Camp Northern Lights in Haliburton.
Parishioners at Immaculate Conception Church broke out in applause on Saturday evening as they learned their parish priest had convinced police he was innocent of allegations of sexual misconduct.
Fr. Bill Moloney had been removed from his post in early November after a complaint was filed to Haliburton OPP about an incident at Camp Northern Lights, where he is the director. However, the police investigation will not result in criminal charges, Fr. Joe Morin announced to the congregation, on behalf of the bishop, on Saturday.
The news was a big relief for Shanthi Terence, a parishioner at St. Anne's where Fr. Moloney worked before transferring to Immaculate. She saw half the congregation follow him, especially those with children due to their rapport with the popular priest."It's just who he is — his personality," she says.
"He is very sociable, very outgoing. He is very involved in the community. He goes above and beyond."  For example, Fr. Moloney knew her son Adrian was hedging on going to Camp Northern Lights, so he convinced his friend William to attend and encourage Adrian to join him.
"He knows each and every kid's name," Terence says.
While the criminal investigation is over, Fr. Moloney must pass another hurdle before returning to work."The diocese will undertake its own internal investigation," adds Deirdre Thomas, spokesperson for the Peterborough diocese."
This will happen over the next couple of months. The parishioners were informed to keep them in the loop on how things will unfold.
"The internal review will consider the "matters that have arisen recently" and Fr. Moloney's "exercise of responsible priestly ministry," both personal and professional, she says.
Fr. Moloney will remain on administrative leave until the second investigation concludes. In the meantime, Fr. Peter Seabrook will oversee the parish."The parishioners of Immaculate Conception will carry him (Fr. Moloney) in their prayers," Thomas added.
Follow Lois Tuffin on Twitter @kawarthanews
______________________________________
No charges to be laid against priest accused of sexual misconduct
Police say they will not be laying any charges against Father Bill Moloney, a Peterborough priest who was the subject of a recent investigation involving allegations of sexual misconduct.
Haliburton and City of Kawartha Lakes OPP detachments conducted the investigation with assistance from the Diocese of Peterborough.
OPP say their investigation is closed.
The Diocese informed parishioners on the weekend about the police update.
Diocese spokesperson Deidre Thomas tells CHEX News that an internal investigation is now underway and will continue over the next couple of months.
Fr. Peter Seabrooke continues to fill in at Immaculate Conception as Fr. Moloney remains on administrative leave.
The Peterborough Victoria Northumberland and Clarington Catholic District School Board says Fr. Moloney will not be performing any duties in schools at this time.