[This is a google translation of the French article.  Scroll down for the article in its original French version]
Radio-Canada.ca
06 June 2012
The Archdiocese of Moncton, New Brunswick, to answer about a law firm that advises victims of sexual assault in Cap-Pele not to enter into an agreement with the religious authorities.
The Ontario firm Ledroit Beckett, accustomed to causes related to cases of pedophile priests, believes that victims would lose in the process of reconciliation initiated by the Archdiocese. According to lawyer Robert Talach, this proposal is a way to limit the damage and avoid a scandal.
Talach says that the Church is wrong and he qualifies monsters pedophile priests. It recommends that victims of the deceased father Camille Leger  sue in civil court.
Donald Langis, diocesan coordinator of pastoral care to the Archdiocese of Moncton, judge that the law firm that is unfortunate and misleading. He stressed that the conciliation process is led by Michel Bastarache, former judge of the Supreme Court of Canada and human rights of francophones. Mr. Langis also asserts that counsel fees can reach up to 40% of the settlement.
"The process we propose is that we absorb all costs. So, the amount the victim receives, it will be the amount offered to them, whereas if these people go to court, the amount is sure attorneys' fees must be paid and the costs of court. "- Donald Langis, diocesan coordinator of pastoral
Mr. Langis added that the approach of the Church is a private, based on compassion and understanding, the purpose of reconciliation. The archdiocese will also apologize to the victims.
The Archdiocese of Moncton will provide compensation to victims of sexual abuse by Father Camille Léger in the 1960s and 1970s. The history of these sexual assaults against young boys has come to light last winter.
……
L'archidiocèse de Moncton défend son processus de conciliation
Radio-Canada.ca
06 Ju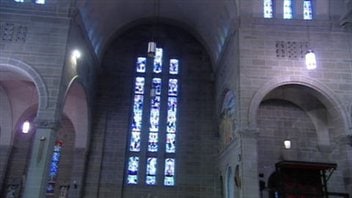 La cathédrale Notre-Dame-de-l'Assomption, à Moncton
L'archidiocèse de Moncton, au Nouveau-Brunswick, réplique aux propos d'un cabinet d'avocats qui recommande à des victimes d'agressions sexuelles à Cap-Pelé de ne pas conclure d'entente avec les autorités religieuses.
La firme ontarienne Ledroit Beckett, habituée aux causes liées à des cas de prêtres pédophiles, croit que les victimes seraient perdantes dans le processus de conciliation lancé par l'archidiocèse. Selon l'avocat Robert Talach, cette proposition est un moyen de limiter les dégâts et d'éviter un scandale.
Me Talach affirme que l'Église est fautive et il qualifie de monstres les prêtres pédophiles. Il recommande aux victimes du défunt père Camille Léger d'entamer des poursuites au civil.
Donald Langis, coordonnateur diocésain de la pastorale à l'archidiocèse de Moncton, juge que les propos de cette firme d'avocats sont malheureux et trompeurs. Il souligne que le processus de conciliation est mené par Michel Bastarache, ancien juge à la Cour suprême du Canada et défenseur des droits des francophones. M. Langis affirme aussi que les honoraires des avocats peuvent atteindre jusqu'à 40 % du règlement.
« Le processus qu'on propose, c'est nous qui absorbons tous les coûts. Alors, le montant que la victime recevra, ce sera le montant qu'on leur propose, tandis que si ces gens-là vont en cour, le montant, c'est sûr que les honoraires des avocats devront être payés et les frais de la cour. » — Donald Langis, coordonnateur diocésain de la pastorale
M. Langis ajoute que l'approche de l'Église est privée, basée sur la compassion et la compréhension, dans un but de réconciliation. L'archidiocèse présentera aussi des excuses aux victimes.
L'archidiocèse de Moncton offrira une indemnité aux victimes d'agressions sexuelles commises par le père Camille Léger dans les années 1960 et 1970. L'histoire de ces agressions sexuelles commises contre de jeunes garçons a éclaté au grand jour l'hiver dernier.