[This is a google translation – scroll down for original French text]
ICI Radio-Canada
13 April 2015

Father Paul-André Harvey of the Diocese of Chicoutimi, charged with sexual assault, chose to be tried by judge alone.
The court must now set a date before the Court of Quebec.
Paul-André Harvey faces some 75 charges.
The priest allegedly assaulted forty girls from 6 to 12 years and a young woman of 23 years between 1960 and 2000.
The Crown prosecutor, Sébastien Vallée says that we should not be surprised by the time it takes the case.
"This is a proof that is complex enough to study and heavy. Already there, it takes time, says Ms. Vallée. This is not a situation that can be analyzed very quickly. Take the time to analyze every statement, every situation for all those involved and there are a lot of people involved. »
The events allegedly took place mainly in the boroughs of Jonquière and Chicoutimi.
It was in January 2012 that the first alleged victim filed a complaint against Father.
Father Harvey was committed for trial in November, after its preliminary investigation.
………………………..
L'abbé Paul-André Harvey renonce à un procès devant jury
ICI Radio-Canada
Mise à jour le lundi 13 avril 2015 à 10 h 40 HAE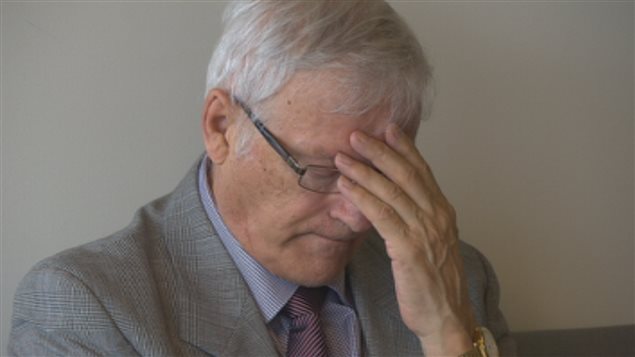 L'abbé Paul-André Harvey
L'abbé Paul-André Harvey du diocèse de Chicoutimi, accusé d'agression sexuelle, a choisi de subir son procès devant un juge seul.
Le tribunal doit maintenant fixer une date devant la Cour du Québec.
Paul-André Harvey fait face à quelque 75 chefs d'accusation.
Le prêtre aurait agressé une quarantaine de fillettes de 6 à 12 ans et une jeune femme de 23 ans entre 1960 et 2000.
Le procureur de la Couronne, Sébastien Vallée, affirme qu'il ne faut pas s'étonner du temps que prend cette affaire.
« C'est une preuve qui est assez complexe à étudier et lourde. Déjà là, ça demande un certain temps, précise Me Vallée. Ce n'est pas une situation qui s'analyse très rapidement. Il faut prendre le temps d'analyser chacune des déclarations, chacune des situations de toutes les personnes qui sont impliquées et il y a beaucoup de personnes d'impliquées. »
Les événements se seraient déroulés principalement dans les arrondissements de Jonquière et de Chicoutimi.
C'est en janvier 2012 qu'une première présumée victime a porté plainte contre l'abbé.
L'abbé Harvey a été cité à procès en novembre dernier, après son enquête préliminaire.