[Google translation – scroll down for original French text]
LaPresse
14 May 2018
This is apparent from documents written by the ex-priest before he died on May 3. The man was serving a six-year prison sentence after being convicted of assaulting 39 children in the Saguenay.
La Presse obtained a copy of these documents exclusively.
From 1965 to 1985, Paul-André Harvey was summoned four times by different police forces in the Saguenay. Each time he would have escaped with a simple warning.
When the attacks began in 1965, Father Harvey would have warned his bishop, Mgr. Marius Paré, of his behavior towards children. The bishop, now dead, would have advised him to be cautious and to pray more.
"From the first offenses, my bishop then summoned me to his office following a complaint received. I told him about my difficulties and I told him that I needed help. He only advised me to behave more cautiously with children and to put more prayer in my life.
"I went back with my problem. When another complaint reached him, he changed my parish, thinking to solve my emotional problem. It was not so. After a few days without difficulty, I reoffended, "writes Mr. Harvey in an undated document given to the lawyers of his victims.
VICTIMS REPRIMANDED
Father Harvey blames his superiors for not putting him out of harm's way. It is rather the victims who are reprimanded when they dare to complain.
"A girl, a victim of my deviant behavior, went to the archdiocese for a good day with her parents to tell what had happened and to make a complaint," Harvey wrote. She was received cavalierly and my then bishop did not believe what she was saying and he accused her of lying. Yet she was telling the truth. "
In another document entitled "Choosing to Reveal … to Heal Better," dated March 6, 2017, the former priest once again reproached the religious authorities for "taking lightly [his] difficulties". Transferring him to another parish, he writes, "was simply moving the problem elsewhere."
The school, the movement of brownies and playgrounds were for him "as many places to detect potential victims."
"Most of the time," he writes, "it's in their homes that the attacks occurred. At specific times, I guessed that the parents were absent or that the big girl was guarding. That's when I introduced myself unexpectedly.
In this 14-page document, Mr. Harvey reiterates that he has warned the clerical authorities and that he has been summoned four times by the police of Kénogami, Jonquière and Alma and by the Sûreté du Québec, between 1965 and the early 80s. "The police did not punish me but simply warned me not to reoffend. Thus during all these years, I benefited (!) From their largesse. "
DIOCESE IS DENIED PREVEN
Mr. Harvey sent some of the documents he wrote to the lawyers of his victims, who filed a class action against the Diocese of Chicoutimi.
"The decision to contact Trudel Johnston & Lespérance's lawyers and send them documents was entirely on my own initiative," says Harvey in an affidavit signed on April 23, 10 days before the ex-priest 81 years old does not succumb to the disease.
The diocese of Chicoutimi claims to have searched its archives without being able to trace any written record of the assaults committed by Father Harvey.
In February 2017, a former Bishop of Chicoutimi, Jean-Guy Couture, said he was "completely upset" to learn that the priest had assaulted children in a dozen parishes in the diocese that he was in charge of between 1979 and 2004.
Bishop Couture denied the existence of a culture of silence in the diocese with regard to pedophile priests. He stated that he had never transferred a pedophile priest from one parish to another. "When there was an allegation, the priest was removed from his ministry," he said in the Superior Court.
A testimony that the victims' lawyer, Bruce Johnston, considers "improbable" in the light of Mr. Harvey's posthumous revelations. "It's a chance for our clients that he took the initiative to reveal what he had on his heart before he died," says Johnston in an interview.
The lawyer of the diocese of Chicoutimi, Estelle Tremblay, sees rather in the writings of Mr. Harvey "the solitary account of a dead pedophile who unfortunately will never be cross-examined".
"It's a story that shows that he has always minimized his actions until the end of his life. "
– Estelle Tremblay, lawyer of the diocese of Chicoutimi
"It's also a story in which he tries to justify himself and demonstrates his propensity to blame everyone," says Tremblay. He presents his actions as innocuous and non-criminal at the time they were posed. He wants us to believe that the bishop of the time, just like the judicial system, the police, should have understood his deviant behavior better than himself. "
Why did the ex-abbot go to the side of his victims on the eve of his death? Perhaps he sought redemption. Perhaps he was also angry at the diocese, who refused to support him when the scandal erupted in 2012. In a document, he admitted to having been "wounded by [his] bishop to the point of cutting off communication with him".
But Mr. Harvey was particularly angry at the diocese for not answering his calls for help, according to the lawyer Renée Millette, who accompanied him during his two years of detention, and that the former priest noted of his professional secrecy before dying. "He sometimes cried during our meetings. He said he had always talked about his problem, but he had never been helped. Every time he would say to me, "My superiors knew it, they all knew it." "
***
Between 1963 and 1987, Father Paul-André Harvey was transferred from parish 12 times. With the exception of the parishes of Sainte-Cécile de Kénogami (1965-1969) and Christ-Roi de Chicoutimi (1970-1975), the priest only kept his position for about a year, sometimes less, before being transferred elsewhere.
The victims' lawyers intend to prove that these repeated transfers, ordered by the diocese, were intended to hide the sexual abuse of Father Harvey, who was thus able to satisfy his lowest instincts on dozens of children in the Saguenay.
The Diocese of Chicoutimi said that he compared Abbe Harvey's mobility rate with 12 other priests in his class and did not find any significant difference.
"Transferring a priest almost every year is very unusual … when that priest is normal. However, it is quite common when the priest has problems, "said the American priest Thomas Doyle, who spent his entire career defending victims of sexual assault committed within the Catholic Church. He was retained as expert by the lawyers of the victims in this appeal.
He is of the opinion that Father Harvey was very likely subjected to a "geographical cure" by the Chicoutimi diocese.
In similar cases, Reverend Doyle has seen thousands since he began studying the pedophilia phenomenon among Catholic clergy 33 years ago. "What the diocese should have done is denounce this man. But it has always been easier to resort to the geographical cure. We get rid of the problem by sending it elsewhere. "
____________________________________________
LaPresse
Un prêtre pédophile blâme ses supérieurs
Publié le 14 mai 2018 à 05h00| Mis à jour à 05h00

Isabelle Hachey
La Presse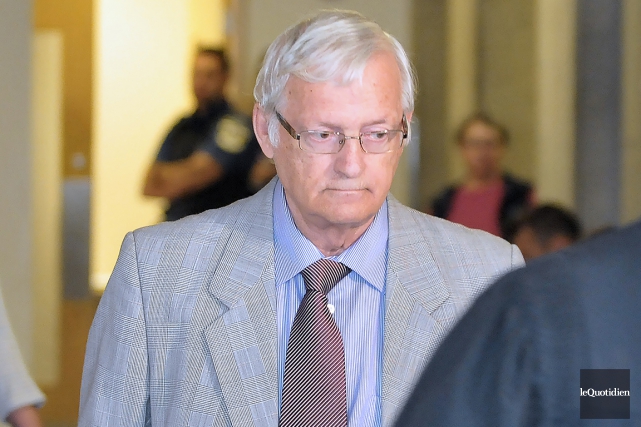 L'abbé Paul-André Harvey blâme ses supérieurs pour ne pas l'avoir mis hors d'état de nuire.
Photo Rocket Lavoie, archives Le Quotidien
L'ancien prêtre pédophile Paul-André Harvey accuse les autorités cléricales du Saguenay d'avoir ignoré ses multiples appels à l'aide et de s'être contentées de le muter dans une autre paroisse chaque fois qu'une plainte d'agression sexuelle leur était rapportée.
C'est ce qui ressort de documents rédigés par l'ex-prêtre avant de mourir, le 3 mai. L'homme purgeait une peine de six ans de prison après s'être reconnu coupable d'avoir agressé 39 enfants au Saguenay.
La Presse a obtenu une copie de ces documents en exclusivité.
De 1965 à 1985, Paul-André Harvey a été convoqué à quatre reprises par différents corps de police au Saguenay. Chaque fois, il s'en serait tiré avec un simple avertissement.
Lorsque les agressions ont commencé, en 1965, l'abbé Harvey aurait prévenu son évêque, Mgr Marius Paré, de son comportement auprès des enfants. L'évêque, aujourd'hui mort, lui aurait alors conseillé d'être prudent et de prier davantage.
« Dès les premières infractions, mon évêque d'alors m'a convoqué à son bureau à la suite d'une plainte reçue. Je lui ai fait part de mes difficultés et je lui ai avoué mon besoin d'aide. Il m'a uniquement conseillé de me comporter avec plus de prudence avec les enfants et de mettre plus de prière dans ma vie.
« Je suis retourné avec mon problème. Lorsqu'une autre plainte lui parvenait, il me changeait de paroisse, pensant résoudre ainsi mon problème affectif. Il n'en était rien. Après quelques jours sans difficulté, je récidivais », écrit M. Harvey dans un document non daté remis aux avocats de ses victimes.
VICTIMES RÉPRIMANDÉES
L'abbé Harvey blâme ses supérieurs pour ne pas l'avoir mis hors d'état de nuire. Ce sont plutôt les victimes qui étaient réprimandées lorsqu'elles osaient se plaindre.
« Une fillette, victime de mon comportement déviant, s'est présentée à l'archevêché un bon jour accompagnée de ses parents pour raconter ce qui s'était passé et porter plainte, écrit M. Harvey. Elle a été reçue cavalièrement et mon évêque d'alors n'a rien cru de ce qu'elle racontait et il l'accusait de mentir. Pourtant, elle disait la vérité. »
Dans un autre document intitulé « Choisir de révéler… pour mieux guérir », daté du 6 mars 2017, l'ancien prêtre reproche une fois de plus aux autorités religieuses d'avoir « pris à la légère [ses] difficultés ». Le muter dans une autre paroisse, écrit-il, « c'était tout simplement déménager le problème ailleurs ».
L'école, le mouvement des jeannettes et les terrains de jeux étaient pour lui « autant de lieux propices à détecter des victimes potentielles ».
« La plupart du temps, écrit-il, c'est dans leur domicile que les agressions se sont produites. À des moments précis, je devinais que les parents étaient absents ou encore que la grande fille gardait. C'est alors que je me présentais à l'improviste ».
Dans ce document de 14 pages, M. Harvey réitère qu'il a prévenu les autorités cléricales et qu'il a été convoqué à quatre reprises par la police de Kénogami, de Jonquière et d'Alma ainsi que par la Sûreté du Québec, entre 1965 et le début des années 80. « Les policiers ne m'ont pas sanctionné mais simplement prévenu de ne pas récidiver. C'est ainsi que durant toutes ces années, j'ai profité (!) de leurs largesses. »
LE DIOCÈSE NIE AVOIR ÉTÉ PRÉVENU
M. Harvey a fait parvenir une partie des documents qu'il a rédigés en prison aux avocats de ses victimes, qui ont intenté un recours collectif contre le diocèse de Chicoutimi.
« La décision de contacter les avocats de Trudel Johnston & Lespérance et de leur transmettre des documents était entièrement de ma propre initiative », assure M. Harvey dans une déclaration sous serment signée le 23 avril, soit 10 jours avant que l'ex-prêtre de 81 ans ne succombe à la maladie.
Le diocèse de Chicoutimi soutient avoir fouillé ses archives sans pouvoir retracer la moindre trace écrite des agressions commises par l'abbé Harvey.
En février 2017, un ancien évêque de Chicoutimi, Jean-Guy Couture, s'était dit « complètement renversé » d'apprendre que le prêtre avait agressé des enfants dans une dizaine de paroisses du diocèse dont il avait la charge entre 1979 et 2004.
Mgr Couture avait nié l'existence d'une culture du silence au sein du diocèse à l'égard des prêtres pédophiles. Il avait déclaré n'avoir jamais muté un prêtre pédophile d'une paroisse à une autre. « Quand il y avait une allégation, on retirait le prêtre de son ministère », avait-il affirmé en Cour supérieure.
Un témoignage que l'avocat des victimes, Bruce Johnston, estime « invraisemblable » à la lumière des révélations posthumes de M. Harvey. « C'est une chance pour nos clientes qu'il ait pris l'initiative de révéler ce qu'il avait sur le coeur avant de mourir », dit Me Johnston en entrevue.
L'avocate du diocèse de Chicoutimi, Estelle Tremblay, voit plutôt dans les écrits de M. Harvey « le récit solitaire d'un pédophile décédé qui malheureusement ne sera jamais contre-interrogé ».
« C'est un récit qui démontre qu'il a toujours minimisé ses gestes jusqu'à la fin de sa vie. »
– Estelle Tremblay, avocate du diocèse de Chicoutimi
« C'est aussi un récit dans lequel il cherche à se justifier et qui démontre sa propension à rejeter la faute sur tout le monde, poursuit Me Tremblay. Il présente ses gestes comme anodins et non criminels à l'époque où ils ont été posés. Il veut nous faire croire que l'évêque du temps, tout comme le système judiciaire, les policiers, aurait dû comprendre son comportement déviant mieux que lui-même. »
Pourquoi l'ex-abbé s'est-il rangé du côté de ses victimes à la veille de sa mort ? Peut-être cherchait-il la rédemption. Peut-être aussi en voulait-il au diocèse, qui a refusé de le soutenir lorsque le scandale a éclaté en 2012. Dans un document, il admet avoir été « blessé par [son] évêque au point de couper la communication avec lui ».
Mais M. Harvey en voulait surtout au diocèse de ne pas avoir répondu à ses appels à l'aide, selon l'avocate Renée Millette, qui l'a accompagné pendant ses deux années de détention, et que l'ex-prêtre a relevée de son secret professionnel avant de mourir. « Il en pleurait parfois lors de nos rencontres. Il disait qu'il avait toujours parlé de son problème, mais qu'on ne l'avait jamais aidé. Chaque fois, il me disait : "Mes supérieurs le savaient. Ils le savaient tous." »
***
UNE « CURE GÉOGRAPHIQUE » ?
Entre 1963 et 1987, l'abbé Paul-André Harvey a été transféré de paroisse à 12 reprises. À l'exception des paroisses Sainte-Cécile de Kénogami (1965-1969) et Christ-Roi de Chicoutimi (1970-1975), le prêtre n'a conservé son poste qu'environ un an, parfois moins, avant d'être muté ailleurs.
Les avocats des victimes entendent prouver que ces transferts à répétition, ordonnés par le diocèse, avaient pour but de camoufler les abus sexuels de l'abbé Harvey, qui a ainsi pu assouvir ses plus bas instincts sur des dizaines d'enfants au Saguenay.
Le diocèse de Chicoutimi dit avoir comparé le taux de mobilité de l'abbé Harvey avec 12 autres prêtres de sa promotion et ne pas avoir constaté de différence significative.
« Transférer un prêtre presque tous les ans est très inhabituel… quand ce prêtre est normal. C'est toutefois assez fréquent quand le prêtre a des problèmes », estime pourtant le prêtre américain Thomas Doyle, qui a consacré toute sa carrière à défendre les victimes d'agressions sexuelles commises au sein de l'Église catholique. Il a été retenu comme expert par les avocats des victimes dans ce recours.
Il est d'avis que l'abbé Harvey a très probablement été soumis à une « cure géographique » par le diocèse de Chicoutimi.
Des cas semblables, le révérend Doyle en a vu des milliers depuis qu'il a commencé à étudier le phénomène de la pédophilie au sein du clergé catholique, il y a 33 ans. « Ce que le diocèse aurait dû faire, c'est dénoncer cet homme. Mais ça a toujours été plus facile d'avoir recours à la cure géographique. On se débarrasse du problème en l'envoyant ailleurs. »