Mgr Christian Lépine, archevêque de Montréal
PHOTO MARTIN TREMBLAY, LA PRESSE
Katia Gagnon, Isabelle Hachey
La Presse
Under the guidance of former Judge Anne-Marie Trahan, a team of some ten people will soon be conducting an audit of several thousand records of priests who have come from the dioceses of Montreal, Saint-Jérôme, Valleyfield, of Saint-Jean-Longueuil and Joliette, to enumerate those alleged to have been the subject of allegations of sexual assault against minors. The exercise should last one to two years.
"To heal, we must take the measure of the disease that strikes us," said Bishop Christian Lépine, archbishop of Montreal, in an interview with La Presse. For him, such an enumeration, carried out by an independent third party, had become unavoidable.
"It's a duty of truth, of transparency. And as Pope Francis says, you have to be ready to do the truth, no matter where it takes you. It's the effort to do. It could be painful, but you have to do it if you want to learn from it. We must go all the way. It is not with hidden sins that the love of God is made known. "
The archbishop has recruited former Superior Court Judge Anne-Marie Trahan to carry out this massive enumeration operation, which will begin in September. "I demanded to have full and unreserved access to everything. Archbishop and bishops accepted. I do not want to get in the way, that an employee of the diocese tells me that I can not see this or that. It was a sine qua non, "said Trahan.
The ex-judge also calls on the victims of priests who have remained silent about their aggression.
"If there are victims who say:" I have never been heard, I have never been heard ", come and tell me, I will listen to you. "
Ms. Trahan will eventually have her own website where victims can come forward, but since 2016, the archdiocese also has a phone line and an email address for them. Victims can come forward by writing to assistance@diocesemontreal.org or by calling 514 925-4321. It should be noted that this audit excludes members of the various religious communities, which are independent of the dioceses.
As in the United States
The process launched by Bishop Lepine will be similar to what was done in the United States by order of the American Bishops' Assembly. Between 2002 and 2004, all the dioceses on the American territory had had to make such a review of files and to fill, for the files of priests who were the object of allegations of aggression, a questionnaire on the nature of the facts which were the number of victims and the way the diocese managed the case. This review, conducted under the auspices of the John Jay College of Criminal Justice, was able to establish that nearly 4,400 priests had sexually assaulted minors since 1950, claiming more than 10,000 lives.
A little more than two years ago, La Presse contacted the authorities of the archdiocese to suggest that they carry out a similar exercise in their archives, under the aegis of an independent observer. The project was the subject of an agreement in principle and a questionnaire was even developed jointly with the archdiocese. However, Bishop Lépine then opted for a broader process, which would have extended to all of Quebec. He had then sought to convince other bishops to join him.
"The question was brought to both the Quebec Assembly of Bishops and the Canadian Conference of Bishops. In the Canadian and Quebec experience, the way of seeing is a little different. Many dioceses have internal audits, but it is episodic from one diocese to another, "he says.
"While in the United States, there was an approach everyone together. This approach was not the choice of the Canadian bishops, it became more personal initiatives in the dioceses, often related to a painful story that had just broken out, "he says. In front of his fellow bishops, his plea for transparency at the Quebec level has therefore remained in vain. "There was no follow-up for a Canadian effort or in Quebec as a whole. "
Four other dioceses in the adventure
However, the dioceses bordering on Montreal, which are called suffragan dioceses in ecclesiastical language, have agreed to board the train. These four dioceses – Valleyfield, Saint-Jean-Longueuil, Joliette and Saint-Jérôme – cover a territory that extends from the US border to Sainte-Agathe in the Laurentians, and from Joliette in the east to Valleyfield in west. "That a group of dioceses bordering to put together, to carry out such an audit, this is the first time that it happens," greets Bishop Lépine.
The Archdiocese of Montreal has already conducted a review of files for so-called "secret" files, where it is clearly established that priests have committed wrongdoing. These actions, however, are not limited to sexual assault and can be of any kind. There are fewer than a hundred of these "reserved" files in Montreal. In the early 2000s, a committee of diocesan staff, police officers, lawyers and doctors was also set up by the archdiocese to formally establish a complaints process.
But for Bishop Lépine, it is time to go further. "We are more aware of the impact on victims, and the way we evaluate abuse events can change. What would not even have been a smoke signal in 2000, today would be a signal. "
"Because we became more alert, we heard the victims' testimonies. The victims, by their courage and their testimony, have helped a lot to make things better. "
The Archbishop now wants a picture of the number of priests, the number of victims and how the dioceses responded to these acts. "Will that answer all the questions? We must remain very humble, he says. The idea is to learn from our experience. It's not about judging the past, in every age, everyone is doing their best. But if there were mistakes, you have to know them. If there were bad decisions, you have to learn from that. If there have been legitimate efforts, which have proved to be insufficient, we must also learn from this to be able to do better. "
Condemnation of Brian Boucher: the meticulous investigative work of a bishop
If Montreal priest Brian Boucher was sentenced to eight years in prison on Monday for his pedophile crimes, it is largely thanks to the hard work of a … bishop.
Bishop Thomas Dowd followed all the leads, met all the witnesses, returned all the stones. In the end, he handed a 250-page record to the police. "He really did his Columbo. He went out and got everything he could, "said the Archbishop of Montreal, Bishop Christian Lépine.
"Let's say I was very invested in the investigation," admits Bishop Dowd. When the archdiocese entrusted him with this mission, there were only rumors about the priest Brian Boucher. No concrete charges, no victims.
"At first it was ambiguous. There was no complaint of criminal behavior. There was smoke, but there was no fire, "says Bishop Dowd.
The bishop refused to let go. He imagined himself as a father, putting his children to bed and smelling smoke. "I'm inspecting the house, but I can not find the fire. Am I going to sleep hoping that everything will be fine? Or am I shaking up the house to make sure my children are safe? "
Bishop Dowd chose the second option. "It guided me in the investigation. We did not have fire. "
"But the idea was to get to the bottom of things. When speaking to someone, to another person and to another person, I arrived in front of a victim, "he adds.
But Bishop Dowd had yet to win the trust of this victim, now an adult, which was not played in advance. A meeting was organized with the victim's sister, who doubted the bishop's intentions.
"On the planned day, I received a call; my father was dying, says Bishop Dowd. I had the choice between meeting the victim's sister or going to my father's bedside in Ottawa. I thought, "What would my dad want me to do?" And in asking the question, I got the answer. My father would have liked this meeting. The price I paid was that I missed my dad's last words. "
Two surveys in parallel
The sacrifice was not vain. The victim opened to the bishop. This man, repeatedly assaulted by Boucher in his childhood, had never complained to either the police or the bishopric. He had even said that he would never talk about it unless someone in authority came to question him. "It was the signal for him that it was time to talk about it. "
Bishop Dowd accompanied him to the police station, his 250-page investigation file under his arm.
At the time, the bishop did not know that another victim had come forward to the police. "The two investigations were conducted in parallel, ours and the police," he says. This allowed the police to link the two cases. I think that contributed to the sentence of eight years in prison Monday at the courthouse in Montreal.
The two children had been repeatedly assaulted at the parsonage, in the priest's car, and in motel rooms. After the assaults, Brian Boucher sent his victims confessing their faults to the church.
"You shame the Church"
"How could you do that? Bishop Dowd asked Boucher after the sentencing. You have received the love and trust of hundreds of people, you have betrayed and manipulated them. You shame the Church and discredit the work of other priests and one day you will face the judgment of God. "
The bishop was visibly moved. He says he did not get out of this affair, which forced him to face the demons of his own past. He himself was abused at age 11 in a secular summer camp. "I went to the people in authority and these people did nothing, zero. "
Bishop Dowd thought he would not make the same mistake.
"My mantra, during the investigation, was:" I refuse to screw this up. " I kept telling myself every day. "
After his investigation, Bishop Dowd sank into depression. "It sure did, because it brought out emotions and memories that had to be managed. […] I thought God might have prepared me to be the one to do this investigation. It helped me get through. "
A signal for the archdiocese
The case of Brian Boucher cemented the decision of the Archdiocese of Montreal to open its archives to shed light on pedophile crimes committed in its ranks.
"I was already convinced, but it pushed me to say:" We have to go there, we have to go there, "says Archbishop Christian Lépine. Because people stay with the impression that the Church hides things. There may be some who want to hide things, I do not know, I do not think it's the majority, but you have to make the light "with the help of an external audit.
Bishop Lépine fears to discover, at the end of the operation, that an abusive priest is still in office in the diocese. "Have there been abuses from some priests who are still in the ministry? This is my concern. "
"The Church is not a place where a predator can hide. If anyone ever thought about it, they should stop doing it, "he warns.
From now on, it is "zero tolerance" in the ranks of the archdiocese, says Bishop Lépine. Brian Boucher will never again practice ministry in the Church.
His case served to awaken the consciences of the highest echelons of the archdiocese of Montreal. "The idea that is very clear to me," says Bishop Lépine, is that even if allegations seem weak, they must be verified. "
A shower of collective actions
Since 2004, at least eight priests have been sentenced by Quebec courts for sexual assault on minors. In parallel, 14 religious communities and a bishopric have been or are currently the subject of collective action for abuse of former residents. Four have already paid off, totaling $ 55 million, but many of them are still ongoing.
2008: the brothers of Sainte-Croix
This first class action brought against a religious community in Quebec ended in an amicable agreement of $ 18 million for 200 victims of the priests of three colleges held by the Brothers of Sainte-Croix, including Notre-Dame College. . A second request for collective action was authorized in 2017 for 40 new victims. This time, the list of places included St. Joseph's Oratory, where assaults would have occurred.
2014: Redemptorist Fathers
The religious community was sentenced to pay 17 million to victims of sexual assaults committed by six priests, teachers at Séminaire Saint-Alphonse. Frank Tremblay, the plaintiff at the origin of the group action, had welcomed at the time of this "historic victory".
2015: the Saint-Viateur Clercs
The class action brought against the religious community in 2015 resulted in a total sum of $ 20 million that was shared between the plaintiffs. This is the highest sum ever granted in such collective action in Quebec.
2017: the Brothers of the Sacred Heart
A first class action was authorized in 2017. The applicant, a 57-year-old man, alleges having been raped more than 300 times when he was at Collège Mont-Sacré-Coeur in Granby. About fifteen religious are targeted by accusations of pedophilia. A second request for collective action was filed a few weeks ago for assaults at Camp Le Manoir, run by the same religious community.
2017: the Marist Brothers
In August 2017, a collective action was authorized against the Marist Brothers and one of their members, Father Réjean Trudel, who was working in a housing resource in Saint-Hyacinthe, Patro Lokal, between 1970 and 1986.
2017: Servite of Mary
In November 2017, the Servites of Mary are affected by a request for collective action. An applicant alleges that he was systematically assaulted by Father Jacques Desgrandschamps at Notre-Dame-des-Servites College.
2018: The Sisters of Charity
An application for a class action was filed last April by a former resident of Mont d'Youville, Quebec City, run by the Sisters of Charity. The applicant claims to have suffered numerous sexual abuse between 12 and 14 years of age.
2018: Oblates of the North Shore
An application for a class action suit was filed in February of last year against the Oblates of Mary Immaculate for sexual assaults allegedly committed by Father Alexis Joveneau and other members of the religious community.
2018: seven congregations
The orphans of Duplessis, dissatisfied with the agreement reached with the Bernard Landry government in 2001, which granted $ 25,000 to some of them, are demanding compensation for abuse suffered in several institutions. Their collective action petition, filed last year, targets seven religious communities and both levels of government.
2019: the bishopric of Chicoutimi
A first in Quebec: the bishopric of Chicoutimi and nine parishes are the subject of a collective action, authorized by the courts last January. A hundred alleged victims of priest Paul-André Harvey take part in the collective action.
And elsewhere?
Unlike Canada, many countries have done extensive work to find out the exact extent, within their borders, of the problem of sexual abuse by priests on minors. Small world tour of the results.
United States
10,667 victims
This is the number of victims made by the 4392 priests who were the subject of allegations of sexual assault in the United States, between 1950 and 2002. It was 80% male victims. How did we come to these figures, very precise? In 2002, at the initiative of the United States Bishops' Assembly, all American dioceses had to review the records of their priests for a period from 1950 to 2010. With the help of John Jay College of Criminal Justice, American dioceses have completed questionnaires for each priest who had committed sexual assault against minors, whether or not these acts were sanctioned by justice. The final report published in 2004, which is several hundred pages long, gives a mountain of details on the nature of the acts, the number of victims and, also, the treatment or the lack of treatment offered to the aggressor priests. In addition, last summer, a Pennsylvania citizen jury, following an investigation by the state prosecutor, wrote a report that counted 300 predatory priests, claiming more than 1,000 victims. Only two of them had been brought to justice.
Ireland
700 pages
It is the number of pages of the voluminous report filed by Judge Yvonne Murphy that led, for three years, to an investigation of the priests aggressors in Ireland over a period that covered three decades. The investigation investigated complaints of 320 assaults on children. One priest alone would have assaulted more than 100 children. Another confessed to assaulting children at the rate of two per month for the duration of his 25-year ministry. Four archbishops have also been blamed for covering the priest priests. "The structures and rules of the Catholic Church have fostered this concealment," says the judge. Judge Murphy's report was not the first that splashed the Irish Catholic Church. Six months earlier, Judge Sean Ryan had established that 2,000 out of 35,000 children in religious school networks had been physically and sexually assaulted by priests.
Australia
7%
This is the percentage of priests who would have been targeted by sexual assault charges on children in Australia, established a Royal Commission conducted throughout the country in 2017. More than 4,400 assaults were reported to have been committed by 1880 assailants and would have been denounced to the ecclesiastical authorities. In some dioceses, the percentage of priests abusers reached 15%. The commission's investigation lasted four years and gathered the testimony of thousands of victims. The average age of the victims was 11 years old. The final report, written by lawyer Gail Furness, points out that these religious abusers were frequently displaced, and covered, by the Catholic hierarchy.
Germany
13 years
This is the average age of the 3677 victims of priest priests listed on German territory during a survey conducted by academics at the request of the Episcopal Conference. The final report, made public last September, estab
………………………………………………………………………………..
Exclusif
Publié le 27 mars 2019 à 06h26 | Mis à jour à 11h53
Prêtres pédophiles: opération-vérité à l'archevêché de Montréal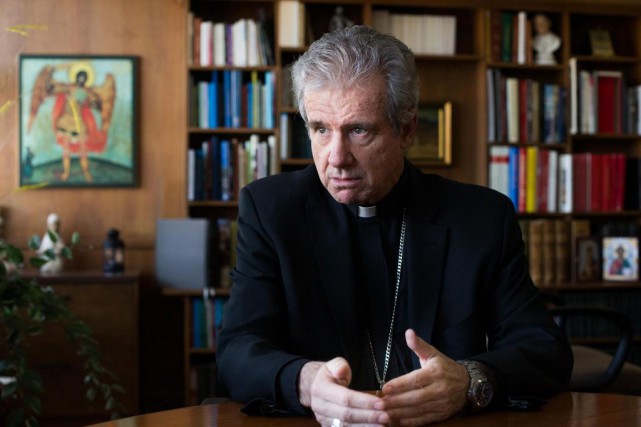 Mgr Christian Lépine, archevêque de Montréal
PHOTO MARTIN TREMBLAY, LA PRESSE
Sous la gouverne de l'ex-juge Anne-Marie Trahan, une équipe d'une dizaine de personnes entamera sous peu un audit de plusieurs milliers de dossiers de prêtres qui ont relevé des diocèses de Montréal, de Saint-Jérôme, de Valleyfield, de Saint-Jean-Longueuil et de Joliette, afin de dénombrer ceux qui auraient fait l'objet d'allégations d'agression sexuelle contre les mineurs. L'exercice devrait s'étendre sur une ou deux années.
« Pour guérir, il faut prendre la mesure de la maladie qui nous frappe », a lancé monseigneur Christian Lépine, archevêque de Montréal, en entrevue avec La Presse. Pour lui, un tel dénombrement, réalisé par un tiers indépendant, était devenu incontournable.
« C'est un devoir de vérité, de transparence. Et comme dit le pape François, il faut être prêt à faire la vérité, quel que soit le lieu où ça nous conduit. C'est l'effort à faire. Ça pourrait être douloureux, mais il faut le faire si on veut en tirer les leçons. Il faut aller jusqu'au bout. Ce n'est pas avec des péchés cachés qu'on fait connaître l'amour de Dieu. »
L'archevêque a donc recruté l'ex-juge de la Cour supérieure Anne-Marie Trahan pour réaliser cette imposante opération de dénombrement, qui commencera en septembre. « J'ai exigé d'avoir un accès entier et sans réserve à tout. L'archevêque et les évêques ont accepté. Je ne veux pas qu'on me mette des bâtons dans les roues, qu'un employé du diocèse me dise que je ne peux pas voir ci ou ça. C'était une condition sine qua non », a expliqué Mme Trahan.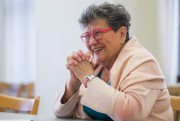 L'archevêque de Montréal a recruté l'ex-juge de la Cour supérieure Anne-Marie Trahan pour réaliser une imposante opération de dénombrement des prêtres visés par les allégations d'agression sexuelle contre des mineurs.
PHOTO MARTIN TREMBLAY, LA PRESSE
L'ex-juge lance d'ailleurs un appel aux victimes de prêtres qui auraient gardé le silence sur leur agression.
« S'il y a des victimes qui disent : "Moi, je n'ai jamais été entendu(e), je n'ai jamais été écouté(e)", venez me le dire, je vais vous écouter. »
Mme Trahan aura éventuellement son propre site web où les victimes pourront se manifester, mais depuis 2016, l'archevêché a également une ligne téléphonique et une adresse courriel qui leur est destinée. Les victimes peuvent se manifester en écrivant à assistance@diocesemontreal.org ou encore en composant le 514 925-4321. Précisons que cet audit exclut les membres des différentes communautés religieuses, qui sont indépendantes des diocèses.
Comme aux États-Unis
Le processus lancé par Mgr Lépine sera semblable à ce qui a été réalisé aux États-Unis sur l'ordre de l'assemblée des évêques américains. Entre 2002 et 2004, tous les diocèses sur le territoire américain avaient dû faire une telle revue de dossiers et remplir, pour les dossiers de prêtres qui faisaient l'objet d'allégations d'agression, un questionnaire sur la nature des faits qui leur étaient reprochés, le nombre de victimes et la façon dont le diocèse avait géré le cas. Cette revue, réalisée sous l'égide du John Jay College of Criminal Justice, avait pu établir que près de 4400 prêtres avaient agressé sexuellement des mineurs depuis 1950, faisant plus de 10 000 victimes.
Il y a un peu plus de deux ans, La Presse avait pris contact avec les autorités de l'archevêché pour leur proposer de procéder à un exercice semblable dans leurs archives, sous l'égide d'un observateur indépendant. Le projet avait fait l'objet d'une entente de principe et un questionnaire avait même été élaboré conjointement avec l'archevêché. Cependant, Mgr Lépine avait alors opté pour un processus plus large, qui se serait étendu à l'ensemble du Québec. Il avait alors cherché à convaincre d'autres évêques de se joindre à lui.
« La question a été amenée tant à l'Assemblée des évêques du Québec qu'à la Conférence des évêques du Canada. Dans l'expérience canadienne et québécoise, la façon de voir est un peu différente. De nombreux diocèses ont fait des audits internes, mais c'est épisodique d'un diocèse à l'autre », explique-t-il.
« Alors qu'aux États-Unis, il y a eu une démarche tout le monde ensemble. Cette approche-là n'a pas été le choix des évêques canadiens, c'est devenu plus des initiatives personnelles dans les diocèses, souvent reliées à une histoire douloureuse qui venait d'éclater », explique-t-il. Devant ses confrères évêques, son plaidoyer pour une transparence à l'échelle québécoise est donc demeuré vain. « Il n'y a pas eu de suite pour un effort canadien ou dans l'ensemble du Québec. »
Quatre autres diocèses dans l'aventure
Cependant, les diocèses limitrophes de celui de Montréal, qu'on appelle les diocèses suffragants dans le langage ecclésiastique, ont accepté de monter à bord du train. Ces quatre diocèses – Valleyfield, Saint-Jean-Longueuil, Joliette et Saint-Jérôme – couvrent un territoire qui va de la frontière américaine jusqu'à Sainte-Agathe, dans les Laurentides, et de Joliette à l'est jusqu'à Valleyfield à l'ouest. « Qu'un groupe de diocèses limitrophes se mette ensemble, pour réaliser un tel audit, c'est la première fois que ça arrive », se félicite Mgr Lépine.
L'archevêché de Montréal a déjà réalisé une revue de dossiers pour les dossiers dits réservés ou « secrets », où il est clairement établi que les prêtres ont commis des actes répréhensibles. Ces gestes ne sont cependant pas limités aux agressions sexuelles et peuvent être de toute nature. Il y a moins d'une centaine de ces dossiers « réservés » à Montréal. Au début des années 2000, un comité, formé d'employés du diocèse mais également de policiers, d'avocats et de médecins, avait également été mis sur pied par l'archevêché pour établir formellement un processus de traitement des plaintes.
Mais pour Mgr Lépine, il est temps d'aller plus loin. « On est plus conscients de l'impact sur les victimes, et la façon d'évaluer les événements d'abus peut changer. Ce qui n'aurait même pas été un signal de fumée en 2000, aujourd'hui, on y verrait un signal. »
« Parce qu'on est devenus plus alertes, on a entendu les témoignages des victimes. Les victimes, par leur courage et leur témoignage, elles ont beaucoup aidé à ce que les choses s'améliorent. »
L'archevêque désire maintenant avoir un portrait chiffré du nombre de prêtres agresseurs, du nombre de victimes et de la façon dont les diocèses ont réagi à ces gestes. « Est-ce que ça répondra à toutes les questions ? Il faut demeurer très humbles, dit-il. L'idée, c'est de tirer des leçons de notre expérience. Ce n'est pas de juger le passé, à chaque époque, chacun fait de son mieux. Mais s'il y a eu des erreurs, il faut les connaître. S'il y a eu des mauvaises décisions, il faut apprendre de cela. S'il y a eu des efforts légitimes, qui se sont avérés insuffisants, il faut aussi apprendre de cela pour pouvoir mieux faire. »
Condamnation de Brian Boucher: le minutieux travail d'enquête d'un évêque
Si le prêtre montréalais Brian Boucher a été condamné à huit ans de prison, lundi, pour ses crimes pédophiles, c'est en grande partie grâce au travail acharné d'un… évêque.
Mgr Thomas Dowd a suivi toutes les pistes, rencontré tous les témoins, retourné toutes les pierres. À la fin, il a remis un dossier de 250 pages à la police. « Il a vraiment fait son Columbo. Il est allé chercher tout ce qu'il pouvait », a dit l'archevêque de Montréal, Mgr Christian Lépine.
« Disons que j'étais très investi dans l'enquête », admet Mgr Dowd. Lorsque l'archevêché lui a confié cette mission, il n'y avait que des rumeurs au sujet du prêtre Brian Boucher. Aucune accusation concrète, aucune victime.
« Au début, c'était ambigu. Il n'y avait pas de plainte de comportement criminel. Il y avait de la fumée, mais il n'y avait pas de feu », raconte Mgr Dowd.
L'évêque a refusé de lâcher prise. Il s'est imaginé en père de famille, mettant ses enfants au lit puis sentant une odeur de fumée. « J'inspecte la maison, mais je ne trouve pas le feu. Est-ce que je vais me coucher en espérant que tout ira pour le mieux ? Ou je chambarde la maison pour m'assurer que mes enfants soient en sécurité ? »
Mgr Dowd a choisi la deuxième option. « Cela m'a guidé dans l'enquête. On n'avait pas le feu. »
« Mais l'idée, c'était d'aller au fond des choses. En parlant à une personne, à une autre personne et à une autre personne, je suis arrivé devant une victime », ajoute-t-il.
Mais Mgr Dowd devait encore gagner la confiance de cette victime, aujourd'hui adulte, ce qui n'était pas joué d'avance. Une rencontre a donc été organisée avec la soeur de la victime, qui doutait elle-même des intentions de l'évêque.
« Le jour prévu, j'ai reçu un appel ; mon père était à l'agonie, raconte Mgr Dowd. J'avais le choix entre rencontrer la soeur de la victime ou me rendre au chevet de mon père, à Ottawa. Je me suis dit : "Qu'est-ce que mon père voudrait que je fasse ?" Et en posant la question, j'ai eu la réponse. Mon père aurait voulu cette rencontre. Le prix que j'ai payé, c'est que j'ai manqué les derniers mots de mon papa. »
Deux enquêtes en parallèle
Le sacrifice n'a pas été vain. La victime s'est ouverte à l'évêque. Cet homme, agressé à répétition par Boucher dans son enfance, ne s'était jamais plaint, ni à la police ni à l'évêché. Il s'était même dit qu'il n'en parlerait jamais, sauf si une personne en autorité venait l'interroger. « C'était pour lui le signal qu'il était le temps d'en parler. »
Mgr Dowd l'a accompagné au poste de police, son dossier d'enquête de 250 pages sous le bras.
À l'époque, l'évêque ne savait pas qu'une autre victime s'était manifestée à la police. « Les deux enquêtes ont été menées en parallèle, la nôtre et la policière, raconte-t-il. Cela a permis aux policiers de faire le lien entre les deux cas. Je pense que cela a contribué à la sentence » de huit ans de prison rendue lundi au palais de justice de Montréal.
Les deux enfants avaient été agressés à répétition au presbytère, dans la voiture du prêtre et dans des chambres de motel. Après les agressions, Brian Boucher envoyait ses victimes confesser leurs fautes à l'église.
« Vous faites honte à l'Église »
« Comment avez-vous pu faire cela ? a demandé Mgr Dowd à Boucher après le prononcé de la peine. Vous avez reçu l'amour et la confiance de centaines de personnes, vous les avez trahies et manipulées. Vous faites honte à l'Église et avez discrédité le travail des autres prêtres et un jour, vous ferez face au jugement de Dieu. »
L'évêque était visiblement ému. Il confie ne pas s'être tiré indemne de cette affaire, qui l'a forcé à faire face aux démons de son propre passé. Lui-même a été victime d'abus, à 11 ans, dans un camp d'été laïque. « Je suis allé vers les personnes en autorité et ces gens n'ont rien fait, zéro. »
Mgr Dowd s'est dit qu'il ne ferait pas la même erreur.
« Mon mantra, pendant l'enquête, c'était : "I refuse to screw this up." Je me le répétais chaque jour. »
Après son enquête, Mgr Dowd a sombré dans la dépression. « C'est sûr que cela a joué, parce que cela fait sortir des émotions et des souvenirs qu'il a fallu gérer. […] J'ai pensé que Dieu m'avait peut-être préparé pour être celui qui ferait cette enquête. Cela m'a aidé à passer au travers. »
Un signal pour l'archevêché
Le cas de Brian Boucher a cimenté la décision de l'archevêché de Montréal d'ouvrir ses archives pour faire la lumière sur les crimes pédophiles commis dans ses rangs.
« J'en étais déjà convaincu, mais cela m'a poussé à dire : "Il faut aller là. Il faut aller là", confie l'archevêque Christian Lépine. Parce que les gens restent avec l'impression que l'Église cache des choses. Il y en a peut-être qui veulent cacher des choses, je ne sais pas, je ne crois pas que ce soit la majorité, mais il faut faire la lumière » à l'aide d'un audit externe.
Mgr Lépine craint de découvrir, à l'issue de l'opération, qu'un prêtre agresseur est toujours en poste au sein du diocèse. « Y a-t-il eu des abus de la part de certains prêtres qui sont encore dans le ministère ? C'est ma préoccupation. »
« L'Église, ce n'est pas une place où un prédateur peut se cacher. Si jamais quelqu'un l'a pensé, il doit cesser de le faire », prévient-il.
Dorénavant, c'est « tolérance zéro » dans les rangs de l'archidiocèse, assure Mgr Lépine. Brian Boucher n'exercera d'ailleurs plus jamais de ministère au sein de l'Église.
Son cas aura servi à éveiller les consciences aux plus hauts échelons de l'archevêché de Montréal. « L'idée qui est très claire pour moi, dit Mgr Lépine, c'est que même si des allégations semblent faibles, il faut les vérifier. »
Une pluie d'actions collectives
Depuis 2004, au moins huit prêtres ont été condamnés par les tribunaux québécois pour des agressions sexuelles sur des mineurs. En parallèle, 14 communautés religieuses et un évêché ont fait ou font actuellement l'objet d'actions collectives pour des sévices infligés à d'anciens pensionnaires. Quatre se sont déjà soldées par des compensations, qui totalisent 55 millions de dollars, mais plusieurs d'entre elles sont toujours en cours.
2008: les frères de Sainte-Croix
Cette première action collective intentée au Québec contre une communauté religieuse s'est conclue par une entente à l'amiable de 18 millions de dollars pour 200 victimes des prêtres de trois collèges tenus par les Frères de Sainte-Croix, dont le collège Notre-Dame. Une seconde demande d'action collective a été autorisée en 2017 pour 40 nouvelles victimes. Cette fois, la liste des lieux visés inclut l'oratoire Saint-Joseph, où des agressions se seraient produites.
2014: les Pères Rédemptoristes
La communauté religieuse a été condamnée à verser 17 millions aux victimes d'agressions sexuelles commises par six prêtres, enseignants au Séminaire Saint-Alphonse. Frank Tremblay, le plaignant à l'origine de l'action de groupe, s'était félicité à l'époque de cette « victoire historique ».
2015: les Clercs Saint-Viateur
L'action collective intentée contre la communauté religieuse en 2015 s'est soldée par une somme globale de 20 millions qui a été partagée entre les plaignants. C'est la somme la plus élevée jamais concédée dans une telle action collective au Québec.
2017: les Frères du Sacré-Coeur
Une première action collective a été autorisée en 2017. Le requérant, un homme de 57 ans, allègue avoir été violé à plus de 300 reprises lorsqu'il était au Collège Mont-Sacré-Coeur, à Granby. Une quinzaine de religieux sont visés par des accusations de pédophilie. Une seconde demande d'action collective a été déposée, il y a quelques semaines, pour des agressions commises au Camp Le Manoir, géré par la même communauté religieuse.
2017: les Frères Maristes
En août 2017, une action collective a été autorisée contre les Frères Maristes et l'un de leurs membres, le père Réjean Trudel, qui oeuvrait dans une ressource d'hébergement de Saint-Hyacinthe, le Patro Lokal, entre 1970 et 1986.
2017: Servites de Marie
En novembre 2017, les Servites de Marie sont visés par une demande d'action collective. Un requérant allègue avoir été agressé de manière systématique par le père Jacques Desgrandschamps, au Collège Notre-Dame-des-Servites.
2018: les Soeurs de la Charité
Une demande d'action collective a été déposée en avril dernier par un ancien pensionnaire du Mont d'Youville, à Québec, tenu par les Soeurs de la Charité. Le requérant affirme y avoir subi de nombreux sévices sexuels entre 12 et 14 ans.
2018: Oblats de la Côte-Nord
Une demande d'action collective a été déposée en février de l'an dernier contre les Oblats de Marie Immaculée pour des agressions sexuelles qui auraient été commises par le père Alexis Joveneau et d'autres membres de la communauté religieuse.
2018: sept congrégations
Les orphelins de Duplessis, insatisfaits de l'entente conclue avec le gouvernement de Bernard Landry en 2001, qui accordait 25 000 $ à certains d'entre eux, réclament de nouveau des compensations pour des sévices subis dans plusieurs institutions. Leur demande d'action collective, déposée l'an dernier, vise sept communautés religieuses et les deux ordres de gouvernement.
2019: l'évêché de Chicoutimi
Une première au Québec : l'évêché de Chicoutimi et neuf paroisses sont l'objet d'une action collective, autorisée par les tribunaux en janvier dernier. Une centaine de présumées victimes du prêtre Paul-André Harvey prennent part à l'action collective.
Et ailleurs?
Contrairement au Canada, de nombreux pays ont effectué des travaux d'envergure pour connaître l'ampleur exacte, à l'intérieur de leurs frontières, du problème des agressions sexuelles commises par des prêtres sur des mineurs. Petit tour du monde des résultats.
États-Unis
10 667 victimes
C'est le nombre de victimes faites par les 4392 prêtres qui ont fait l'objet d'allégations d'agression sexuelle aux États-Unis, entre 1950 et 2002. Il s'agissait, à 80 %, de victimes masculines. Comment en est-on venu à ces chiffres, très précis ? En 2002, à l'initiative de l'Assemblée des évêques des États-Unis, tous les diocèses américains ont dû faire une revue des dossiers de leurs prêtres pour une période allant de 1950 à 2010. Avec l'aide du John Jay College of Criminal Justice, les diocèses américains ont rempli des questionnaires pour chaque prêtre qui avait commis des agressions sexuelles à l'endroit de mineurs, que ces actes aient été sanctionnés ou non par la justice. Le rapport définitif publié en 2004, qui compte plusieurs centaines de pages, donne une montagne de détails sur la nature des actes, le nombre de victimes et, également, le traitement ou l'absence de traitement qu'on a offert aux prêtres agresseurs. De plus, l'été dernier, un jury citoyen de Pennsylvanie, faisant suite à une enquête du procureur de l'État, a rédigé un rapport qui dénombrait 300 prêtres prédateurs, qui auraient fait plus d'un millier de victimes. Seulement deux d'entre eux avaient été traduits devant la justice.
Irlande
700 pages
C'est le nombre de pages du volumineux rapport déposé par la juge Yvonne Murphy qui a mené, pendant trois ans, une enquête sur les prêtres agresseurs en Irlande sur une période qui couvrait trois décennies. L'enquête a examiné les plaintes pour 320 agressions sur des enfants. Un seul prêtre aurait, à lui seul, agressé plus de 100 enfants. Un autre a avoué avoir agressé des enfants à raison de deux par mois pendant toute la durée de son ministère de 25 ans. Quatre archevêques ont d'ailleurs été montrés du doigt pour avoir couvert les prêtres agresseurs. « Les structures et les règles de l'Église catholique ont favorisé cette dissimulation », souligne la juge. Le rapport de la juge Murphy n'était pas le premier qui éclaboussait l'Église catholique irlandaise. Six mois plus tôt, le juge Sean Ryan avait établi que 2000 enfants sur les 35 000 hébergés dans les réseaux d'écoles religieuses avaient subi des agressions physiques et sexuelles de la part des prêtres.
Australie
7 %
C'est le pourcentage de prêtres qui auraient été visés par des accusations d'agression sexuelle sur des enfants en Australie, a établi une Commission royale d'enquête menée dans tout le pays en 2017. Plus de 4400 agressions auraient été commises par 1880 agresseurs et auraient été dénoncées aux autorités ecclésiastiques. Dans certains diocèses, le pourcentage de prêtres agresseurs atteignait les 15 %. L'enquête de la commission a duré quatre ans et a recueilli les témoignages de milliers de victimes. L'âge moyen des victimes était de 11 ans. Le rapport définitif, rédigé par l'avocate Gail Furness, souligne que ces religieux agresseurs étaient fréquemment déplacés, et couverts, par la hiérarchie catholique.
Allemagne
13 ans
C'est l'âge moyen des 3677 victimes de prêtres agresseurs répertoriées sur le territoire allemand lors d'une enquête menée par des universitaires à la demande de la Conférence épiscopale. Le rapport définitif, rendu public en septembre dernier, établit que 1670 prêtres ont agressé ces mineurs entre les années 1946 et 2014. L'étude a porté sur plus de 38 000 dossiers de prêtres, répartis dans 27 diocèses. Le sixième des cas était des viols. Quatre pour cent de ces prêtres sont toujours en fonction. Un an plus tôt, l'Église catholique allemande avait déjà été éclaboussée par un scandale quand on a établi que 547 enfants de choeur avaient été agressés à Ratisbonne entre 1945 et 1992.
Pays-Bas
800 prêtres
C'est le nombre de prêtres agresseurs répertoriés par une commission d'enquête, présidée en 2011 par l'ancien ministre de l'Éducation des Pays-Bas, Wim Deetman. La commission a mené une enquête exhaustive et indépendante sur les sévices infligés par des prêtres à leurs victimes. Ces prêtres, qui ont sévi entre 1945 et 2010, auraient fait « plusieurs dizaines de milliers de victimes », a établi la commission. « Le chiffre [du nombre de victimes] est absolument énorme », a déclaré M. Deetman. Selon lui, l'Église néerlandaise était au courant du problème depuis des décennies.
Belgique
457 plaintes
C'est le nombre de plaintes reçues par la commission créée en 2011 par l'Église catholique belge et présidée par le pédopsychiatre Peter Adriaenssens en l'espace de six mois pour des agressions sexuelles commises par des prêtres. L'organisme a été créé à la suite des aveux de l'évêque de Bruges, Roger Vangheluwe, qui avait démissionné après avoir avoué des actes pédophiles. La commission a identifié 186 prêtres agresseurs, dont 91 encore vivants. Le parquet fédéral a par la suite communiqué à ses antennes locales les noms d'une centaine de ces prêtres et religieux, toujours en vie, afin de mieux exercer une surveillance sur eux.