Yvon Arsenault, 71, of Aldouane, facing 8 charges dating back to the 1970s
Posted: Feb 24, 2014 2:44 PM AT Last Updated: Feb 24, 2014 2:44 PM AT
A New Brunswick priest who is facing eight sex abuse charges dating back to the 1970s has elected to be tried by judge and jury.
Father YvonArsenault, 71, of Aldouane, is charged with four counts of gross indecency, three counts of indecent assault and one count of sexual assault.
The four alleged victims were boys under the age of 18 at the time, RCMP have said.
Arsenault, who was removed from service by the Archdiocese of Moncton in July 2012, was not present in Moncton court on Monday.
His lawyer made the election on his behalf, which serves as an automatic not guilty plea.
A preliminary inquiry will be held on Sept. 2 to determine if there's enough evidence to proceed to a trial.
The RCMP started its investigation in December 2012 as a result of a complaint.
The offences are alleged to have occurred during the 1970s and early 1980s in Shediac, Rosaireville and Collette, police said.
Lawsuit names archdiocese, archbishops
A man from Grand Barachois filed a lawsuit last summer, alleging he was sexually abused by Arsenault about 40 years ago.
The man, who is now in his mid-50s, also names the Archdiocese of Moncton and three former Moncton archbishops in the court documents.
He said the archdiocese took no steps to stop the abuse. Instead, he said the church worked to cover-up the behaviour.
The plaintiff also alleges the archbishops involved knew about other allegations of sexual assault involving Arsenault.
The archdiocese informed parishioners during mass in January 2013 that Arsenault and Father Irois Després, who retired in 1992, had been removed "from any ministry whatsoever following allegations of serious sexual abuse on minors."
Retired Supreme Court of Canada justice Michel Bastarache — who was hired by the archdiocese in June 2012 to handle a compensation process for the victims of another priest in Cap-Pelé — brought the latest allegations to the archdiocese's attention, according to a Dec. 30 statement posted on its website.
Bastarache was hired to help deal with the additional sex abuse compensation process. It has been estimated the diocese will pay out $5 million to victims of sexual abuse.
__________________________________
L'ancien prêtre Yvon Arsenault subira un procès devant juge et jury
Radio-Canada
Mise à jour le lundi 24 février 2014 à 13 h 19 HNE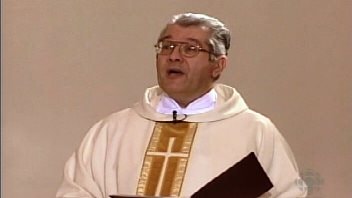 L'ancien prêtre Yvon Arsenault (archives)
L'avocat de l'ex-prêtre Yvon Arsenault, au Nouveau-Brunswick, sur qui pèsent des accusations à caractère sexuel, a demandé pour lui la tenue d'un procès devant juge et jury.
La procédure s'est déroulée au palais de justice de Moncton, mardi après-midi. L'accusé n'était pas présent.
L'enquête préliminaire aura lieu le 2 septembre.
L'homme de 71 ans, d'Aldouane, au Nouveau-Brunswick, est accusé relativement à des infractions alléguées qui auraient été commises durant les années 70 et 80 à Shediac, à Rosaireville et à Collette.
Trois accusations d'attentat à la pudeur, quatre de grossière indécence et une d'agression sexuelle pèsent sur lui.
Les présumées victimes sont quatre hommes qui étaient âgés de moins de 18 ans à l'époque.