Officer leading Operation Hydrant inquiry says out of 1,433 alleged offenders 76 were politicians, 43 were from music industry and 135 were from TV, film or radio
The Guardian  (UK)
Wednesday 20 May 2015 12.42 BST
Last modified on Wednesday 20 May 2015 16.56 BST
Sandra Laville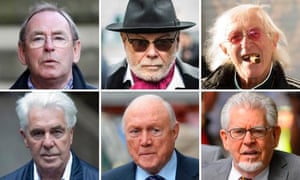 Clockwise from top left: Fred Talbot, Gary Glitter, Jimmy Savile, Rolf Harris, Stuart Hall, Max Clifford
Clockwise from top left: Fred Talbot, Gary Glitter, Jimmy Savile, Rolf Harris, Stuart Hall, Max Clifford Photograph: Various/PA/Getty/Wireimage/AFP/Reuters
Police across the country are investigating more than 1,400 men – including 261 high-profile individuals – over allegations of child abuse in the past, a senior officer running the national operation has revealed.
The scale of alleged child abuse across society – both recent and non-recent – was stark, said Ch Const Simon Bailey, who runs Operation Hydrant, the national coordinating team overseeing the various inquiries.
Figures from police forces in England and Wales published on Wednesday reveal that 1,433 men have been identified in reports of alleged abuse by victims, since the operation was set up in 2014.
Of these 216 are dead, 76 are politicians, both national and local figures, 43 are from the music industry, 135 from TV, film or radio and seven from the world of sport. The cases include recent high-profile convictions, including Rolf Harris, Gary Glitter and Max Clifford.
Hundreds of institutions have been identified by victims of non-recent abuse as places where their abuse took place. These include 154 schools, 75 children's homes, 40 religious institutions, 14 medical establishments, 11 community groups, nine prisons or young offender institutions, nine sports venues and 28 other places including military establishments.
Bailey warned that the number of victims could run into the hundreds of thousands, and called for much more support for survivors of child abuse. He said he believed that the enormous increase in reports of all types of child sexual abuse – which have risen by 71% since 2012 to 116,000 reports this year – was not just down to more victims coming forward.
Instead, Bailey warned that the internet was creating the opportunity for more abuse to take place, and said live-streaming of child abuse on mobile phones was the next challenge facing law enforcers.
Bailey said the number of reports of abuse, both by adults of historical abuse, and by children today, was increasing on a daily basis, and the figures released on Wednesday were just a snapshot of the challenge faced by the police and society as a whole.
He supported calls for much more funding for victims of child abuse. "The government has allocated millions of pounds to provide additional support, but I am not sure that is going to be enough. We are talking about hundreds of thousands of victims," he said.
Of the 116,000 reports of child sexual abuse this year, 52,446 are allegations of sexual abuse in the past, some involving cases going back decades. This amounts to a 166% increase in reports of non-recent abuse, said Bailey.
Detectives on Operation Hydrant are coordinating the many investigations into non-recent abuse involving both high-profile individuals and institutions, from a hub in Sheffield.
A team from Operation Hydrant is liaising with Justice Goddard to support the independent inquiry into child sexual abuse.
Each of the 1,433 suspects has been put into a major crime database, which is cross referenced to ensure that no inquires are being duplicated and to identify suspects whose offending crossed borders. So far 30 individuals have been identified in one or more of the investigations.
Bailey said the figures were stark. "This year I am anticipating an estimated 116,000 reports of child sexual abuse will be received, that is a 71% increase since 2012, so it gives you some idea of the scale of this.
"What we are seeing is an absolutely unprecedented increase in the number of reports that are coming forward. That has brought about a step-change in the way the police service has had to deal with this. We are rising to and meeting the challenge, this is what Operation Hydrant is about."
Bailey said the Hydrant team was working to create a database which would try to ensure that the failures of the past – as identified in the Jimmy Savile case – would not be repeated.
During the investigation of the late Radio 1 DJ it emerged that intelligence and information, including reports of abuse, were buried in the system – in some cases to prevent leaks – which meant when individual police forces with their own allegations checked the national police computer database his name did not come up.
"One of our primary objectives is to make sure where we get intelligence and where we get evidence of abuse it is being coordinated so we don't make those mistakes. That particular case showed mistakes were made and he was able to go on and continue further abusing. The whole idea is that we don't make those mistakes again," he said.
Bailey said everyone from teachers, GPs, parents and wider society had a duty to look out for signs of abuse. He said: "We face a massive challenge in terms of resources, time and expertise to balance offering routes of justice for those who suffered in the past while safeguarding and protecting children in a vulnerable position today."
Sheila Taylor, from the national working group on child sexual exploitation, said a massive public health campaign was needed to address the scale of child abuse within society.
John Brown from the NSPCC said the failure to support victims amount to a public health problem. "That is the issue. We are not helping children and adult victims to recover and there are huge costs to society, there are economic considerations and individual psychiatric costs."
Tom Watson, the Labour MP whose claims made in the Commons that there was a paedophile network linked to parliament triggered a Scotland Yard investigation, said: "The sheer number of allegations just shows why there should be a dedicated national police response to child abuse inquiries. Intelligence gathering and data sharing will be far easier were there to be a dedicated team comprising of specialists from around the country.
"We are only just beginning to understand how as a country, over many generations, we managed to turn a blind eye to Britain's child abuse scandal. The survivors deserve justice and future generations require greater protection."
Gabrielle Shaw, chief executive of the National Association for People Abused in Childhood (Napac), said: "The scale and scope of sexual abuse of children committed in the past can often seem overwhelming. What these figures from the National Police Chiefs' Council do is to provide some degree of measure of the issue.
"And what a measure it is; prolific offenders from all spheres of society, thinking they were untouchable, abusing children and the most vulnerable in settings where they should have been safest , including schools, care facilities and religious institutions."
______________________________
1,400 child abuse suspects identified
BBC News
20 May 2015
More than 1,400 suspects, including politicians and celebrities, have been investigated by police probing historical child sex abuse allegations.
The figures were revealed by Operation Hydrant, set up by the National Police Chiefs' Council (NPCC).
It explores links between child sex abuse by "prominent public persons".
Of the 1,433 suspects identified, 216 are now dead and 261 are classified as people of public prominence, with 135 coming from TV, film or radio.
Of the remainder:
A further 76 suspects are politicians, 43 are from the music industry and seven come from the world of sport.
A total of 666 claims relate to institutions, with 357 separate institutions identified.
Of these, 154 are schools, 75 are children's homes, and 40 are religious institutions.
They also include 14 medical establishments, 11 community institutions, nine prisons, nine sports venues and 28 other institutions, including military groups and guest houses.
Another 17 institutions are classified as unknown.
The figures are taken from police forces in England, Wales, Scotland and Northern Ireland.
They relate to reports of abuse, or investigations of abuse, which police forces were dealing with in the summer of 2014.
'Unprecedented increase'
Norfolk Police Chief Constable Simon Bailey, the NPCC's lead on child protection, said the referrals were increasing "on an almost daily basis" with the numbers released being a "snapshot in time".
"We are seeing an unprecedented increase in the number of reports that are coming forward.
"That has brought about a step change in the way the service has had to deal with it."
He also said police were projected to receive about 116,000 reports of historical child sex abuse by the end of 2015 – an increase of 71% from 2012.
He added: "There is no doubt [Jimmy] Savile has had an effect on us. We are dealing with more and more allegations."
Ex-DJ Jimmy Savile was revealed after his death to be one of the UK's most prolific sexual predators.
And Mr Bailey said while there was no figure for the number of victims, it was likely to run into the thousands.
"These figures raise the question, is more abuse being perpetrated?" he said.
"I don't have the evidence at this moment in time to prove this one way or another."
Operation Hydrant does not conduct any investigations itself, but gathers information from other inquiries.
There are a number of ongoing investigations into historical sex crimes, including Operation Pallial, which is looking at claims of abuse in care homes in north Wales and an inquiry into Knowl View school in Rochdale, where the late MP Sir Cyril Smith is said to have preyed on boys.
Operation Yewtree has already seen Rolf Harris and former public relations guru Max Clifford jailed for sex crimes.
Mr Bailey said police forces were now moving resources from other departments to focus on past sex crimes.
"More and more officers are being deployed into our vulnerability teams because of this surge in demand. And it's right they should do that."
'Astonishing' figures
Liz Dux, a lawyer with legal firm Slater and Gordon, which represents 800 child sexual abuse victims, told the BBC the Savile revelations meant people had given victims confidence.
"The hope is the police have enough manpower to do [the investigation] justice, and to give it the importance it deserves.
"What we've seen is, not only in relation to celebrities, or well-known politicians, people have generally come forward and said 'I was abused by a family member, or I was abused in these circumstances, and I now feel able to address it and I now want to see my offender brought to justice'."
Jon Brown, head of the NSPCC's programme to tackle sexual abuse, described the figures as "astonishing" and said they showed abuse "permeates all parts of society".
He added: "We are seeing a seismic shift in people's willingness and preparedness to come forward now and talk about things that have happened sometimes many, many years or decades ago.
"What we're beginning to see is a much more realistic picture now of the scale of the problem, and we now need to be looking at ways in which that can most effectively be dealt with."