Sick bay at our house – both husband and I now down and out with the flu 🙁 A sad pair we are!
*****
Three court dates tomorrow, Monday 25 February 2013:
Tomorrow morning the judge will render the verdict in the the Sex abuse trial of Father Philip Jacobs
25 February 2013:  09:00 am, Victoria BC courthouse
I encourage those who can do so to attend to support the complainants and their families.  Please keep them all in your prayers.  And please remember at the same time the victims of Father Jacobs who live int he States, and their families – all those who, because of the statute of limitations,  have not had opportunity to see justice done.  Many hope for justice in Victoria.
As always, please pass on news of the outcome.
There is a court date for Father Sanczenko tomorrow in Chatham, Ontario;
25 February 2013:  1o am, assignment court in Chatham Ontario court house, to set trial date
Can we can hope to see an actual trial date set here?  This case has has been lumbering and stuttering along since September 2010.
Please keep the complainants and their families in your prayers.  As always, if you can make it to the courthouse please do.  And, as always. please pass on news of the outcome.
There is  court date for Father Rheal LeBlanc tomorrow:
22 February 2013:  continuation of pre-trial, 09:15 am,  Welland Courthouse, Welland, Ontario (102 East Main Street)
*****
And now, look at the latest:
Cardinal Keith O'Brien complaints given to pope's UK office this month
Papal nuncio's London base received the dossier of allegations a few days before Benedict XVI stunned the world by resigning
The Guardian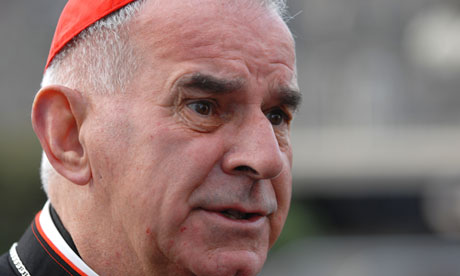 Cardinal Keith Patrick O'Brien has had allegations of 'inappropriate behavior' made against him by three priests and a former priest. Photograph: Scott Campbell/AP
The four complaints against Cardinal Keith O'Brien alleging "inappropriate acts" were given to the pope's representative in the UK, Antonio Mennini, in early February.
They arrived at the papal nuncio's London office, delivered by a trusted intermediary from the cardinal's diocese, a few days before Pope Benedict XVI stunned the Catholic world with his decision to resign.
The earliest of the allegations, which are denied by O'Brien, dates back to 1980. That complainant, who is now married, was then a 20-year-old seminarian at St Andrew's College, Drygrange, where O'Brien was the rector and his "spiritual director". The statement claims he made an inappropriate approach after night prayers.
The complainant said he was too frightened to report the incident, and became depressed. He was ordained, but told Mennini he resigned when O'Brien was promoted to bishop in the mid-1980s.
"I knew then he would always have power over me," he alleges. "It was assumed I left the priesthood to get married. I did not. I left to preserve my integrity."
The second complainant, "priest A", describes being happily settled in a parish when he claims he was visited by O'Brien and inappropriate contact between the two took place.
The third, "priest B", alleges he was starting his ministry in the 1980s when he was invited to spend a week "getting to know" O'Brien, by then the archbishop of St Andrew's and Edinburgh, at his official residence. His statement alleges he found himself dealing with what he describes as unwanted behaviour by the cardinal after a late-night drinking session.
"Priest C" was a young priest O'Brien was counselling over personal problems. His statement claims O'Brien used night prayers as an excuse for inappropriate contact.
The pair stayed in contact and priest C's statement alleges the now cardinal engineered at least one other intimate situation. The priest said O'Brien is charismatic, and being sought out by a superior who was supposed to be guiding him was troubling and flattering.
"You have to understand," the former priest said, "The relationship between a bishop and a priest. At your ordination, you take a vow to be obedient to him.
"He's more than your boss, more than the CEO of your company. He has immense power over you. He can move you, freeze you out, bring you into the fold … he controls every aspect of your life."
Is this man going to be allowed into the  Conclave?  Along with Cardinal Mahoney? Along with Cardinal Law?
God help us and have mercy on us.
Enough for now,
Sylvia