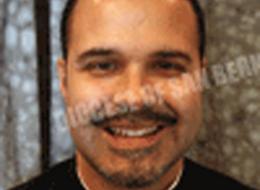 A Catholic priest was found guilty on Friday of sexually assaulting a woman on a flight from Philadelphia to Los Angeles last August.
Father Marcelo De Jesumaria could face up to two years in prison after a federal jury convicted him of molesting the passenger mid-flight, according to NBC Los Angeles.
The victim said she woke up during the flight to find the priest's "hands on her breast, groin, and buttocks," according to court documents. The priest touched the woman "with the intent to gratify [his] sexual desire," the documents said.
The woman alerted the flight crew. When the plane landed at LAX, authorities met De Jesumaria at the gate.
FBI special agent David Gates told NBC Los Angeles that the majority of in-flight sex assaults go unreported. He encouraged potential victims to speak out.
"No one goes on a plane thinking this is about to happen," Gates told the station. "If we don't find our witnesses, or our victims, or our suspects now, and hour from now they will literally be at the four corners of the earth."
The disgraced priest was indicted in October, and removed from the Roman Catholic Diocese of San Bernardino in November.
"The Diocese of San Bernardino considers the actions alleged of Father De Jesumaria in the federal indictment to be sinful and unlawful … We are deeply regretful of any harm that may have occurred as a result of his actions," the diocese said in a statement.
The future of his priesthood will be determined by De Jesumaria's order, the Congregation of the Resurrection, the diocese said.
Other men of faith have been charged with groping women or girls on planes.
In 2011, a rabbi on a transatlantic flight to Tel Aviv was charged with assault after fondling a female passenger twice, the Smoking Gun reported. When the woman angrily confronted him, the rabbi told her it was a mistake, and that he'd been asleep when he groped her.
A Roman Catholic priest from Poland pleaded guilty in 2008 to abusive sexual contact after he admitted to groping a 16-year-old girl's inner thigh on a flight to Newark, New Jersey.