Priest claims he was abused by older cleric, and church is punishing him for speaking out
The Guardian (UK)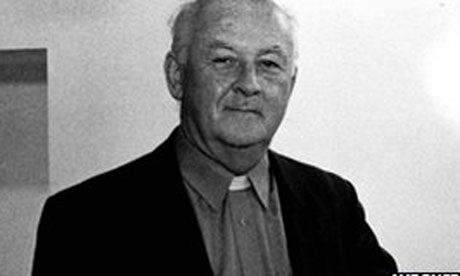 The Catholic church in Scotland faces a fresh sex-abuse crisis involving some of the country's senior clerics. The Observer has seen documents suggesting a scandal similar to the one that led to the resignation of Cardinal Keith O'Brien as Archbishop of Edinburgh and St Andrews.
As a seminarian, a priest known as "Father Michael", who wishes to remain anonymous while an appeal to Rome is made, said he was sexually assaulted by a parish priest, Father Paul Moore. Father Michael said the church failed to deal appropriately with his complaint over a 17-year period, and that he is now being ousted from the church while, he feels, his abuser is being protected.
Father Michael is recovering from cancer but has been refused permission by Bishop John Cunningham of Galloway to reduce his workload during his convalescence.
The church has demanded that he resign or face removal. The priest, who reported Moore to the police in 1997, said he feels this treatment amounts to punishment for whistle-blowing.
"It's a tragic story," said Father Michael. "It's about cover-up, deceit and lies. The church is a big mafia, and they trash you. They will do everything to destroy me."
The bitter internal division comes just days after the "new broom" appointment of Vatican diplomat Leo Cushley to replace O'Brien, who resigned after admitting inappropriate sexual behaviour towards priests in his care. Father Michael requested Cardinal O'Brien's intervention in 1996 and again in 2013. O'Brien expressed "shock", he said, but said he could not help. Father Michael also appealed to Cunningham's predecessor, Bishop Maurice Taylor, and, recently, to O'Brien's temporary successor, Archbishop Philip Tartaglia. Tartaglia, the senior cleric in Scotland, claimed he could not help as he had no authority in the matter. "I think it is better for me to return these documents to you," he wrote in March 2013.
Father Michael alleged the assault took place at St Quivox church in Prestwick in 1996. "I woke to find Moore fondling me under the bedclothes. I placed a chair behind the door and would sometimes hear it rattling," he said. He claimed the incident was repeated and he didn't know where to turn.
While Moore was away from the parish, a young man visited. He claimed to Father Michael that Moore had sexually abused him as an altar boy. He gave Father Michael details of another alleged victim.
Father Michael claims that Taylor insisted he remain in the parish and advise Moore to visit him. Confronted by Father Michael, he alleges Moore reacted violently and a scuffle broke out. Suddenly, Moore began to weep, confessing everything, including inappropriate behaviour with relatives. He also admitted the abuse to Taylor.
Moore emerged, euphoric, from a subsequent meeting with Taylor. He understood that the bishop said Moore had come voluntarily, so nobody could blame him. Father Michael said he was instructed by Taylor to remain silent. But he became suicidal and informed police about the incident with Moore.
Taylor later said that he spoke to the authorities, but that was after Father Michael had reported the matter to the police. The Procurator Fiscal told Father Michael the case would proceed, but it did not happen.
Moore, who now lives in a church-owned home, is reported to have said that he regretted any of his actions being seen as abusive, and he had not intended them to be so. Taylor refused Father Michael's repeated pleas for help, it is understood, only allowing him counselling when a centre waived the fee. Moore, however, was sent to Southdown, a Canadian treatment centre for clergy with psychological problems, for reasons that were not made clear. "A letter has been issued to the parish saying I am on leave of absence after sabbatical," he wrote to Father Michael.
When Moore returned from Canada he went to Fort Augustus Abbey, following which Taylor tried to place him in a home for the elderly in Scotland. Protests ensued and Moore retired to the church property. "He should have been laicised," insisted Father Michael.
When Taylor retired, Father Michael lobbied his successor. "I know Maurice made mistakes but it's too late," Bishop Cunningham allegedly told him. "What would Maurice think of me?"
In 2004, Father Michael was posted to a three-church parish. He merged two but when he was diagnosed with cancer, doctors advised him to drop the third. In February, the Diocese's vicar general, Willie McFadden, told parishioners to put complaints in writing. Father Michael was told there were 23 complaints but more than 130 letters of support, including one from the parish council, which has petitioned Rome. "This is really about his stance over Paul Moore," one member claimed.
In June, Bishop Cunningham insisted that Father Michael, who is in his mid-fifties, retire. Still physically weak, he sought counselling. Supportive letters from both his doctor and his therapist were sent to the Bishop but he feels they were used against him.
Last week, a letter signed by Bishop Cunningham told Father Michael he must retire because of "your ill-health, both physical and psychological, as you yourself have detailed to me in your letters and in those sent by your medical doctors and psychotherapist".
Father Michael has been told to leave by mid-August. "What I have had to face is something very evil. Had I known what I would experience when I was lying on the floor at ordination, I would have stood up and walked out. I focused my life on priesthood, thinking it was about goodness, kindness and everything I wanted to aspire to. I discovered it was nothing like that."
The Catholic Church refused to comment, "due to the complex legal situation, criminal, civil and canonical".
______________________________
Fresh claims over Catholic Church sex abuse
BBC News Scotland
26 July 2013
By Mark Daly BBC Scotland Investigations Correspondent
A BBC investigation has revealed fresh concerns about the way the Catholic Church handles child sex abuse cases.
Retired Ayrshire priest Fr Paul Moore admitted abusing children to Bishop Maurice Taylor nearly 20 years ago, but the claims were initially covered up.
Fr Moore's victim has spoken publicly for the first time about the abuse, and the BBC has learned the priest is still being looked after by the church.
Bishop Taylor accepted the diocese had bought Fr Moore a house to live in.
However, he said he had ordered him not to be involved in public ministry again.
The revelations come as part of a wider six-month BBC Scotland investigation into child abuse at the now-closed Fort Augustus Abbey School in the Highlands.
The investigation, which will be broadcast on Monday, heard that Fr Moore confessed to abusing more than one boy to the then Bishop of Galloway, Maurice Taylor, in 1996.
The bishop elected not to go to the police, but to send him to a treatment clinic for child sex offenders in Canada.
Bishop Taylor withheld the real reason for the priest's departure from his parish in Prestwick, and said he was on a sabbatical in Canada.
On his return from Canada, Fr Moore was sent to Fort Augustus Abbey, which was run by Benedictine monks.
The attached school was by this time closed, but the abbey remained open and Fr Moore joined monk Richard White there – who was also a self-confessed paedophile, later jailed for five years for child abuse.
The programme reveals that following the abbey's closure in 1998, Bishop Taylor tried to get Fr Moore a job saying mass for nuns at a nursing home. They refused after hearing about his admissions about child abuse.
The BBC spoke to one of Fr Moore's victims, who was abused by the priest when he was a young altar boy in the late 1970s.
Tony, not his real name, is speaking publicly for the first time.
He said: "(The priest) was somebody you looked up to, you trusted, you believed in. And you would not think they would do any wrong.
"One of my memories was when it was just the two of us on the beach when we were getting dressed – he (took) an interest in drying me. He (got) quite aroused by this."
Fr Moore went on to sexually assault the 11-year-old.
'Removed him'
Tony told the BBC he was offered no support by the church after Fr Moore's confession, and even bumped into his abuser in a street in Ayrshire.
Fr Gerard Magee, a priest based in Kilwinning, criticised the church's handling of the case.
He said: "Bishops have bent over backwards in the past to protect the good name of the church, such as it is, and to protect their own credibility, such as that is, but when we're talking about child abuse you know you have to ask the question what's creditable about child abuse? Nothing."
He added: "It makes me ashamed. Not only ashamed of what happened to the children, but what was worse was the cover-up by the hierarchy in the church."
The BBC documentary also reveals that Fr Moore is living in a house which was purchased by the church.
In a statement, Bishop Taylor said he did alert the authorities to Fr Moore's child abuse admission. However, this did not happen until eight months after Fr Moore's confession.
He said: "In April 1996, Fr Moore told me of actions which had occurred years previously. On his admission of these to me I removed him from the pastoral ministry.
"I sought advice on how to handle Fr Moore's admission from social workers, experts in child protection and legal figures.
"The initial advice I was given was that since no allegations had been made against Fr Moore but that he had made personal admission to me, I didn't need to inform the authorities."
Bishop Taylor denied misleading the parish about Fr Moore's whereabouts.
He said: "I have no memory of describing Fr Moore's leave of absence as a sabbatical; in The Galloway Newsletter he was simply described as having leave of absence. At no point did I have the intention to deceive the parishioners."
The bishop said he arranged a meeting with the procurator fiscal in Kilmarnock in November 1996.
"He told me that he would be informing the police of what I had told him," Bishop Taylor said.
"The Crown Office informed us in 1999 that they had decided not to proceed with any action but the case remained open.
"'Done differently'
He added: "A house was purchased… for his use, I cannot remember the price but we were spending around £40,000 for such properties at that time. The house remains the property of the diocese.
"I was never made aware of who the 'alleged victims' were… I could not approach people whose identity was unknown to me.
"Things would have been done differently in some aspects if we had had the Guidelines for Safeguarding that the Church now operates with."
Bishop Taylor said he had not tried to appoint Fr Moore as chaplain at a nursing home, merely to say Mass there. He added that the suggestion was rejected by the Mother Superior, and it was a decision he "wholeheartedly accepted".
Fr Moore told the BBC: "I regret if any person believes that past activities of mine were abusive: that was certainly never my intention, or my understanding of the matters discussed with Bishop Taylor.
"Those matters were fully investigated by the police, and the Procurator Fiscal confirmed in 1999 that no proceedings should be taken in relation to them."
For the past six months, the BBC has been investigating allegations of serious physical and sexual abuse at Fort Augustus Abbey School over a 30-year period. The programme contains testimony from victims, speaking openly for the first time about about their experiences at the hands of Benedictine monks.
You can watch BBC Scotland Investigates: Sins of Our Fathers on on Monday 29 July on BBC1 Scotland at 21:00, and for a week afterwards on the BBC iPlayer