Andre Cox tells commission he was disturbed 'to the very depths of his being' by news of abuse in Australia
The Guardian
Australian Associated Press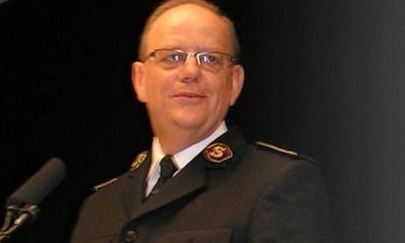 Salvation Army world leader Andre Cox was horrified by the abuse of children in the church and charity organisation's care. Photograph: Salvation Army
The world leader of the Salvation Army said he was not prepared for the horror of what was emerging about its children's homes in Australia.
In a letter read at a hearing of the royal commission into institutional responses to child sexual abuse in Sydney, Andre Cox said he was disturbed "to the very depths of his being" by what he was reading about in Australia.
"While we knew that many of the stories would be harrowing, nothing could really prepare us for the full horror of the stories that are emerging," he wrote.
He said he had written to leaders of the army in 126 countries to ensure their policies and procedures were regularly updated and implemented without exception and called on the army in Australia to ensure its procedures were robust.
The head of the army's eastern territory in Australia, James Condon, cried in the witness box at Monday's hearing when he spoke about listening to the stories of abuse victims at boys' homes in New South Wales and Queensland.
He said the army would be interested in engaging in the dialogue about a national redress scheme for victims of institutional abuse, which had been suggested by the Catholic and Anglican churches.
Simeon Beckett, counsel advising the commission, asked if he would be surprised to hear that journals detailing inspections of boys' homes in the 1970s had not been available when the commission sought them.
"I am surprised they are not available," Condon said. "They might have decided not to keep them … our records are good."
He told Beckett he knew of no instances where the Salvation Army "destroyed records relating to its boys' homes in order to conceal any wrongdoing".
He said he anticipated being able to provide more records in the coming weeks.
Condon became upset when he was questioned about his decision to suspend only recently John McIver, one of five officers against whom the commission had heard serious allegations.
In the 1970s, McIver served at Bexley Home for Boys in Sydney and the Alkira Home for Boys at Indooroopilly in Queensland and evidence was given of alleged physical and sexual assaults by him. He was suspended from the army on 30 January.
Condon said he suspended him primarily because he had heard survivors tell stories of abuse and had been contacted on Facebook by another victim.
He paused during his evidence because of his distress: "I have been impacted greatly … I have felt [the survivors'] pain and that is the reason I took the decision to suspend … McIver."
He outlined regulations in place at the time that included there should be as few punishments for abusers as possible.
"A collision of failures rather than the conspiracy of cover-ups is the Salvation Army's record of this shameful chapter of our history," he said.
In a statement, he read: "Once again I want to express our unreserved apology to all who were harmed in any way at all. We are so sorry for every instance when children were sexually abused by our personnel, or while in our care."
Echoing a sentiment expressed on Friday by Peter Farthing of the Salvation Army, Condon said the army's great failure was to allow "evil and damaged people" to get away with child sexual abuse.
_________________________________
Sex abuse has brought disgrace and shame on Salvation Army, officer says
February 07, 2014 1:54PM
Dan Box
REVELATIONS of widespread and brutal child sexual abuse at Salvation Army-run homes across Australia have brought "a great deal of disgrace and shame" to the church organisation, one of its senior officers says.
Giving evidence this morning to the Royal Commission into Institutional Responses to Child Sexual Abuse, Major Peter Farthing said the army had not yet formally investigated how this abuse was able to take place.
Children in four Salvation Army-run boys' homes in NSW and Queensland were beaten until they bled, locked in a cage and raped by staff, the commission has heard, as well as being sent to other adults' homes to be abused.
"This hearing, I think it's brought a great deal of disgrace and shame to the Salvation Army, which is felt by all our people," said Major Farthing, who, as the organisation's former personnel officer, dealt with many of these allegations of abuse.
When the first such victims began to come forward during the 1990s, Major Farthing said, the organisation's response "on legal advice … was we will be compassionate, but we would not admit wrong. So we won't say sorry."
This attitude had since changed as the army underwent a "generational shift", he told the commission, with alleged victims now receiving more financial and other support.
Under questioning by the commission chair, Peter McClellan, Major Farthing said the Salvation Army had held no formal inquiry into how the alleged abuse was able to take place.
"I'm sure you appreciate but asking and answering the 'Why?' question goes a long way to understanding what should and should not happen in the future," Justice McClellan said.
"Yes, it's true, we haven't done that in that formal way," Major Farthing replied.
"We'll be looking for the Salvation Army to help us with that question," Justice McClellan said.
___________________________________
Salvation Army 'rented out' boys at Sydney children's home in Sydney to paedophiles
Inquiry in child sex abuse hears that paedophiles were given access to boys at the dormitories
The Belfast Telegraph
9:30AM GMT 30 Jan 2014
Boys at a Salvation Army children's home in Australia were "rented out" to paedophiles who entered their dormitories at night, a royal commission into child sexual abuse has heard.
One boy was sent by a superintendent, Captain Lawrence Wilson, to the home of a husband and wife, who sexually abused him. The couple were in Salvation Army uniforms and the woman "had short blond hair and looked to be in her 30s," the alleged victim told the commission. He said he returned to the home and revealed what had happened to Captain Wilson, who said the couple were "good people" and caned the boy 18 times.
"The sexual attacks on myself are the hardest things to deal with, one day you are a boy the next you are a shell walking around," he said.
Another man told the commission that the boys, who lived at a Salvation Army home in Sydney, would sometimes be sexually abused by men who broke into their rooms at night.
"He [Captain Wilson] physically raped me in his office within a few months of being there and it happened several more times," the man alleged in a statement.
"You would be sent out to stay with other people and they would do it to you or there were the prowlers, men who allegedly broke into the place at night and tampered with the boys. Even now I still can't sleep… Wilson got me out of bed at night times. Sometimes it was strangers who came up the fire escape … old men came in at night. There was no supervision."
The horrific accounts of abuse were given at a broad commission which is investigating sexual abuse in the Catholic Church, orphanages, schools, community groups and other institutions.
Some of the worst abuses emerged this week during hearings into four Salvation Army homes between 1966 and 1977, where majors allegedly sodomised boys aged six to 17 with a garden hose and savagely beat them until they bled.
Captain Wilson, described by counsel assisting the commission as "the most serious offender" in Sydney, was eventually charged with 19 offences involving buggery and assault but was tried and acquitted in 1997. He died in 2008.
A police officer involved in the investigation, Detective Inspector Rick John Cunningham, told the commission: "Based on my own experience … it is often difficult for victims to pinpoint dates."
Three of the five officers being examined are still alive. All deny the allegations.
_____________________________________
Salvation Army officers abuse of children 'violent and extreme'
January 28, 2014 1:48PM
Dan Box
DOZENS of children suffered "violent and extreme" abuse at the hands of five Salvation Army officers who worked together at boys' homes in Queensland and NSW over several decades, the Royal Commission into Institutional Responses to Child Sexual Abuse has heard.
The men swapped jobs, shared victims and in at least one case helped each other move to new positions within the organisation in order to avoid jail, the commission has heard.
Some of the children under their care were also sexually abused by other Salvation Army officers and staff, as well as members of the public, including two pensioners allowed to live on the site of one boys' home and others who were given access to the children's dormitories at night.
Other deeply traumatic evidence before the commission alleges boys were raped until they bled, were beaten and kept in cages for days when they attempted to report their own abuse, and were on occasion forced to eat their own vomit.
"This hearing will bring to light the greatest failure in the history of the Salvation Army in Australia," the organisation's barrister, Kate Eastman SC, told the hearing.
"The Salvation Army admits that hundreds of children entrusted to its care endured horrific experiences in its boys' homes … Knowledge of these events causes the army profound regret."
One 11-year-old victim, Raymond Carlile, was dragged from his bed and raped by a Salvation Army officer, Captain Lawrence Wilson, who the commission heard was an allegedly prolific offender and whose victims have since received a total of $1.2 million in compensation from his employers.
Giving evidence by video-link, Mr Carlile also described how, during the 1950s, he and other boys at the Riverview Training Farm near Brisbane would suffer brutal beatings at the hands of Salvation Army officers, including the then-Lieutenant Wilson.
"I've seen young fellows with their hands, fingers bleeding and still getting the cane from the sadistic people there. I've even seen one boy passing out from the punishment," he said.
"Lieutenant Wilson he used to glorify punishment and sometimes used to froth at the mouth when he was punishing people. He just seemed to be really enjoying what he was doing, that was my opinion as a child," Mr Carlile told the commission.
Mr Wilson, who in 1994 was acquitted of sexual and assault offences relating to his time at one of the boy's homes, died in 2008.