Marcel Courteau sc
Brother of religious order known as Brothers of the Sacred Heart. Brothers of the order identify with the initials sc  behind their names.  The religious order was founded in France in 1821 by Father Andre Coindre who "envisioned a community of brothers trained to work with the poor through the establishment of schools."  Members of the order arrived in Arthabanska Quebec in 1872.
Taught French at a school in Senegal.  Also gave students private sex ed. instruction
November 2006:  news of long-term sexual abuse of a former pupil in Senegal.    The 92-year-old Brother admitted he sexually abused children in Madasgar, Senegal and Togo, but implied that the acts were consensual.
[As of November 2016 the Brothers seem to operate only two schools in Canada: l'École secondaire de Bromptonville Bromptonville, Québec, and Externat Sacré-Coeur, Rosemère, Québec]
___________________________________
18 February 2018:  Senegal man sues Quebec Catholic congregation over alleged sexual abuse
________________________________
Died 05 February 2017 in Bromptonville, Quebec, age 92
__________________________________
Nov. 2016:  The current 'head' of the Brothers in the Canadian Province of the order is:  Brother Yves GRANGER sc, Victoriaville, Quebec .
__________________________
18 February 2017:  Died, age 92
November 2016:  living in Sherbrooke, Quebec, in a retirement home operated by the Brothers of the Sacred Heart (M)
2010:  Victim reported his sexual abuse at hands of Brother Courteau to another Brother (M)
1972-1987:  teaching French at Pius XII College, in the city of Kaolack, Senegal (M)
___________________
Missionary Reinforcement
[this is a google translation]
For about 15 years, roughly from 1973 to 1988, the province came to the aid of the sister provinces by sending staff in missionary circles. This practice is a new initiative. There was first Haiti, …. Brother Marcel Courteau served in Madagascar first, for two years, then he found himself in Senegal for fifteen years, before joining the mision of Togo. (Page 161 Jean Claude Ethier sc. LES FRÈRES DU SACRÉ-COEUR  LEUR APOSTOLAT AU CANADA 1900-2004, 2nd Edition – Brother Marcel Courteau )
__________________________________
Tracking a Church paedophilia case from Dakar to Quebec
france24.com

Latest update: 20-11-19
Following a series of paedophilia scandals in the Catholic Church in recent years, FRANCE 24 reporters investigated the Brothers of the Sacred Heart, a Catholic religious community that has been sending missionaries to Africa for nearly a century. In Senegal we met with an alleged victim of abuse before tracking down the accused in Quebec.
Warning: Some of the language in this video report may be unsuitable for minors.
FRANCE 24 reporters contacted Souleymane in April through La Parole Libérée, a French association that helps victims of paedophilia. A Senegalese man now around 40 years of age, Souleymane told us his story but would not appear on camera.
He recounted his childhood in Kaolack, a large city southeast of the capital Dakar, and his education at the Pius XII college, run by the Canadian branch of the Brothers of the Sacred Heart.
Souleymane was 12 when one of the missionaries, a French teacher, first invited him after class to attend a private "sex education" lesson. Souleymane says he was abused for three years afterwards but did not dare tell anyone.
Hidden camera
In 2010 Souleymane says he contacted another member of the Brothers of the Sacred Heart who was teaching at the Pius XII college at the time and who still taught at a high school in Dakar. Souleymane affirms that he told him his painful story and learned that the man he accuses is apparently close to death and now living in Canada.
Moreover, he was told that church authorities had been alerted to this man's actions. Yet Souleymane tells us angrily that he was never approached by the church himself. He told us the name of his alleged abuser and his probable place of residence in the Canadian province of Quebec.
FRANCE 24 continued its investigation in Canada. We located a residence for retired members of the Brothers of the Sacred Heart in the city of Sherbrooke, 150km east of Montreal. If he is still alive, the man Souleymane accuses may well be there.
Much to our surprise, the man is easily found. He is now 92 and in a wheelchair, but in full possession of his faculties. Using a hidden camera, we met and spoke with him.
He tells us that, as far as he knows, the Brothers of the Sacred Heart have not conducted any investigations into sexual abuse. But Souleymane assures us that the community has been informed of the allegations against some of its members.
Scandal in Quebec
We decide to continue the investigation back in Dakar, to meet the man whom Souleymane says he alerted back in 2010. Captured on our hidden camera, the man confirms that his superiors were well aware of the accusations.
In mid-September we decide to contact the provincial superior of the Brothers' community in Canada. He does not seem surprised by the accusations, but neither is he keen to answer our questions. After several exchanges, the response is clear: "Under the circumstances, the community of the Brothers of the Sacred Heart in Canada does not intend to follow up on your request [for information]."
Since then, the community in Quebec has been hit by another scandal. According to a class action lawsuit filed in the Canadian courts, 11 of their members are accused of abusing dozens of students in a Quebec school between 1940 and 1980. A wider investigation is just beginning.
FRANCE 24 is continuing its inquiry in partnership with La Presse newspaper in Montréal and theDakaractu website in Senegal. If you or someone you know can contribute their story it could aid our investigation. Please feel free to email us at reporters@france24.com.
___________________________________
Published 18 November 2016 at 09:24
Former Quebec missionary admits assaulting children
La Presse
18 November 2016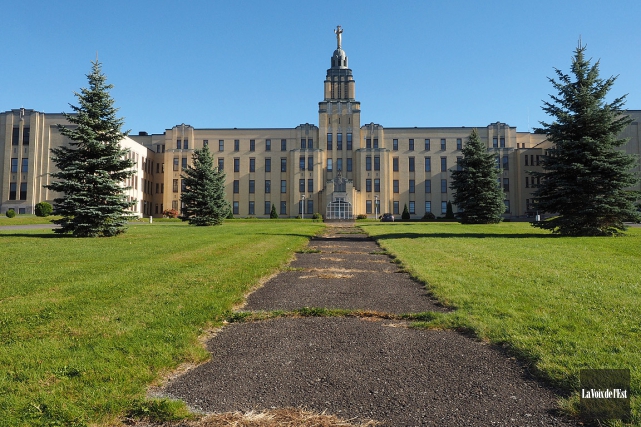 This is another blow for the Brothers of the Sacred Heart, faced with the most recent scandal of pedophilia in Quebec. On October 7, a former student of Collège Mont-Sacré-Coeur in Granby (pictured), claiming to have been raped 300 times by brother Claude Lebeau, filed a motion for a class action against the congregation.
Il s'agit d'un autre coup dur pour les Frères du Sacré-Coeur, confrontés au plus récent scandale de pédophilie au Québec. Le 7 octobre, un ancien élève du Collège Mont-Sacré-Coeur de Granby (photo), disant avoir été violé 300 fois par le frère Claude Lebeau, a déposé une requête en recours collectif contre la congrégation.
Photo archives La Voix de l'Est
Already mortified by a pedophile scandal at a college in Granby, the Congregation of the Brothers of the Sacred Heart is facing new allegations of sexual abuse of children. This time, the victims are on the other side of the world and have very few means to obtain justice.

For 20 years, Quebec missionary Marcel Courteau reportedly sexually assaulted children in his care in Madagascar, Senegal and Togo, according to a shock survey conducted by the France 24 news channel.
Brother Courteau admits the facts to the French journalist who visited him with a hidden camera in his retirement home in Sherbrooke. "I recognize and have a lot of remorse. I regret many things. I did not think it would go that far, "said the 92-year-old religious.
In Senegal, a team from France24 gathered the testimony of Souleymane (fictitious name), a former student of the Pius XII College, established in the city of Kaolack. Brother Courteau taught French for 15 years, beginning in 1972. He summoned some students to private instruction in sex education.
"He abused me, he destroyed my childhood, he destroyed my adult life," indignant Souleymane. The Senegalese says that Marcel Courteau masturbated him under the pretext of "developing his sexual organ", and asked him to masturbate thereafter. The touching would have begun when Souleymane was 12 years old and would have continued for three years.
Souleymane has long lived with his heavy secret. In 2010, he found the strength to denounce his aggressor to a brother of the Sacred Heart established in Dakar. But the moves were short: a lawyer explained to him that in Senegal, there was prescription in criminal matters.
Too many years had passed; Souleymane had no recourse to sue in his country.
The law of the Catholic Church, however, is different. In an interview with the newspaper La Croix in May, Pope Francis declared that "for the Church there can be no prescription in this field. Through these abuses a priest who has the vocation of leading a child to God destroys him. He disseminates evil, resentment, pain. As Benedict XVI said, tolerance must be zero.
This hard line does not seem to have been followed in the case of Marcel Courteau. In the report, the brother of Dakar confides to have warned his superiors in Canada from 2010. The congregation did nothing. Brother Courteau himself was never made aware of Souleymane's complaint. "Nobody told me about it. You are the first to tell me about it, "he assures France24.
The congregation tried to camouflage the affair. In 2010, under the pretext that Brother Courteau was dying, the cleric of Dakar would have advised Souleymane to forget these aggressions. "He really wanted to discourage me." "
Other victims?
Filmed without his knowledge, but knowing that he is addressing a journalist, Marcel Courteau admits to having perpetrated touching on children, not only in Senegal, but also in Madagascar and Togo. He also tries to justify himself. "First, they were all voluntary people who came to meet me. I did not force anyone, "said the brother.
"Shocked, disappointed and profoundly affected" by these allegations, the community of the Brothers of the Sacred Heart condemned "vigorously any form of misconduct committed by persons in authority over minors" in a statement published yesterday. "On behalf of all religious and lay people working in the community and through his works, I wish to express our deep compassion and our apologies for the suffering that might have been caused by a member of our community, Brother Gaston Lavoie, provincial superior of the community.
Souleymane is considering bringing the case before the Canadian courts. But the road to justice will be difficult. Unlike Senegal, there are no statute of limitations in criminal matters in Canada. However, the crime must be committed in Canadian territory, recalls the criminal lawyer Jean-Pierre Rancourt. "He has no choice but to continue in his own country. "
In civil matters, Quebec is one of the few provinces in Canada to continue to impose a limitation period in cases of sexual assault – an "injustice" against which victims of pedophile priests have long struggled.
But the Senegalese persist. "I can not let go, because it's a matter of morality," he told France24. He wants Marcel Courteau to pay for his crimes, "because he is a criminal."
Thousands of Quebec missionaries have worked with vulnerable children in Third World countries in recent decades. Some of them had assaulted children in Quebec before being sent abroad.
"For too long, the Catholic Church has played the role of travel agency for its predatory priests of children," says Carlo Tarini of the Committee of Victims of Priests. Too often, with the complicity of the bishops, pedophiles were slyly moved to Quebec from one parish to another and even from one country to another when the odor of suffering was too strong. "
This is another blow for the Brothers of the Sacred Heart, faced with the most recent scandal of pedophilia in Quebec. On October 7, a former student of the Collège Mont-Sacré-Coeur in Granby, claiming that he had been raped 300 times by Brother Claude Lebeau, filed a motion for a class action against the congregation. According to this man, today fifty-year-old, brother Lebeau, guardian of dormitory, obliged the children to put in file in front of his room to attack them.
Since media coverage of the case, about 40 suspected victims have appeared. No less than 11 religious are now targeted by allegations. According to class action lawyer Robert Kugler, this proves that the congregation was aware of the pedophile acts of its members – and preferred to close their eyes.
 ………………………………………..
Publié le 18 novembre 2016 à 09h24 | Mis à jour le 18 novembre 2016 à 21h15
Un ancien missionnaire québécois admet avoir agressé des enfants
 La Presse
You Tube  (in French)
Déjà mortifiée par un scandale de pédophilie au sein d'un collège de Granby, la congrégation des Frères du Sacré-Coeur fait face à de nouvelles allégations de sévices sexuels infligés à des enfants. Cette fois, les victimes se trouvent à l'autre bout du monde et n'ont que très peu de moyens d'obtenir justice.
Pendant 20 ans, le missionnaire québécois Marcel Courteau aurait agressé sexuellement des enfants dont il avait la charge à Madagascar, au Sénégal et au Togo, selon une enquête-choc de la chaîne d'informations en continu France24.
Le frère Courteau admet les faits au journaliste français qui lui a rendu visite, muni d'une caméra cachée, dans sa maison de retraite à Sherbrooke. « Je reconnais et j'ai beaucoup de remords. Je regrette beaucoup certaines choses. Je ne pensais pas que cela irait si loin que cela », confie le religieux âgé de 92 ans.
Au Sénégal, une équipe de France24 a recueilli le témoignage de Souleymane (nom fictif), un ancien élève du Collège Pie XII, établi dans la ville de Kaolack. Le frère Courteau y a enseigné le français pendant 15 ans, à partir de 1972. Il convoquait certains élèves à des cours particuliers d'éducation sexuelle.
« Il a abusé de moi, il a détruit mon enfance, il a détruit ma vie d'adulte », s'indigne Souleymane. Le Sénégalais affirme que Marcel Courteau le masturbait sous prétexte de « développer [son] organe sexuel », et lui demandait de le masturber par la suite. Les attouchements auraient commencé quand Souleymane avait 12 ans et se seraient poursuivis pendant trois ans.
Souleymane a longtemps vécu avec son lourd secret. En 2010, il a trouvé la force de dénoncer son agresseur à un frère du Sacré-Coeur établi à Dakar. Mais les démarches ont tourné court : un avocat lui a expliqué qu'au Sénégal, il y avait prescription en matière criminelle.
Trop d'années avaient passé ; Souleymane n'avait plus de recours pour intenter une poursuite dans son pays.
La loi de l'Église catholique est toutefois différente. Dans une entrevue au journal La Croix, en mai, le pape François a déclaré que « pour l'Église, en ce domaine, il ne peut y avoir de prescription. Par ces abus, un prêtre qui a vocation de conduire vers Dieu un enfant le détruit. Il dissémine le mal, le ressentiment, la douleur. Comme avait dit Benoît XVI, la tolérance doit être de zéro ».
Cette ligne dure ne semble pas avoir été suivie dans le cas de Marcel Courteau. Dans le reportage, le frère de Dakar confie avoir prévenu ses supérieurs au Canada dès 2010. Or, la congrégation n'a rien fait. Le frère Courteau lui-même n'a jamais été mis au courant de la plainte de Souleymane. « Personne ne m'a parlé de cela. Vous êtes le premier à m'en parler », assure-t-il à France24.
La congrégation aurait tenté de camoufler l'affaire. En 2010, sous prétexte que frère Courteau était mourant, le religieux de Dakar aurait conseillé à Souleymane d'oublier ces agressions. « Il voulait vraiment me décourager. »
D'autres victimes ?
Filmé à son insu, mais sachant qu'il s'adresse à un journaliste, Marcel Courteau admet avoir perpétré des attouchements sur des enfants, non seulement au Sénégal, mais aussi à Madagascar et au Togo. Il tente aussi de se justifier. « D'abord, c'étaient tous des gens volontaires qui venaient me rencontrer. Je n'ai pas forcé personne », souligne le frère.
«Choquée, déçue et profondément affectée» par ces allégations, la communauté des Frères du Sacré-Coeur a condamné «vigoureusement toute forme d'inconduite commise par des personnes en autorité à l'endroit de mineurs» dans un communiqué publié hier. «Je tiens, au nom de tous les religieux et laïcs oeuvrant au sein de la communauté et à travers ses oeuvres, à exprimer notre profonde compassion et nos excuses pour la souffrance qui aurait pu être causée par un membre de notre communauté», a indiqué le Frère Gaston Lavoie, supérieur provincial de la communauté.
Souleymane songe à porter l'affaire devant les tribunaux canadiens. Mais la route pour obtenir justice s'annonce difficile. Contrairement au Sénégal, il n'y a aucun délai de prescription en matière criminelle au Canada. Toutefois, le crime doit être commis en territoire canadien, rappelle l'avocat criminaliste Jean-Pierre Rancourt. « Il n'a pas le choix de poursuivre dans son propre pays. »
En matière civile, le Québec est l'une des seules provinces du Canada à continuer d'imposer un délai de prescription dans les cas d'agressions sexuelles – une « injustice » contre laquelle se battent depuis longtemps les victimes de prêtres pédophiles.
Mais le Sénégalais persiste. « Je ne peux pas lâcher l'affaire, parce que c'est une question de morale », dit-il à France24. Il veut que Marcel Courteau paie pour ses crimes, « parce que c'est un criminel ».
Des milliers de missionnaires québécois ont oeuvré auprès d'enfants vulnérables dans les pays du tiers-monde au cours des dernières décennies. Or, certains d'entre eux avaient agressé des enfants au Québec avant d'être envoyés à l'étranger.
« Trop longtemps, l'Église catholique a joué le rôle d'agence de voyage pour ses prêtres prédateurs d'enfants, s'insurge Carlo Tarini, du Comité des victimes de prêtres. Trop souvent, avec la complicité des évêques, on a déplacé sournoisement les pédophiles au Québec d'une paroisse à l'autre et même d'un pays à l'autre lorsque l'odeur de souffre était trop forte. »
Il s'agit d'un autre coup dur pour les Frères du Sacré-Coeur, confrontés au plus récent scandale de pédophilie au Québec. Le 7 octobre, un ancien élève du Collège Mont-Sacré-Coeur de Granby, disant avoir été violé 300 fois par le frère Claude Lebeau, a déposé une requête en recours collectif contre la congrégation. Selon cet homme, aujourd'hui quinquagénaire, le frère Lebeau, gardien de dortoir, obligeait les enfants à se mettre en file devant sa chambre pour les agresser.
Depuis la médiatisation de l'affaire, une quarantaine de présumées victimes se sont manifestées. Pas moins de 11 religieux sont désormais visés par des allégations. Selon l'avocat responsable du recours collectif, Robert Kugler, cela prouve que la congrégation était au courant des actes pédophiles de ses membres – et a préféré fermer les yeux