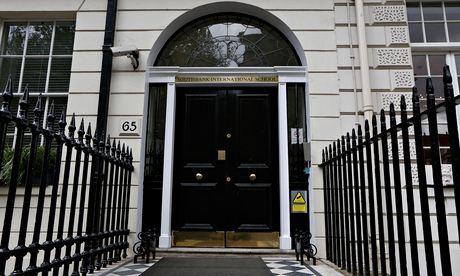 Southbank International School in central London where child molester William James Vahey taught for a four years. Fresh evidence reveals he requested to spend time with pupils outside of lessons in a job application to another school. Photograph: Sang Tan/AP
Child molester and teacher William Vahey stated explicitly in a draft job application aimed at an English school that he would take a post only if it guaranteed "extensive opportunities" to spend time with pupils outside school.
New computer files taken from one of his last homes in Nicaragua reveal he wrote the demand in an application letter for a history teaching post at "King's College school" for the 2009/10 academic year. In the letter, Vahey wrote: "A basic value that I hold is to constantly seek to be involved with students outside of the classroom setting. I would not consider any position that did not offer extensive opportunities for interaction with students in sports and extra curricular activities."
Vahey did not go to work at a King's College school – there is more than one of that name in the UK – instead taking a job at the elite Southbank international school in central London between 2009 and 2013. Nor is it known if he sent off the application.
But the letters, which were found by US TV network Univision and have been shared with the FBI and seen by the Guardian, do give an insight into Vahey's thinking.
The American teacher killed himself last month after he was discovered with images of children on his computer. He had taught at eight international schools across seven countries.
Police believe he may have abused up 60 children at the London school by drugging them on field trips. On Friday, one boy whom Vahey took on a field trip said he had become unexpectedly drowsy after eating a group meal and then the history and geography teacher took him back to his bedroom alone. He believes he was almost certainly abused while asleep.
The FBI, which is investigating his crimes with Scotland Yard, said it was receiving a big international response from people who believe they may have evidence of abuse by "one of the most prolific suspected sexual predators that we've seen".
The cache from Nicaragua, where Vahey taught after leaving Southbank, is understood to contain a huge number of files, including images of a group of naked adolescent boys in an unidentified outdoor location beside a canoeing station, a semi-naked teenage boy, and pictures of the teacher with his arms around groups of children.
Univision says it received the laptop from a security guard in the Nicaraguan capital, Managua, who claimed he found it in a bin. It contains dozens of folders of images that correspond to field trips Vahey took while working at Southbank between 2009 and 2013.
A source familiar with the new material described it as disturbing, and investigators in America have told one worried parent the volume of evidence is now so extensive it could be three to six months before victims are notified. "Additional potential evidence in the form of a hard drive has been turned over to the FBI via the US embassy in Nicaragua," an FBI spokeswoman said."The potential evidence is being brought back to the United States for forensic review. We are working in concert with Metropolitan police authorities in London."
The new laptop evidence also sheds fresh light on Vahey's self-promotional skills, that some parents said he used to groom them to entrust him with their children. "I am a master teacher who enjoys great popularity with students and parents because my classes make learning fun," he boasted in the letter to King's College school.
He explained his "love of student travel and extensive background in this area", including "white water rafting, an overnight in a traditional Indian village, zip lines, bungee jumps, surfing, snorkelling, white water river tubing, repelling down cliffs and waterfalls, riding ATVs [quad bikes], galloping horses and climbing Inca pyramids". He claimed to have led student tours to Thailand, India, Jordan, Nepal, Bahrain, Syria, Greece, Egypt, Russia, England, Kenya, Hungary, Turkey, Iran, Singapore, Mexico, Panama, Costa Rica, the Dominican Republic and Venezuela.
Vahey promoted his foreign excursions through his "travel club" which he set up at Southbank after having run similar operations at a previous eight international schools in seven countries. Some of the folders in the latest data cache were titled "Travel club" and "Nica Travel Club".
In another letter drafted after securing a contract at Southbank, he told a friend: "Southbank is not as financially well off as the larger London international schools, but it is known for having a laid back atmosphere".
The initial evidence that sparked the international investigation was contained on a USB stick taken from Vahey's home in Nicaragua last month and passed to his school employer. According to an FBI affidavit it contained images of unconscious boys aged around 12-14. The contents gave the FBI probable cause to suspect offences of child abuse images and illicit sexual activity. The affidavit said it constituted evidence of "minors engaged in sexually explicit conduct".
Parents and pupils in London are waiting to find out who will be identified. Scotland Yard has established that among 90 images of children, 50-60 were of Southbank pupils and some showed Vahey had molested his victims.
Families of former pupils have attacked Southbank's handling of the crisis. "Until we chased them, we received no communication from the school whatsoever, even though my son might be a victim," said a parent of a boy who went on field trips with Vahey and moved abroad only last year."They blamed the absence of contact on the size of the administrative task. It's infuriating and unacceptable."
Sir Chris Woodhead, chair of governors at the school, said the delay was caused by the need to confirm addresses of parents abroad. "We first learned about Vahey on Tuesday afternoon/evening," he said. "A letter to UK parents went out at tea time on Thursday. This was followed by a statement on the school website for parents who have moved overseas on Friday. A letter to overseas parents is to be sent tomorrow [Monday]."
Parents at Southbank will meet the school's leaders, police and council child abuse experts on Monday evening in central London. In a letter to parents announcing the meeting, Graham Lacey, the school's executive principal, said: "It is now imperative that we meet as a school community as soon as possible, with a representative from the police and the Westminster child protection agencies."
______________________________
'Boy woke up in teacher's bed wearing paedophile's pants': Schoolboy's ordeal at Saudi international school where predator abused young pupils as they slept
The Daily Mail Online
William Vahey, 64, allegedly abused up to 60 boys at leading private school
Former student claims three pupils committed suicide after being abuse
The American woman said classmates at Saudi Arabia school were victims
Vahey also targeted young boys around the world and taught in London
He has been described by the FBI as one of the most prolific sex offender
A boy at a top London school woke up during a sex assault to find he was in his paedophile teacher's bed and wearing his underwear.

The revelation came as a former student claimed three of her classmates killed themselves after being abused by William Vahey.

The 64-year-old has been described by the FBI as one of the most prolific sex offenders of all time.
The American woman, who gave her name only as Alysia, was taught by Vahey when she was 12 at Saudi Aramco Schools in Dhahran, Saudi Arabia.

Vahey taught at the international school between 1980 and 1992.
Vahey, pictured with his wife Jean,killed himself at a US motel last month as FBI agents were poised to investigate a USB memory stick containing dozens of graphic images of naked children dating back to 2008
She told Sky News:  'There were three suicides of very popular students of his that were molested by him. I could not believe that this guy was still teaching students.
'That was the rumour that Bill Vahey molested children and that ultimately three children committed suicide as a result.'
However, when questioned if it was a rumour or fact, she immediately added: 'It's not a rumour. I know these people.'
The woman, who said she was in seventh grade at the Saudi Arabia school when she was taught by Vahey, described him as inappropriate.
She said: 'I found him to make inappropriate remarks to his class. He would make jokes about the male genital and I thought that was very inappropriate for 12 year olds to hear.
'He was very arrogant. There were just rumours all over the place about 'Bill' Vahey and his behaviour.'
She also said the teacher had 'favourite boy students', giving them 'better recommendations' and 'better grades' than others.
Despite finding him 'inappropriate', the American woman said she was unaware of Vahey's behaviour while she was at school and said she started to hear rumours during a school reunion,
She said: It surfaced after we left Saudi Arabia – during a reunion everyone was talking about 'Bill' Vahey and his behaviour with male students.'
Vahey targeted young boys at a number of international schools over several years. FBI investigators said more than 100 potential victims had come forward after Vahey committed suicide at a US motel last month
Natalie Salmon, 23, who was at a school where the paedophile teacher worked in Venezuela, said: 'It's so sad, and it's the first time where I've thought to myself as a girl I am safer than being a boy'
Vahey, a U.S. citizen, targeted young boys at a number of international schools including the elite Southbank International School in Westminster, London, where he took pictures of himself abusing up to 60 sleeping students during class trips abroad between 2009 and 2013.

FBI investigators said more than 100 potential victims had come forward after Vahey committed suicide at a US motel last month.

His death came as FBI agents were poised to investigate a USB memory stick containing dozens of graphic images of naked children dating back to 2008.
The sickening images depicted children aged ten to 14 at the international school, where he taught history and geography and led trips to Jordan, Nepal and Venezuela.

Another 30 children, who also appeared to be unconscious or asleep when the assaults took place, were pictured from other schools he worked in during a 40-year career spent teaching at ten American international schools in nine countries.
An FBI affidavit revealed the extent of Vahey's crimes around the world
The father of two plunged a knife into his chest two days after confessing that he had abused boys throughout his life using sleeping pills.

The news comes after it was revealed the teacher allegedly drugged his victims with sleeping tablets – by hiding them in cookies – before abusing them on school trips.

While working at schools around the world, the teacher was said to have held a 'cookie race' at bedtime in which children as young as ten were encouraged to eat as many as they could, unaware they had been drugged. Once the pupils passed out, some were assaulted.

The revelations did not come as a surprise to a former pupil known as Jonathan, who said there was something 'not right' about Vahey from the start.

He told The Guardian: 'I had my suspicions from the beginning. There was something a bit off about him.

'Other people would say he was their favourite teacher but I would say there was something not right.'
Another former student of Vahey's said the revelations were a 'complete shock'.
Natalie Salmon, 23, who was at a school where the paedophile teacher worked in Venezuela, said:  'It's so sad, and it's the first time where I've thought to myself as a girl I am safer than being a boy.'

Miss Salmon said she remembered Vahey as being a 'nice, shy sort of guy', but that her male friends from school now refuse to even speak about the possibility they were his victims.
An FBI affidavit obtained by the Daily Mail showed how he catalogued the sex abuse by time and location in folders on a USB memory stick entitled 'Panama trip', 'Costa Rica trip' and 'Basketball trip' and 'Spring 2013'.
The document says: 'These images depict minor males in various states of undress… The minor males appear to be asleep, unconscious or possibly drugged.'
A former student of a school in the Eastern Province in Saudi Arabia, pictured, claims three pupils committed suicide after being abused by Vahey
Vahey taught at the elite £25,000-a-year Southbank International School in Westminster, London, pictured, right up until last year
Vahey, who left Southbank International School last year, was only caught after a housekeeper at a school he moved to in Nicaragua stole a memory stick containing the vile images
SAUDI ARAMCO SCHOOLS: EDUCATING CHILDREN OF OIL WORKERS
Saudi Aramco Schools is a group of schools run by the Saudi Arabian Oil Co – a prolific oil company based in the Eastern Province, Saudi Arabia
Saudi Aramco Schools is a group of schools run by the Saudi Arabian Oil Co – a prolific oil company based in Dhahran, Saudi Arabia.
The school campuses are situated in four Saudi Arabian Oil Company communities: Abqaiq and 'Udhailiyah in the south, Dhahran in the central area and Ras Tanura in the north.

The Saudi Aramco Schools group was founded in 1945 and currently has around 3,100 students from nursery age up until around 15 years.
Most of the students are the children of the company's expatriate employees.
Students will only be accepted to the schools if they speak proficient English and were 'successful at their previous school'. 
All of the campuses follow an American curriculum and all of the school sites are modelled on North American schools.

Classes run from Saturday to Wednesday, with weekends on Thursday and Friday in conformance Saudi Arabia's working week.
Vahey, who left Southbank International last year, was only caught after a housekeeper at a school he moved to in Nicaragua stole a memory stick containing the vile images.
She was sacked but later passed the USB stick to administrators at the American School in Managua, who dismissed Vahey after recognising his hand in the images.
In 1970, while studying for a teaching degree, Vahey was jailed for 90 days after pleading guilty to molesting boys at a swimming pool where he was working as an instructor in California.
He was required to register as a sex offender for life, but after graduating from college in 1972 failed to sign the register.
In 2010 an inspection report had warned of a weakness in staff vetting measures at Southbank International, but Sir Chris Woodhead, chairman of the governors said yesterday that it was 'irrelevant' in Vahey's case as he was not on the sex offender's register.
Sir Chris said there had never been a complaint against Vahey, although there was one incident where a boy was ill on a trip and Vahey took the boy into his room to look after him.
A school investigation subsequently found 'nothing untoward'.
For confidential support call the Samaritans in the UK on 08457 90 90 90, visit a local Samaritans branch or click here for details
_______________________________________________________
As parents worry, affidavit reveals new details in Vahey investigation
When investigators confronted William James Vahey with pornographic images of teen boys found on Vahey's flash drive, he told them: "I was molested as a boy, that is why I do this. I have been doing this my whole life."
They words horrified officials at an elite school in London, where Vahey taught history from 2009 until mid 2013.
Vahey, a part-time Hilton Head Island resident accused of molesting as many as 90 students since 2008, taught at a number of American schools abroad. He killed himself March 21 by plunging a a knife into his chest in Luverne, Minn., hotel room as the FBI began investigating his 40-year teaching career.
As many as 60 of the 90 victims depicted in the digital images have been identified as students at Southbank International School in London, according to the school's chairman of governors. Students are children of diplomats, embassy employees and foreign business executives.
Sir Chris Woodhead, the chairman, spoke Thursday of his "horror" when the FBI told him that 50 to 60 of the boys in the photos were Southbank students.
Parents of students were devastated by the reports.
"I am shocked, very shocked," one woman told The Guardian of London. She said her son was in Vahey's class and went on a field trip with him. "I couldn't sleep last night."
One student's father called the situation "massively worrying," The Guardian reported. Asked how he felt about the news, he said: "I am a parent, how would you think I would react?"
He added: "The kids have a real problem right now."
Woodhead also told investigators about another incident involving Vahey and a Southbank student, according to The Sun, another British paper.
During an overnight trip, a student became ill, and Vahey took the boy to his room to care for him.
"It wasn't picked up at the time, but a few months later a teacher heard gossiping on a minibus, and the incident was investigated," Woodhead said. "The boy's parents were talked to, the boy talked to, Vahey talked to, and the boy's parents agreed that there was nothing untoward, and the matter shouldn't be pursued."
Woodhead now wonders whether he and the school could have done more to protect their students.
AFFIDAVIT REVEALS NEW DETAILS
Vahey, who also maintained a home in London, taught middle and high school history at the prestigious school and founded the "Travelers Club," in which he lead overnight trips with students to other countries. According officials at various schools where he taught, Vahey liked to chaperone the trips.
After Southbank, Vahey began teaching ninth-grade history at the American International School in Managua, Nicaragua, on Aug. 12, 2013.
In November of that year, he reported personal items had been stolen from his apartment, according to an affidavit filed in Houston by an FBI agent. The affidavit did not specify what those possessions were.
The only person with access to Vahey's apartment was a school maid. She was terminated after Vahey reported the theft.
On March 11, the maid, not identified by name in the affidavit, brought a USB flash drive she'd taken from Vahey's computer to the school. She said she'd looked at its contents and that school officials should as well.
A school employee did, and found several folders titled with locations and corresponding dates, such as "Panama Trip," "Costa Rica Trip," and "Basketball Trip."
The employee opened a folder titled, "Spring 2013."
There he found pornographic images of boys, approximately 12 to 14 years old, the affidavit said. They appeared unconscious, apparently drugged. Some were posed with other unconscious boys. In many images, boys' private areas were exposed and an adult male's hand is touching them. Most of the boys had blond or red hair, pale skin and ruddy cheeks, according to the affidavit.
The employee said the photographs dated to 2008, and that the folder titles matched places where Vahey had traveled with students.
The school employee asked Vahey if he had given the boys date rape drugs. Vahey denied that but did say he had given them sleeping pills, the affidavit said.
The school immediately fired Vahey, and notified the U.S. Embassy in Nicaragua, which, in turn, notified the FBI, according to the affidavit.
The next day, Vahey flew from Nicaragua to Atlanta.
On March 14, FBI agents in Houston interviewed the maid by phone. They asked for a search warrant for the flash drive on March 19. It was granted.
On March 21, Vahey was found dead of a self-inflicted knife wound in the hotel room in Luverne .
A MEASURE OF RELIEF
Officials at the American International School in Nicaragua have found at least a measure of relief.
"In our case, we feel fortunate that Mr. Vahey did not take part in any extracurricular trips, inside or outside of Nicaragua, during the time that he worked for the school," the administration said in a Thursday news release.
They weren't the first to identify Vahey as a sex offender.
He was arrested in 1969 on six counts of child molestation in California. On Jan. 22, 1970, he pleaded guilty to one count and was sentenced to 90 days in jail and five years probation.
He was required to register as a sex offender in California for the rest of his life. Records show he registered in 1970, but never renewed that registration.
Vahey went on to teach at 10 American international schools in nine counties — Nicaragua, Great Britain, Venezuela, Indonesia, Saudi Arabia, Greece, Iran, Spain and Lebanon.
He was 64 when he died, married and father of two adult children. His wife, Jean Vahey, is the executive director of the European Council of International Schools, and was the superintendent of Escuela Campo Alegre American international school in Caracas, Venezuela, from 2002 to 2009. William Vahey was a history teacher there. Jean Vahey is currently on compassionate leave, according to the council's website.
When the schools where Vahey applied for jobs conducted background checks, former employers gave him glowing references and his criminal record appeared clean, officials have said.
Follow reporter Laura Oberle at twitter.com@IPBG_Laura.
…………………………………….
WARNING: This search warrant application CONTAINS SOME GRAPHIC DESCRIPTIONS. Read at your own discretion. Also, The Island Packet editors removed pages 4-10 of the original 24-page document because they contained "boilerplate" material that did not pertain to the Vahey matter directly.   The   full document  can be found here